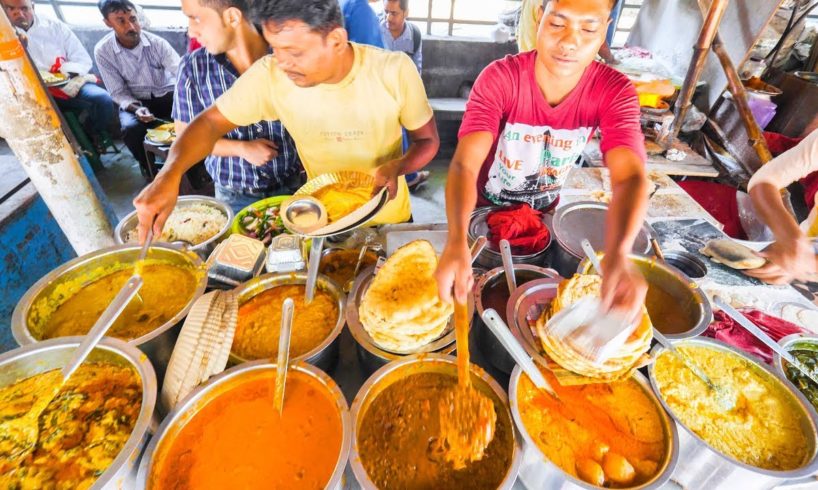 Check out https://ExpressVPN.com/thefoodranger for 3 months free w/ 1 year pack and 49% OFF! Indian Street Food and CURRY HEAVEN in Kolkata, India! The BEST Street Food in India is AMAZING, and we're going on a full street food tour of Kolkata to try India's BEST Street Food, probably the BEST Street Food around the world!
If you travel to Kolkata, India, make sure you try the delicious Indian street food and Bengali street food delicacies. The Indian recipes on the street are so unique and delicious! You really could spend a lifetime eating the delicious Indian street food and curry here.
MY GEAR AND RESOURCES + MERCH
► New Camera (AWESOME 4K) : https://amzn.to/2MnyBsg
► Main Lens: https://amzn.to/2MjnuAr
► Great Second Lens (FOR CLOSEUPS): https://amzn.to/2ntJvhG
► Favourite Telephoto: https://amzn.to/2vy3lwU
► Take everywhere cam: https://amzn.to/2P0b2Eb
► Action Cam (WATERPROOF) https://amzn.to/2Macjec
► Audio Setup (GREAT for clear voice): https://amzn.to/2MgzYJc
► Memory Card (for 4K footage): https://amzn.to/2OZrOTO
► Editing Computer (SUPER FAST): https://amzn.to/2M9nIuD
► Main External Hard Drive: https://amzn.to/2OXr4P3
► Main SSD Hard Drive: https://amzn.to/2OZOyTS
► How I Access The Internet ANYWHERE: https://amzn.to/2vv0TY3
► MUSIC I USE (Great For YouTubers): http://share.epidemicsound.com/pf97L
►BEST VPN FOR CHINA (ACCESS YOUTUBE):
http://bit.ly/AccessYouTubeinChina
► MERCH AVAILABLE HERE: https://shop.bonfire.com/thefoodranger/
We started our Indian street food tour in Kolkata by warming up with a nice Indian breakfast, right on the street corner. You can order samosas, potato curry chickpea sabzi, jalebi, and hot tea as well. All of these go so well in the morning and wake you up and get you ready to start your day.
After that amazing Indian street breakfast, we went to try perhaps the most beautiful and photogenic Indian street food lunch stall I've ever seen. It really was like walking up to CURRY HEAVEN! There were so many delicious curries to choose from, and there was a huge pot of CHICKEN biryani right on the street. The Chicken looked so tender and you could see the steam and all the juices were infused into the basmati rice. You could also smell the cardamom in the biryani!
After that life changing Indian curry meal, we made our way to try a bunch more delicious street foods. There were so many to choose from!
Here are the addresses for the street food locations we found while filming this Indian street food travel vlog in late 2017.
1) Indian street food Vegetarian breakfast: 168 A, Sarat Bose Rd, Lake Market, Kalighat, Kolkata, West Bengal 700029
2) Incredible Indian curry HEAVEN lunch: GP Block, Sector V, Salt Lake City, Kolkata
3) Amazing Kolkata Fish Fry (Kind of like British Fish and Chips) : Mitra Cafe, 23/37, Gariahat Road, Golpark, Kolkata
4) Amazing Pani Puri AKA Pulchka's at Pravesh Pani Puri
5) Delicious Rasgullah's and Indian desserts at Balaram Mullick & Radharaman Mullick, 2, Paddapukur Road, Jadubabur Bazar, Bhowanipore, Jadubabur Bazar, Bhowanipore, Kolkata
6) Amazing Haleem Beef Stew on the streetside, near Arsalan Biryani Shop, Park circus.
ABOUT THE FOOD RANGER
My name is Trevor James and I'm a hungry traveler and Mandarin learner that's currently living in Chengdu, Szechuan, China, eating up as much delicious . I enjoy tasting and documenting as many dishes as I can and I'm going to make videos for YOU along the way! Over the next few years, I'm going to travel around the world and document as much food as I can for you! I love delicious food! This channel will show you real Chinese food and real local food, not that stuff they serve in the Buzzfeed challenge. Thanks for watching, and please feel free to leave a comment, suggestion, or critique in the comments below! Please make sure to subscribe, it's the best way to keep my videos in your feed, and give me a thumbs up too if you liked this food video, thanks, I appreciate it! You could also share the video too if you liked it, that would be awesome.
Facebook: https://www.facebook.com/thefoodranger
Twitter: https://twitter.com/FoodRanger
Insta: https://instagram.com/thefoodranger
MUSIC I use for my videos (GREAT for Youtubers!) http://share.epidemicsound.com/pf97L
Order Your TAI HAO LE Merch here:
http://bit.ly/FOODRANGER
► My Food Blog: https://www.thefoodranger.com/

source