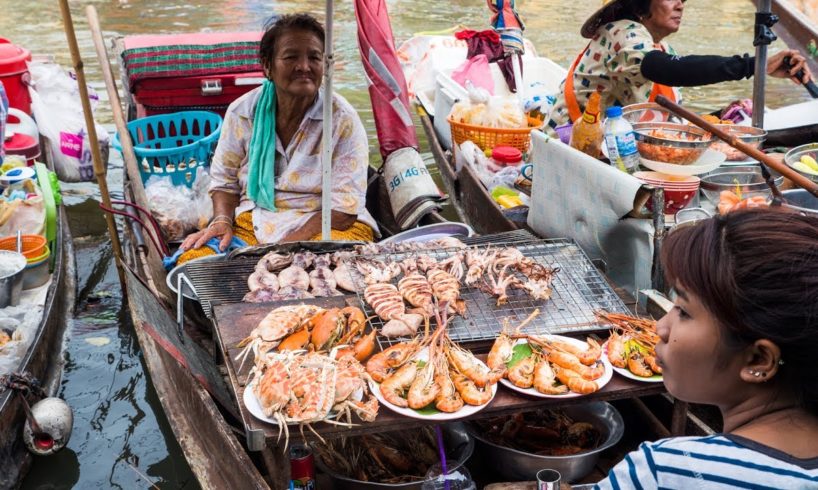 Mike and I are taking you on a Thai street food snacking tour of Amphawa Floating Market (ตลาดน้ำอัมพวา)!
►Check out Mike's channel: https://www.youtube.com/user/strictlydumpling
►Subscribe to my channel for more videos: http://bit.ly/MarkWiensSubscribe
Amphawa Floating Market is one of the most well known Thai floating markets, located around 1.5 hours drive from Bangkok in a province called Samut Songkhram. So we first drove over to the market in the mid afternoon to get started snacking on some of the amazing Thai street food snacks available throughout the market.
Tod man pla (ทอดมันปลา) – 20 THB ($0.57) – We started by sampling some fried fish cakes. They were pretty good, both Mike and I both enjoyed it.
Khanom krok kai nok (ขนมครกไข่นก) – 20 THB ($0.57) – Another snack at the same stall was fried quail eggs. They are so pure and so delicious.
Khanom bansib (ขนมปั้นสิบ) – 100 THB ($2.87) – This is a common Thai street food snack at Amphawa Floating Market (ตลาดน้ำอัมพวา) and they have a few stalls serving it. It's alright, a pasty wrapper filled with fish, but not my favorite.
Hoy shell yang cheese (หอยเซลล์ย่างชีส) – 150 THB for 6 ($4.31) – Mike and I both saw the scallops topped with a variety of seasoning and then finally some cheese, and we both mutually agreed that we didn't want to miss it. It turned out to be extremely delicious.
Floating Market boat restaurants – There aren't actually that many real boat floating restaurants at Amphawa Floating Market (ตลาดน้ำอัมพวา), but they do have a few. After waiting a little while, we got seats and orderded up a selection of Thai seafood. We had goong pao (กุ้งเผา roasted shrimp), pla meuk yang (ปลาหมึกย่าง grilled squid), pla pao (ปลาเผา grilled fish), and finally boo pao (ปูเผา grilled crab) to complete our entire Thai seafood feast at Amphawa Floating Market (ตลาดน้ำอัมพวา). Total price – 1,060 THB ($30.47). Overall, the seafood was pretty decent, I especially enjoyed the crab.
Miang kham (เมี่ยงคำ) – 10 THB ($0.29) per stick – This vegetable leaf wrapped snacks is one of my favorites. In every bite, it's a real taste of Thailand.
Khanom takoh (ขนมตะโก้) – 35 THB ($1) – We had a dessert, which is coconut pudding, and this time served in a take-away clay bowl.
Yam kai maeng da (ยำไข่แมงดา) – 100 THB ($2.87) – Finally to finish off this Thai street food tour of Amphawa Floating Market (ตลาดน้ำอัมพวา) with Mike Chen, we had to try some horseshoe crab salad. It was as good as always.
Thank you very much for watching this video!
—
Camera gear I use:
Main camera: http://amzn.to/2dEL3hv
Main lens: http://amzn.to/2e5Lum6
2nd camera: http://amzn.to/2mczuDx
2nd lens: http://amzn.to/2mcEGau
Microphone: http://amzn.to/2dEr9Z9
Gorillapod: http://amzn.to/2epFsQx
*These are Amazon affiliate links
I would love to connect with you!
Instagram: https://instagram.com/migrationology
Facebook: https://www.facebook.com/migrationology
T-shirts available now: https://migrationology.com/store/
—
►Check out Mike's channel: https://www.youtube.com/user/strictlydumpling
►Subscribe to my channel for more videos: http://bit.ly/MarkWiensSubscribe

source