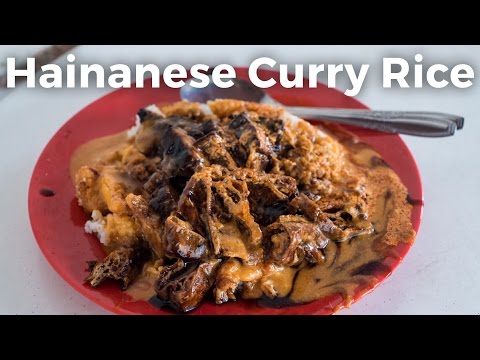 Beach Road Scissor Cut Curry Rice is a legendary Hainanese curry rice restaurant in Singapore. Get more details here: http://migrationology.com/2016/01/singapore-food/
You hear a lot about Hainanese chicken rice in Singapore, which is considered one of the national and most beloved dishes, but you don't hear so much about Hainanese curry rice. Beach Road Scissor Cut Curry Rice is a famous restaurant located along Jalan Besar in central Singapore that has been serving Chinese Hainanese curry rice for generations. They have a loyal local following, and just about the entire time they are open, they are busy with customers. They are open really late into the morning, so you can get your late night fix of greasy topping all smothered in curry over rice late into the night.
Beach Road Scissor Cut Curry Rice is called scissors cut because of how they assemble your plate of food. You get in line at the front of the restaurant, and there's a big glass cabinet of different deep fried and braised meats and vegetables to choose from. You can choose as many or as few as you like, and they will grab each piece, chop them up with scissor in a few swift motions. It's really amazing to watch them use scissors, clanking and slicing in pure harmony and with such expertise. I ordered a piece of fried chicken cutlet, which got sliced up in seconds, a piece of braised pork belly, and a piece of tofu.
Once all the crispy and salty meaty ingredients were put on top of my rice, the entire plate was smothered in a thick and sticky brown gravy curry sauce. I could tell it was going to be gooey and sticky from the moment he put it on, and it definitely was. The flavor of the curry was quite mild, not too strong of a curry powder flavor, but almost more like a brown sticky gravy with just a pleasant curry taste to it. The crunchy and salty Chinese meats on the bottom added to how interesting and and comforting the dish was.
Thank you to everyone who recommended this restaurant!
Address: 229 Jln Besar, Singapore 208905
Open hours: 11 am – 3:30 am daily
Prices: About $3 – $5 SGD depending on how many toppings you order
How get there: You can either walk from Farrer Park or Lavender MRT stations
============================================
My websites:
Migrationology.com: http://migrationology.com/
EatingThaiFood.com: http://eatingthaifood.com/
TravelByYing.com: http://travelbyying.com/
Instagram: https://instagram.com/migrationology
Facebook: https://www.facebook.com/migrationology
Snapchat: @migrationology
Make a donation: https://migrationology.com/donate/
Resources I use: http://migrationology.com/travel-resources/
T-shirts available now: https://migrationology.com/store/
Singapore food guide: http://migrationology.com/2016/01/singapore-food/

source