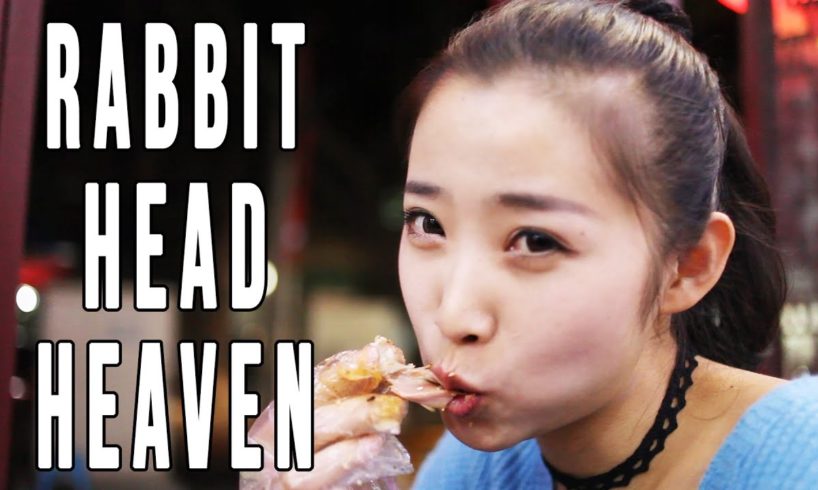 Check out https://ExpressVPN.com/thefoodranger for 3 months free w/ 1 year pack and 49% OFF!
FOOD RANGER MERCH NOW AVAILABLE! http://bit.ly/FOODRANGER
Follow me on Insta: http://bit.ly/2c5ojch
And subscribe to my channel here: http://bit.ly/2cCy2ub
Chinese street food and Chinese food in China is something so special to me. Eating Rabbit Head in Sichuan is a MUST do thing if you visit Chengdu, China. I also got to enjoy it with a local Chinese girl, a good friend of mine, one who also loves to eat, a wonderful experience!
Please like: www.facebook.com/foodrangin
The first thing we had to eat was this Chinese restaurant's specialty rabbit head, a Chinese favourite, covered in a spicy, numbing, Sichuan peppercorn flavour that was quite nice. This place was found just behind Wenshuyuan (文殊院) temple in Chengdu, near Chengdu's downtown Core.
Rabbit is not a true Chinese street food, but can be found on the street. We were lucky enough to try it right from the massive bowl on the street, as the chef had no problem with us eating it there. The chef at this Sichuan restaurant was super fun and happy. Actually, he gave the meal to us for free because we shot a video there, but I've added the proper prices in for your reference. I loved the true authentic Sichuan chopped cold rabbit salad. It was prepared with a whole roast rabbit, covered it in Sichuan chilies and peppercorns, peanuts, and cilantro. It was delicious, although a little dry.
Sichuan is famous for eating rabbit. Not all of the provinces in China eat rabbit. You can eat so many different types of rabbit dishes here, and to me, a good introduction into rabbit eating would be to chomp on a rabbit head and order up the dishes we tasted here. Yes, it can be a little nerve-wracking, but it's something that you should try. In all honesty, I didn't enjoy the head that much, as there isn't much meat, but for the fun factor alone combined with the spicy numbing flavour makes it worth trying. After eating the rabbit for 20 minutes or so, we both realized that it was much spicier than the chef had told us, and that our mouths were numbing and burning from the heat, but still enjoyable.
As my friend points out in the video, the numbing and spicy flavour is a true characteristic flavour of Sichuan. Eating rabbit head is something that many locals enjoy, soaked in "Beautiful flavour" (美味).
—————————————————————————————-
MY GEAR AND RESOURCES + MERCH
► New Camera (AWESOME 4K) : https://amzn.to/2MnyBsg
► Main Lens: https://amzn.to/2MjnuAr
► Great Second Lens (FOR CLOSEUPS): https://amzn.to/2ntJvhG
► Favourite Telephoto: https://amzn.to/2vy3lwU
► Take everywhere cam: https://amzn.to/2P0b2Eb
► Action Cam (WATERPROOF) https://amzn.to/2Macjec
► Audio Setup (GREAT for clear voice): https://amzn.to/2MgzYJc
► Memory Card (for 4K footage): https://amzn.to/2OZrOTO
► Editing Computer (SUPER FAST): https://amzn.to/2M9nIuD
► Main External Hard Drive: https://amzn.to/2OXr4P3
► Main SSD Hard Drive: https://amzn.to/2OZOyTS
► How I Access The Internet ANYWHERE: https://amzn.to/2vv0TY3
► MUSIC I USE (Great For YouTubers): http://share.epidemicsound.com/pf97L
►BEST VPN FOR CHINA (ACCESS YOUTUBE):
http://bit.ly/AccessYouTubeinChina
► MERCH AVAILABLE HERE: https://shop.bonfire.com/thefoodranger/
ABOUT THE FOOD RANGER
—————————————————————————————–
My name is Trevor James and I'm a hungry traveler and Mandarin learner that's currently living in Chengdu, Szechuan, China, eating up as much delicious food as I can.
I enjoy tasting and documenting as many dishes as I can and I'm going to make videos for YOU along the way! Over the next few years, I'm going to travel around the world and document as much food as I can for you! I love delicious food! This channel will show you real Chinese food and real local food, not that stuff they serve in the Buzzfeed challenge.
Thanks for watching, and please feel free to leave a comment, suggestion, or critique in the comments below!
Please make sure to subscribe, it's the best way to keep my videos in your feed, and give me a thumbs up too if you liked this food video, thanks, I appreciate it! You could also share the video too if you liked it, that would be awesome.
—————————————————————————————–
Facebook: https://www.facebook.com/foodrangin
Twitter: https://twitter.com/FoodRanger
Insta: https://instagram.com/thefoodranger/
——————————-
Love the music I use? Get a FREE month from me to you! I'm using this library for a few months now (since July 2017) and LOVE it. http://share.epidemicsound.com/pf97L
► My Food Blog: https://www.thefoodranger.com/

source