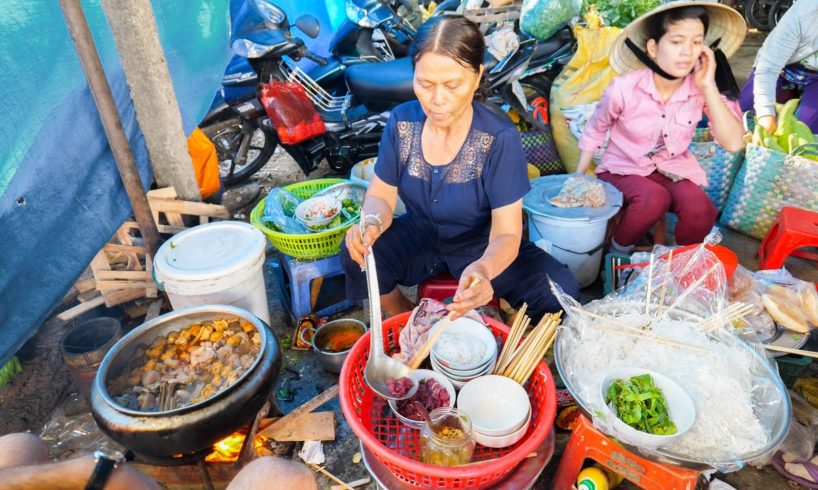 Check out https://ExpressVPN.com/thefoodranger for 3 months free w/ 1 year pack and 49% OFF! FOOD RANGER MERCH NOW AVAILABLE! http://bit.ly/FOODRANGER
Follow me on Insta: http://bit.ly/TheFoodRanger
And subscribe to my channel here: http://bit.ly/2cCy2ub
Vietnam Street Food Tour! Here is the BEST Vietnamese Street Food and Vietnamese cuisine, we're going for a full on street food tour video! We made our way to Hue in Central Vietnam in July 2017, and found a ton of different street food cuisine in Vietnam to try. You'll love all the selection of different Vietnamese street foods in this travel vlog street food video.
► MUSIC I USE (Great For YouTubers): http://share.epidemicsound.com/pf97L
►BEST VPN FOR CHINA (ACCESS YOUTUBE):
http://bit.ly/AccessYouTubeinChina
► MERCH AVAILABLE HERE: https://shop.bonfire.com/thefoodranger/
Ting Ting and I (Trevor James, The Food Ranger), made our way to Vietnam solely to eat street food. Since we love street food around the world, we decided that Vietnam was the perfect holiday destination for street food to try, because it's supposed to be the best and we love watching new street food recipes and street food flavors as we adventure down deep, back alleyways, getting lost into new street food worlds. So far, in our Vietnamese street food tour series, we've eaten street food in Hanoi, and then we took the sleeper train south 12 hours to Hue. Hue is the old ancient capital of Vietnam, and is packed full of different street food to try. We spent 4 days here eating and couldn't get enough of all the street food. Asian street food is the best, and in Vietnam, it doesn't get any better!
We found 11 different Vietnamese street foods in this video. If you arrive here looking to eat, you can follow along with these addresses:
1) Bun Bo hue @02:44- The specialty street food Beef and pork broth noodle soup of Hue, Vietnam – It's absolutely rich and delicious! Found at the Dong Ba market early morning around 730am. Go to the outside of the street market and find the old ladies with big pots of good street food and you'll discover a ton!
2) Bun Hen @ 06:10 Spicy Clam noodle soup – Also found at the Dong Ba Market in Hue, Vietnam, in the early morning! Just look around the outside of the market, the perimeter, not on the inside.
3) Banh Tam Banana Leaf @ 09:44 wrapped around marinated shrimp – Found directly beside the Bun Hen at Dong Ba market
4) Veg Soup @ 11:27 – Also found at Dong Ba Street Food Market in Hue, Vietnam
5) Bun Tith Nuong @ 14:37 Grilled pork over top of rice noodles. These was my favorite meal from Hue, and so cheap at 10,000 Vietnamese dong! Bun Thit Nuong 66 Bạch Đằng
6) Banh Mi Vietnamese Sandwich @ 17:55- This one was quite average. But still fun to eat! This one was at the intersection of Xuan 68 and Le Thanh Ton street inside Hue's old city.
7) Douhua Silken Tofu @ 21:27 – This was a street food vendor carrying the food on wooden poles, so you have to be lucky at the right place at the right time. We were at the location below around 4:30 PM and she came along.
8) Banh Tran Truong "Vietnamese Pizza made from rice paper" @ 22:54. You can find this one inside the old city on 14 Le Thanh Ton Street in Hue, Vietnam
9) Banh Ep – Flattened rice paper dough with raw egg grilled @ 22:54 – Same location as the Vietnamese rice paper pizza
10) Nem Lui Vietnamese Pork Skewers @ 25:56 – These were found at 241 Huynh Thuc Khang – TP, Hue, Vietnam
11) Banh Xeo Vietnamese pancakes @ 25:56 – Same location as above, 241 Hyun Thuc Khang – TP. Hue, Vietnam
ABOUT THE FOOD RANGER
My name is Trevor James and I'm a hungry traveler and Mandarin learner that's currently living in Chengdu, Szechuan, China, eating up as much delicious Chinese food as I can
I enjoy tasting and documenting as many dishes as I can and I'm going to make videos for YOU along the way! Over the next few years, I'm going to travel around the world and document as much food as I can for you! I love delicious food! This channel will show you real Chinese food and real local food, not that stuff they serve in the Buzzfeed challenge.
Facebook: https://www.facebook.com/thefoodranger
Twitter: https://twitter.com/FoodRangerTV
Insta: https://instagram.com/thefoodranger
Love the music I use? Get a FREE month from me to you! I'm using this library for a few months now (since July 2017) and LOVE it. http://share.epidemicsound.com/pf97L

source