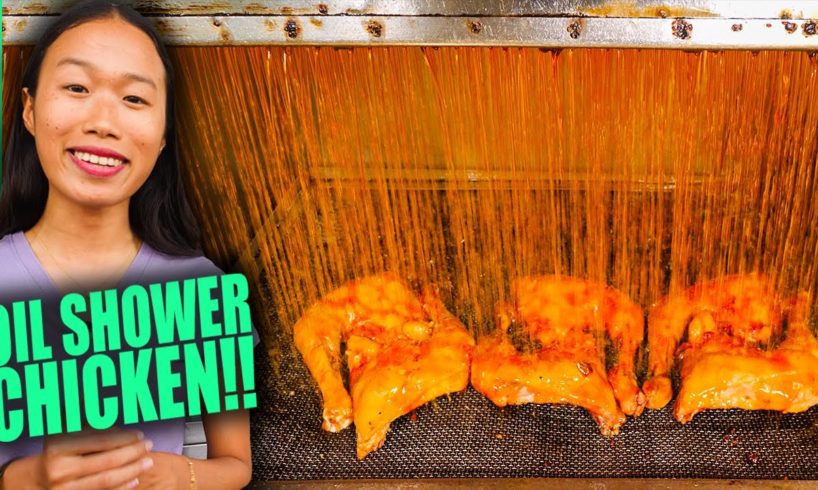 ? NOSE TO TAIL MERCH! GET YOURS TODAY » https://bit.ly/ShopBEFRS
? SUPPORT OUR MISSION» http://bit.ly/BestEverPatreon
? THUYEN'S INSTAGRAM » @thuyenvo12
Like our music? Enjoy a free 30-day of Epidemic Sound for the best royalty free music: http://share.epidemicsound.com/BEFRS
– – – – – – – – – – – – – – – – –
$10 DINING: SAIGON
1. LÒ BÁNH MÌ HOÀNG PHÁT
ADDRESS: 137 Phan Đình Phùng Street, Ward 17, Phú Nhuận District
SOCIAL: https://www.facebook.com/banhmitruyenthonghoangphat/
? CHARCOAL BANH MI WITH CHAR SIU MEAT AND SHUMAI: The Dough: add salt, egg, sugar, bamboo charcoal powder, water, flour and clarified butter into a Dough Making Machine. Mix for 15 minutes.Remove the dough and place in a round tray. Insert the tray in the dough divider. Shape each dough into a banh mi and place in a metal container. Incubate the banh mi for an hour. Spray with water and sprinkle sesame seeds on top. Put dough in the Baker for an hour. | The Banh Mi: Add shumai, cucumber, pickles, herbs, char siu sauce, char siu meat, chilli sauce and homemade red sauce in the banh mi and serve.
? PRICE: 30.000 VND / $1.3 USD
– – – – – – – – – – – – – – – – –
2. CƠM GÀ XỐI MỠ SU SU
ADDRESS: 117/1D Cống Quỳnh Street, Nguyễn Cư Trinh Ward, District 1
? FRIED RICE WITH OIL SHOWERED CHICKEN THIGH: Shower the seasoned chicken thigh with oil for 10 minutes, then assemble it on a plate with fried rice, cucumber, tomato and herbs.
? PRICE: 49.000 VND / $2.19 USD
– – – – – – – – – – – – – – – – –
3. MÌ CHỈ CÁ CAO VĂN LẦU
ADDRESS: 229 Cao Văn Lầu Street, Ward 2, District 6
? SPECIAL THREAD NOODLE SOUP: Assemble noodles, fish stomach, fish roe, fish meat, minced pickles, scallion, homemade sauce, ginger powder and broth (made by slow-cooking pork bone, ginger, cabbage and scallion for 1 hour) in a bowl and serve with fried dough.
? PRICE: 80.000 VND / $3.50 USD
#10DollarDining #BestEverFoodReviewShow #BEFRS
– – – – – – – – – – – – – – – – –
?COME SAY HI:
INSTAGRAM » http://bit.ly/BestEverInstagram (@besteverfoodreviewshow)
FACEBOOK » http://bit.ly/BEFRSFacebook
?SUPPORT OUR MISSION:
Patreon is a platform that allows people to support creators on a recurring basis. Your contribution is an investment in the creative freedom of my channel and enables me to keep my content authentic and uninterrupted. Your generous donation allows me the time and resources to create more videos for you. We also have some pretty sweet rewards, exclusive to Patreon Bestys. » http://bit.ly/BestEverPatreon
Our VIP Patrons: Matthew Holden, David Baliles, Jackson Li, John Logan and Summer & Grayson.
? ABOUT BEFRS:
Hey, I'm Sonny! I'm from the US but currently call Vietnam home. I've been living in Asia for 10 years and started making food and travel videos to document my experiences. I travel to different parts of the world, hunting down and documenting the most unique food each country has to offer.
If you see any factual food errors in my videos, please feel free to politely let me know in the comments. I'm a huge fan of trying different, interesting foods in each country. My show is from a Western point of view, but more importantly, MY point of view. It is not meant to offend any person or culture.
– – – – – – – – – – – – – – – – –
?CREDITS:
DIRECTOR OF PHOTOGRAPHY » Nguyễn Tân Khải
CAMERA OPERATOR » Nguyễn Minh Đức
VIDEO EDITOR » Dương Quốc Huy
PRODUCER » Huỳnh Hà My
COLOR & MASTER » Quí Nguyễn
Selected tracks via Audio Network
For business inquiries: marketing@befrs.com

source