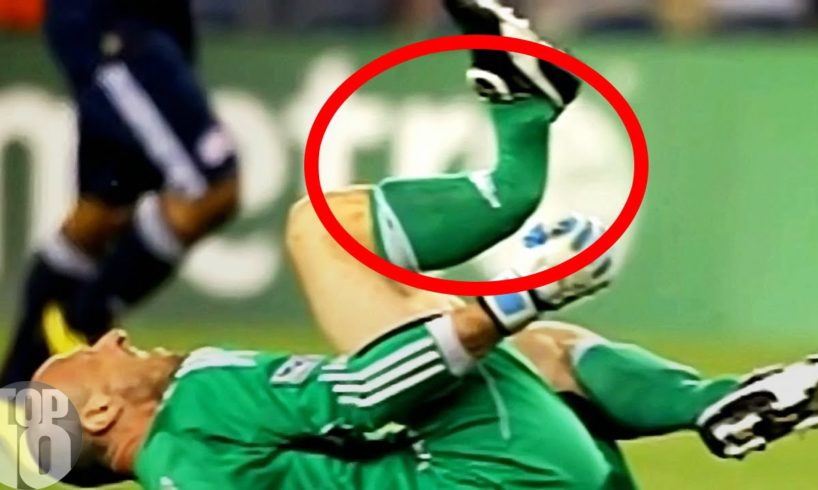 Top 10 sports DEATHS caught on camera.
From terrible accidents involving potential Super Bowl winners, to boxing deaths caught on tape and caught on camera. Superbowl commercials 2016. In 2012, Italian footballer, Piermario Morowsini was playing a football match. In the 31st minute, Piermario collapsed. He was rushed to hospital but later died. The autopsy gave no ideas into the 25 year old's mysterious death, although some speculated that it may have been some kind of heart failure. Unlike most of the others on this list, this sports death is even more tragic, as it was during a high school game. In October of 2014, a varsity football player from River Hill High School was playing in a football match against elwood john high school. As the game was going, 16-year-old Tom Cutinella collided with an opposing player. However unlike most football collisions, this resulted in a serious head injury. After he got up from the collision, he collapsed and later died. In 1962, British cyclist, Tom Simpson was participating in the tour de france. He had just reached the top of mount ventoux, in the 13th stage of the race. Simpson began the race looking weak and pale, arousing suspicion from many. During the race, he began to wobble and then fell of his bike. He never got back up from the fall and amphetamines were later found in his system and in his backpack. In March of 1998, karate champion, Doug Dedge decided to compete in the International Super Challenge of MMA in Ukraine. Dedge was one of the three Amercian fighters in the competition. He faced Ukrainian Yehven Zolotaryyov in what is called a battle without rules. The fight only lasted 5 minuites. Doug was thrown to the ground and punched 14 times by Yehven and was unable to get back up. He died 2 days later from severe brain trauma. On the 7th of july 2011, firefighter sharron stone took his in fant son to see a baseball game during the game between the texas rangers and the oakland athletics, they purchased a glove in hopes of catching a ball during the game a foul ball was struck and began to head in Sharron Stone's direction. He wanted to catch the ball with his glove and bent over the rail to do so.This caused him to fall 20ft to his death. Right in front of his 6 year old son. In 1981, American bobsledder, Jimmy Morgan was competing Winter Games in Italy. Before the race the snow had melted on the bobsled track, causing Jimmy to loose control. His sled flipped over and killed Jimmy as his neck hit the wall of the track. His death was filmed by his own brother, John Morgan, who was an NBC sports analyst at the time. Le Mans is a 24 hour endurance race to see who can complete the most laps in 24 hours. In the 1955 Le Mans race, French racer, Pierre levey was 2 hours in when he clipped an American racer's car, causing his car to flip and crash into a crowd of spectators. The crash caused the death of Pierre and 83 spectators. 120 others were injured due to the flying debris from the crash. On the 25th of January, 2004, Hungarian soccer player Miklos Feher was playing a game live on television. After assisting another player with a goal, he suddenly bent forward in pain and fell to the ground. Players from both teams rushed to his assistance including medical personale He was rushed to hospital but died the same day. His death was caused by cardiac ararthema which causes the heart to beat too fast. On March 24th 1962, Emile Griffith and Benny Paret were finally fighting after a feud lasting months. In the 12th round emile pushed.
Featuring:
Piermario Morosini
Tom Cutinella
Tom Simpson
Doug Dedge
Shannon Stone
Jimmy Morgan
Le Mans
Miklos Feher
Benny Paret
Nikola Zoricic
Subscribe here ► http://bit.ly/top10stv
Donate to Top 10s ► http://bit.ly/top10spt
Follow Top 10s on Twitter ► http://bit.ly/top10stw
Like Top 10s on Facebook ► http://bit.ly/top10sfb
Add Top 10s on Google+ ► http://bit.ly/top10sgplus
Credits:
http://pastebin.com/CN13520
Licensed under Creative Commons: By Attribution 3.0 & 2.0
http://creativecommons.org/licenses/by/3.0/
http://creativecommons.org/licenses/by/2.0/
Intro: Mirage
Kevin MacLeod (incompetech.com)
Licensed under Creative Commons: By Attribution 3.0
http://creativecommons.org/licenses/by/3.0
Top 10s is the best YouTube channel for top 10 lists on viral videos, shocking facts, most amazing people, controversial topics, scary stories, urban legends, funny things and facts you won't believe.
For any business inquiries, issues or other contact, please message us via YouTube or email toptens@europe.com

source