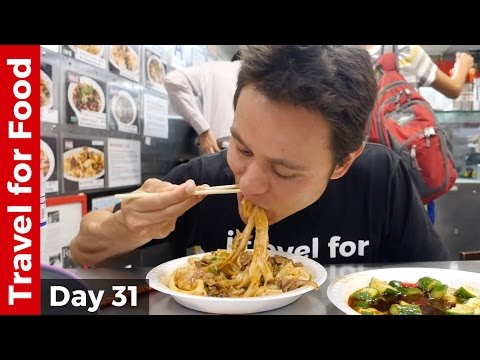 Xi'an Famous Foods serves amazing food in Flushing, Queens, NYC!
►Subscribe to my channel: http://bit.ly/MarkWiensSubscribe
►Check out my NYC food guide: https://goo.gl/xubRjU
►T-shirts: https://goo.gl/3dV4uu
On Day 31 of our Round The World Trip with Star Alliance we decided to take a New York City food tour to Flushing. The main thing I wanted to eat was at the famous Xi'an Famous Foods for their spicy cumin lamb noodles. But we also enjoyed some incredible dumplings and a rack of cumin coated lamb. It was incredible.
00:22 Journey to Flushing, Queens – The first part of the day was to take the train from Manhattan out to Queens, and more specifically to Flushing. It takes a while, but it's pretty straightforward to get there by public transportation.
1:42 Xi'an Famous Foods – Located in the basement of the Golden Shopping Mall in Flushing, Queens, Xi'an Famous Foods is a well known Chinese food restaurant with a number of branches throughout New York City. Xi'an Famous Foods was one of the top places I wanted to eat in NYC. At the bottom of the shopping center there's a nice food court, and it really does feel like you transport yourself from NYC to China. I ordered the spicy cumin lamb noodles and an extra side of spicy cucumber salad. The spicy cumin lamb, with hand pulled noodles, was absolutely incredible – one of the best food dishes I ate in all of New York. And the spicy cucumber salad also went superbly with the noodles. The chili oil and the cumin was just absolutely superb. Total price – $15.51
6:56 Tianjin Dumpling House – Next up in the same Golden Shopping Mall, I walked over to Tianjin Dumpling House and I ordered their classic pork dumplings. Although you could choose from a range of many different types of dumplings. Overall, they were pretty good and I liked how they were cooked fresh so they were piping hot. Pork dumplings – $5
10:28 White Bear – For won ton lovers in New York City, taking a trip to White Bear in Flushing, Queens, is one of the food lovers pilgrimages. So after the spicy cumin lamb noodles we walked over to white bear. The won tons came with hot chili oil on top and an assortment of mostly pickled mustard greens. Although the chili wasn't spicy, but was extremely fragrant and tasted amazing. It was another delicious places of dumplings in Flushing. Wonton with hot sauce – $5.50
13:35 Fu Run Restaurant – Finally, our last Chinese food meal in Flushing, we decided to sit down at a restaurant called Fu Run. Along with hot and sour soup and fries string beans, what I really wanted to try at Fu Run Restaurant were the Muslim lamb chops, fried and seasoned with an abundance of garlic and cumin. They were absolutely awesome, fall apart tender lamb, crispy on the edges and just coated in toasted crispy cumin seeds. Although some people say the quality of the Muslim Chinese lamb chops at Fu Run has gone down, I thought they were still absolutely superb. Though I'd like to try the same dish from other restaurants in Flushing, next time I'm in Queens. Total price – $49.50
19:14 Times Square station – Central Park – After coming back from our food trip to Flushing, Queens, we then took a walk around Central Park, just enjoying New York City.
21:03 Fresh&Co – For dinner, since I think I had eaten my share of meat for the day, I decided to go vegetarian and had a salad. Although it was too expensive, it was pretty good. Gaucho salad – $9.95
Disclaimer and Thank You:
Thank you to Star Alliance and their Round The World tickets (http://www.staralliance.com/en/round-the-world) for sponsoring my business class flights.
Thank you to Courtyard New York Manhattan / Chelsea for sponsoring my stay in NYC.
I personally paid for all food and attractions in this video, and I decided what to do and where to eat.
Music:
https://www.audionetwork.com/browse/m/track/chinatown_41885
https://www.audionetwork.com/browse/m/track/i-owe-you_102799
—
GEAR I USE:
Main camera I use: http://amzn.to/2dEL3hv
Main lens: http://amzn.to/2e5Lum6
Microphone: http://amzn.to/2dEr9Z9
Gorillapod: http://amzn.to/2epFsQx
*These are Amazon affiliate links
MY WEBSITES:
Migrationology.com: http://migrationology.com/
Get e-mail updates: https://migrationology.com/free-updates
SOCIAL MEDIA:
Snapchat: @migrationology
Instagram: https://instagram.com/migrationology
Facebook: https://www.facebook.com/migrationology
SUPPORT MY WIFE AND I:
Donate: http://migrationology.com/donate/
T-shirts: https://migrationology.com/store/
—

source