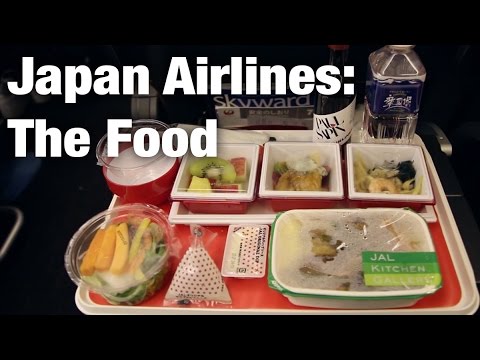 ►Review about Japan Airlines: http://wp.me/psd9b-5pq
►Instagram: https://instagram.com/migrationology
►Facebook: https://www.facebook.com/migrationology
NOTE: Before I get started I just want to say this video is not sponsored or affiliate with Japan Airlines at all. I just happen to luckily have a flight with Japan Airlines, and I made a video. All opinions are my own.
I was in Phoenix, Arizona, and I had a flight to Singapore (with a different airline), and my wife and I were supposed to fly from Phoenix to Los Angeles to Hong Kong and finally to Singapore. It just so happened that our very first flight, which was just to Los Angeles, was delays by a couple of hours, which caused us to miss our flight from LA to Hong Kong and our flight to Singapore. But no worries, I try to be as positive as possible when there's a flight delay or when there a problem with an airplane / staff, and rather try to be grateful that we are safe on the ground.
Anyway, we ended up finally leaving for Los Angeles, and we arrived, but yes we did miss our flight on to Hong Kong. The airline we were supposed to fly on was in the Oneworld Airline alliance. And so they figured out a route for use, using different airlines to get to Singapore, almost at the same time as we were supposed to on the other flights. For our first leg, from Los Angeles to Tokyo, we took an airline from the US, which was alright, but nothing at all to rave about – the food and service were below average.
But things really changed course when we arrived to Tokyo and stepped foot in Narita International Airport! We were immediately greeted by a lady that worked for Japan Airlines, she had our names written on a piece of paper, and we followed her to the customer service counter. They quickly issued us tickets to from Tokyo to Singapore, and they said: "You have complimentary access to the First Class Sakura Lounge." I was pretty excited, so my wife and I rushed as fast as we could to the Japan Airlines first class lounge. The only problem, was that we only had about an hour until our flight was going to leave. Luckily we spent that hour very well, had some delicious Japanese curry and then proceeded to have a bunch of different drinks.
I immediately liked the airplane – the seats were very comfortable, and it seemed to me like the economy class seats were bigger than some airlines. We also were lucky to get a very new airplane – not sure how their full fleet is, but I think Japan Airlines has a very new flight and very well maintained as well. As soon as we stepped into the plane, the staff of Japan Airlines all greeted us and were extremely nice, genuinely nice. Since our flight wasn't too long, I think just under seven hours, we were mainly served just one meal, which was dinner. They even gave me a menu, and I chose the miso grilled pork. Just like all food in Japan, the platter of food on Japan Airlines came very nicely displayed, in little separate containers. The meal included a number of salads and side dishes, and the main dish was rice topped with grilled pieces of pork belly and everything smothered in a thick creamy miso sauce. Of course, if you compared this meal on Japan Airlines to food you could get on the ground in Tokyo, it wouldn't come close, but being 10,000 meters in the air, this was one of the best meals I've had on an airplane.
This was my first time to fly on Japan Airlines, and I have to give them an excellent review – it's a fantastic airline – great service, great food, and very comfortable. My wife and I had an amazing flight, and arrived to Singapore to attend a food event.
Music in this video courtesy of Audio Network
Watch more Japan videos: https://www.youtube.com/watch?v=lDoLLhswOwY&list=PLeoy0zUu6bqnusJ2aCfMR1yxLsPxVoMKR
This video was made by Mark Wiens and Ying Wiens
Website: http://migrationology.com/blog & http://www.eatingthaifood.com/
Get my newsletter (for free): http://migrationology.com/food-news
Thank you for watching!

source