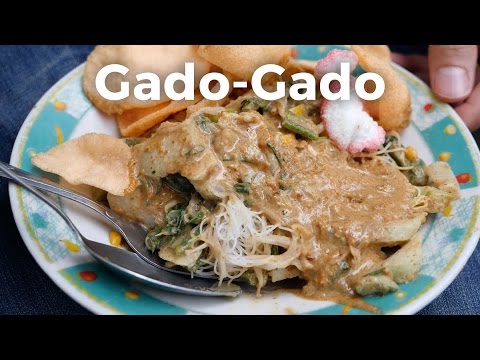 One of the most popular Jakarta street food dishes is gado-gado. For my full Jakarta travel and food guide, check this out: https://migrationology.com/travel-guides/jakarta-indonesia/
Gado gado is an Indonesian dish that you'll find on nearly every street corner throughout Jakarta – it's one of the most common street food dishes in the city. For this video, I happen to be near Citywalk Mall, just south of downtown, and right along Jalan Karet Pasar Baru Timur 5, there's a nice row of street food stalls that set up during lunchtime hours. There's a lot of good food to eat, but I decided to go straight for a plate of gado-gado.
After taking a seat on a plastic stool, I ordered a plate and he got busy making it. He first made the peanut sauce, peanut sauce is one of the most important components of gado gado. He added some peanut paste, some sugar, and water, and then ground up some chili and garlic to add to it. Once the consistency was right, he added in handfuls of pre cooked vegetables and rice cakes, and mixed it all up into a salad. Gado gado is technically a salad, but it's definitely not a light and fluffy salad, but it's a dense and hearty salad, with plenty of carbs and starches, and made rich with the peanut sauce.
What I love about gado-gado is the mix of ingredients all wrapped up in the thick and nutty peanut sauce. While the sauce can be a bit too sweet sometimes, the this version wasn't too sweet, but nicely balanced with chilies and garlic, and a good mixture of vegetables. Gado-gado is one of the most popular Jakarta street food dishes, and highly enjoyed this plate in downtown Jakarta.
Price – 10,000 IDR ($0.76)
—
MY WEBSITES:
Migrationology.com: http://migrationology.com/
EatingThaiFood.com: http://eatingthaifood.com/
TravelByYing.com: http://travelbyying.com/
T-shirts & Food Guides: https://migrationology.com/store/
Resources: http://migrationology.com/travel-resources/
SOCIAL MEDIA:
Snapchat: @migrationology
Instagram: https://instagram.com/migrationology
Facebook: https://www.facebook.com/migrationology
►You might also be interested in my Jakarta Travel Guide for Food Lovers: https://migrationology.com/travel-guides/jakarta-indonesia/
—

source