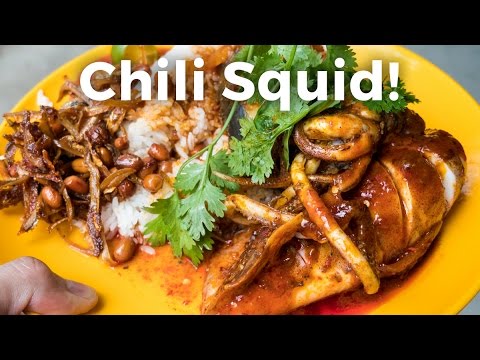 ►SINGAPORE FOOD GUIDE: http://migrationology.com/2016/01/singapore-food/
►SINGAPORE TRAVEL GUIDE: http://migrationology.com/travel-guides/singapore/
Whampoa Drive is another well known market and hawker centre food court in Singapore. Some of the market is only open in the morning for breakfast, but another part is open and popular for lunch. I actually went to Whampoa to search out a very famous hawker food stall called Ah Hock that serves fried oyster omelets… but unfortunately, even after trying to eat there a number of times, it remained closed.
Sor for lunch I decided to eat at Rabiah Muslim Food stall which specializes in serving Halal Nasi Melayu, or a mix of different Malay style dishes. Along with having an assortment of wonderful looking dishes, one of the most popular items on their display was sambal sotong or chili squid. The line for Rabiah Muslim Food stall stretched across the food court, so I knew it was a place I wanted to eat. When I got to the front of the line, I ordered the chili squid, asam fish curry, and finally some ikan bilis, fried anchovies and peanuts, plus some extra sambal on the side. the plate of food looked incredible.
When I think about a beautiful plate of food, this is exactly what I would imagine. The colors, the sauces, and chilies, everything added up to create a truly picturesque plate of food. Everything was good, but the sambal sotong was the best.
Rabiah Muslim Food – Nasi Melayu
Whampoa Drive Food Centre and Market
90 Whampoa Dr, Singapore 320090
—
MY WEBSITES:
Singapore Travel Guide: http://migrationology.com/travel-guides/singapore/
Singapore Food Guide: http://migrationology.com/2016/01/singapore-food/
T-shirts available now: https://migrationology.com/store/
Resources I use: http://migrationology.com/travel-resources/
Migrationology.com: http://migrationology.com/
EatingThaiFood.com: http://eatingthaifood.com/
TravelByYing.com: http://travelbyying.com/
SOCIAL MEDIA:
Instagram: https://instagram.com/migrationology
Facebook: https://www.facebook.com/migrationology
Snapchat: @migrationology
Thank you very much for watching this video!
—

source