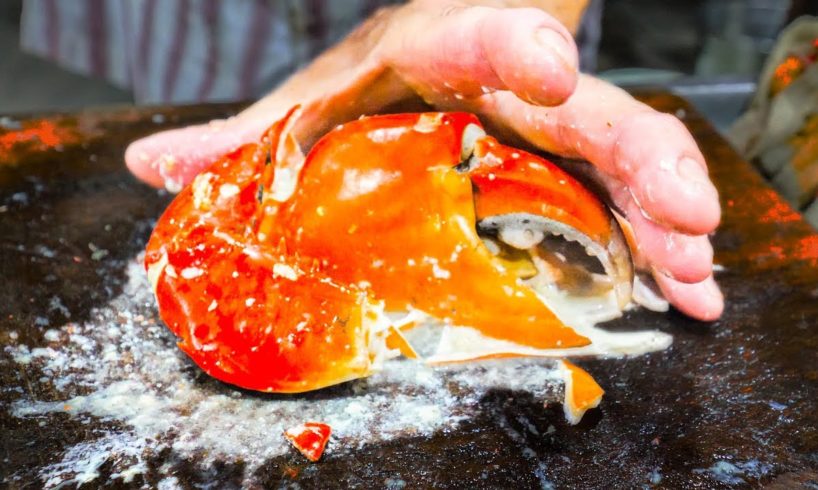 Check out https://ExpressVPN.com/thefoodranger for 3 months free w/ 1 year pack and 49% OFF! FOOD RANGER MERCH NOW AVAILABLE! http://bit.ly/FOODRANGER
Indonesian street food HEAVEN in Medan, Indonesia! Street Food In Indonesia is some of the BEST street food around the world, and we came to medan for on a FULL-ON street food tour of Indonesia, spending one month traveling, eating, and trying the best street food recipes! You can follow us on this street food tour of Medan, Indonesia, as we sample some SPICY BBQ Chicken, SPICY Noodles, SPICY curry, and enjoy a crazy SEAFOOD FEAST!!
MY GEAR AND RESOURCES + MERCH
► New Camera (AWESOME 4K) : https://amzn.to/2MnyBsg
► Main Lens: https://amzn.to/2MjnuAr
► Great Second Lens (FOR CLOSEUPS): https://amzn.to/2ntJvhG
► Favourite Telephoto: https://amzn.to/2vy3lwU
► Take everywhere cam: https://amzn.to/2P0b2Eb
► Action Cam (WATERPROOF) https://amzn.to/2Macjec
► Audio Setup (GREAT for clear voice): https://amzn.to/2MgzYJc
► Memory Card (for 4K footage): https://amzn.to/2OZrOTO
► Editing Computer (SUPER FAST): https://amzn.to/2M9nIuD
► Main External Hard Drive: https://amzn.to/2OXr4P3
► Main SSD Hard Drive: https://amzn.to/2OZOyTS
► How I Access The Internet ANYWHERE: https://amzn.to/2vv0TY3
► MUSIC I USE (Great For YouTubers): http://share.epidemicsound.com/pf97L
►BEST VPN FOR CHINA (ACCESS YOUTUBE):
http://bit.ly/AccessYouTubeinChina
► MERCH AVAILABLE HERE: https://shop.bonfire.com/thefoodranger/
We spent one month traveling around Indonesia, eating street food in Jakarta, Street food in Padang, Street Food in Bukittingi, and now, Street food in Medan! We really enjoyed the street food in Sumatra, some of the best street food around the world that we've tried! If you enjoy this street food video from Indonesia, in the beautiful city of Medan, you can watch our other videos from our Indonesian street food series:
This is part 5 of our Indonesia Street Food Series
Watch Part 4 here: https://youtu.be/eYRPB1yilX4
Watch part 3 here:https://youtu.be/VsVoVi7pH20
Watch Part 2 here: https://youtu.be/SUx203wm9WU
Watch Part 1 here: https://youtu.be/mt8KCD08qns
Over the past few years of living in Asia, I've been making delicious street food tour videos across Asia and around the world. We've eaten street food in Indonesia, Street Food in China (like Shanghai, Beijing, and Xinjiang Silk Road street food), a ton of street food in Malaysia and Street food in Thailand, and we are only just getting started! We're going to keep filming these full on street food tour videos from around the world for you to enjoy!
In this Sumatra street food tour of Medan video, we ate a ton of delicious and exciting Indonesian Street foods, including some Chinese influenced street foods! Here are the specific addresses for the street foods, for the next time you are traveling and living in Indonesia, you can come here to try them!
1) Morning Street Market Nasi Lemak @ Nasi Lemak Pasar Beruang
2) Deep Back alley Duck Egg Kuay Teow @ Kwetiau at PASAR RAME – Go deep into the market to find it!!
3) Duck Noodle Bihun @ Bihun Bebek Asie 阿泗 鴨米粉 @ Jl. Kumango, Kesawan, Medan Bar., Kota Medan, Sumatera Utara 20212, Indonesia
4) Beef/Chicken Curry @ Rm Tabona – Tabona Restaurant @ Jl. Mangkubumi No.17, A U R, Medan Maimun, Kota Medan, Sumatera Utara 20212, Indonesia
5) Delicious spiced beef soup @ Soto Sinar Pagi @ Jl. Sei Deli No.2, Silalas, Medan Bar., Kota Medan, Sumatera Utara 20236, Indonesia
6) Sate Padang @ Sate Padang Kalimantan, Jl. Kalimantan, Medan, North Sumatra, Indonesia
7) Popiah delicious stuffed spring rolls @ Atak Popia AKA Popia Jose Rizal @ Popia (Yose Rizal) Jl. Yose Rizal, Medan, Indonesia
8) Incredible Seafood Feast @ Hawwi Seafood, Jl. Orion No.81 – 83, Petisah Tengah, Medan Petisah, Kota Medan, Sumatera Utara 20111, Indonesia
9) Durian MOUNTAIN @ Ucok Durian @ Jalan KH. Wahid Hasyim No. 30-32, Babura, Medan Baru, Babura, Medan Baru, Kota Medan, Sumatera Utara 20153, Indonesia
ABOUT THE FOOD RANGER
—————————————————————————————–
My name is Trevor James and I'm a hungry traveler and Mandarin learner that's currently living in Chengdu, Sichuan, China, eating up as much delicious Chinese street food that I can!
I enjoy tasting and documenting as many dishes as I can and I'm going to make videos for YOU along the way! Over the next few years, I'm going to travel around the world and document as much food as I can for you! I love delicious food! This channel will show you real Chinese food and real local food, not that stuff they serve in the Buzzfeed challenge.
—————————————————————————————–
Facebook: https://www.facebook.com/thefoodranger
Twitter: https://twitter.com/FoodRanger
Insta: https://instagram.com/thefoodranger
/ Indonesian street food tour vlog blog 2017 medan
► My Food Blog: https://www.thefoodranger.com/

source