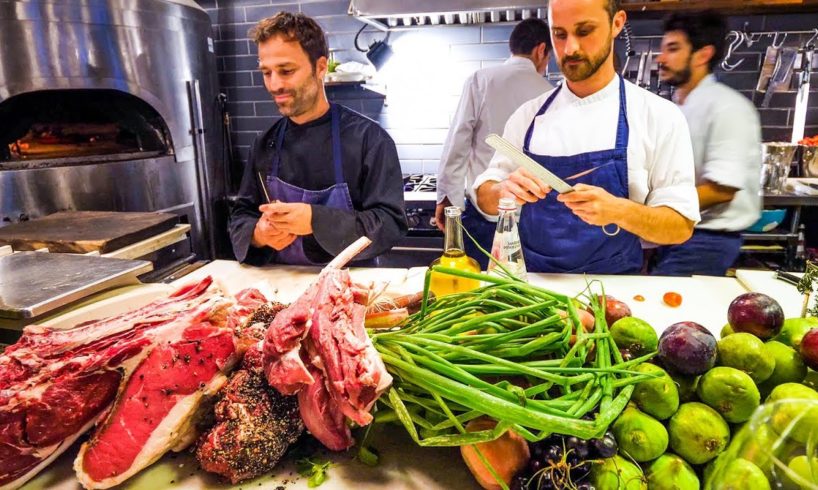 ►Follow David on Instagram: https://www.instagram.com/the.hungry.tourist/ and Facebook: https://www.facebook.com/thehungrytourist/
►Subscribe – http://bit.ly/MarkWiensSubscribe
►T-shirts – https://migrationology.com/store/
I don't normally eat at very many high end fancy restaurants like this. But my friend David (https://www.instagram.com/the.hungry.tourist/) invited me to eat at Eyal Shani's flagship restaurant in Tel Aviv known as Ha Salon (The Salon), saying it was one of the most unique restaurants you'll ever try. So thank you to David for getting reservations and for covering this meal.
It turned out to be very exciting, with a full open kitchen where you could watch all the food being prepared in front of you. It was lively, and the food was prepared with extremely high quality ingredients.
A couple things for you to know:
1. It's extremely expensive
2. It's a very party environment, so don't come here for a quiet relaxed date where you can have a conversation.
Ha Salon Restaurant (The Salon) – Eyal Shani
8 Ma'avar Yabok, Tel Aviv 6744012, Israel
–
MUSIC in This Video: End Of The Beginning, Thrillseeker – https://goo.gl/HwVjdo
CAMERA GEAR used to make this video (these are affiliate links):
GH5: http://amzn.to/2sV0XQO
Main lens: http://amzn.to/2szLZNf
2nd lens: http://amzn.to/2mcEGau
Microphone: http://amzn.to/2rBKD3z
Tripod: http://amzn.to/2rBFkkI
I would love to connect with you!
Instagram: https://instagram.com/migrationology
Facebook: https://www.facebook.com/migrationology
T-shirts available now: https://migrationology.com/store/
Thank you again for David: https://www.instagram.com/the.hungry.tourist/

source