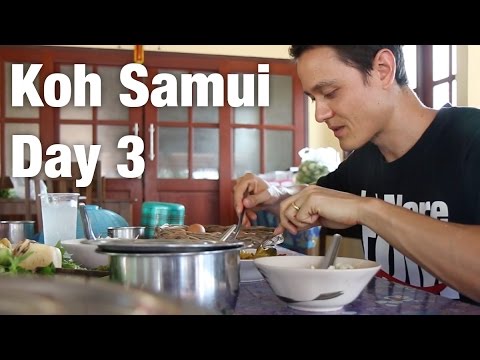 For our first few nights in Koh Samui we stayed at Santiburi Beach Resort: http://migrationology.com/2015/07/santiburi-beach-resort-koh-samui/
On Day 3 in Koh Samui, it was time to check out of Santiburi Beach Resort – as much as I wanted to stay for a week at the resort and relax and enjoy the beach, it was time to move on to Lamai beach. But before catching our truck to Lamai, we decided to have a quick lunch at a restaurant to eat a dish called khanom jeen, and the southern Thai style of it (ขนมจีนใต้). We went to a local restaurant recommended by some of the staff at our hotel, who said they served good Koh Samui style khanom jeen. The restaurant was very small, just a little roofed covering in front of someone's home.
Ying ordered a bowl of khanon jeen nam ya kati (ขนมจีนน้ำยากะทิ), rice noodles with fish coconut curry over it, and I ordered
After lunch we jumped in the back of a rot songthaew and drove from Mae Nam beach (าดแม่น้ำ) on Koh Samui's northern coast to the eastern coast and a beach called Lamai – also a very popular tourist beach. We thought we were going to be able to take a direct truck there, but it dropped us off on the side of the road near Chaweng, and we had to wait for another truck to take us on to Lamai – luckily it didn't take long for it to arrive.
We arrived right into the town of Lamai, and I had pre-booked a hotel called Lazy Days Samui Beach Resort, which was a little walk from the center of town down to the next beach. We checked into our hotel and after hanging out for a while we walked around. The beach right outside our hotel was not amazing, not the best beach for swimming, and there weren't a lot of options for buying food either. For dinner, since we didn't really feel like doing much, we went to a restaurant right on the beach. It was a terrible decision. The food was horrible!
That completes Day 3 of our short trip to Koh Samui.
*************************************************************************
Music in this video is from Audio Network
This travel food video was filmed and produced by Mark Wiens and Ying Wiens, check out our blogs: http://migrationology.com/blog & http://www.eatingthaifood.com/ & http://www.travelbyying.com/
Facebook: https://www.facebook.com/migrationology
Instagram: https://instagram.com/migrationology
Twitter: https://twitter.com/migrationology
SNAPCHAT: migrationology
Resources I use: http://migrationology.com/travel-resources/
Travel guides: http://migrationology.com/travel-guides/
NOTE: I was invited to stay at Santiburi Beach Resort from my blog (http://migrationology.com/), not from my videos. But I personally decided to make this vlog just on my own because I wanted to. All thoughts and opinions in this video are my own.

source