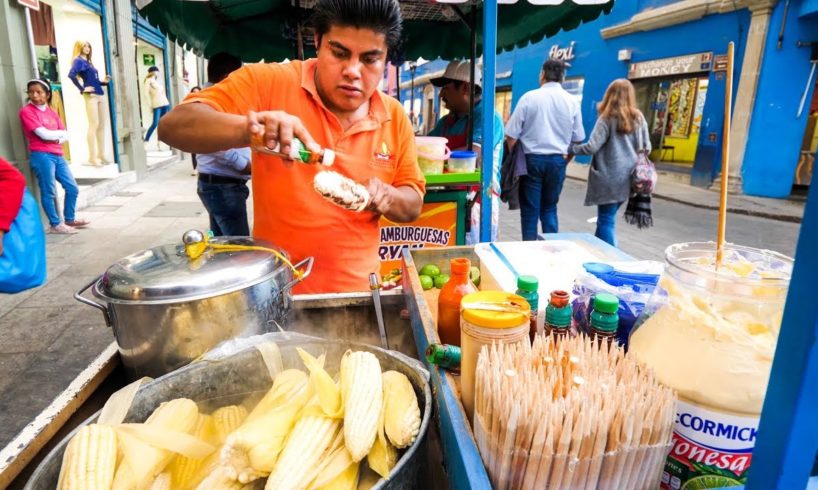 ►SUBSCRIBE for 2 new videos per week: http://bit.ly/MarkWiensSubscribe
►T-shirts available now: https://migrationology.com/store/
One of the places I was most excited to visit in Mexico for food (Comida Oaxaqueña) is Oaxaca. Oaxaca has one of the most developed and advanced food cultures in all of Mexico. For our first day, we set out on a Mexican street food tour of Oaxaca, eating everything we could see.
Mercado de Abastos – We began the morning at one of the biggest local fresh food markets in Oaxaca. I samples a Tamal de Mole – 11 MXN ($0.59) and a hot Chocolate – 10 MXN ($0.53), both of which were delicious, and a great way to start this tour.
Soup – 30 MXN ($1.60) per bowl – The market was just opening, but there was a busy soup stall, so we stopped to have a bowl. The fish and shrimp soup were both delicious.
Memelas – 30 MXN ($1.60) total – One of the ultimate Mexican street foods to try in Oaxaca is memalas, a round of masa, cooked and topped with salsa and cheese, and your choice of other toppings. We got it with grilled meat on top. It was delicious, one of the best things I ate throughout the day.
Carnitas – 30 MXN ($1.60) total – This was just a quick impulse taco on the go because it looked so good… it was.
Zócalo Oaxaca, Plaza de Santo Domingo – The center of Oaxaca is a pleasant place to hang out, only today there happen to be a protest going on, so it was a bit busy.
Mercado 20 de Noviembre – Meat combo – 300 MXN ($16.02) – This is one of the great meat halls of the world. You walk in to the meat sauna, choose your meat, they grill it all in front of you, and you eat it with tortillas and salsa. An amazing food paradise.
Tlayudas El Negro – Tlayudas are another common Oaxacan street food, using giant tortillas filled with beans, cabbage, and cheese, and then grilled.
Price – 80 MXN ($4.27) for 1
Monte Albán – Resting our stomachs, we did a little sightseeing in Oaxaca. One of the famous attractions are the ruins of Monte Alban.
Elote – 20 MXN ($1.07) – You'll find elotes, a corn on the cobb with cheese and salsas, all over Mexico. It's one of the most common Mexican street foods… but this guy is at the main plaza of Oaxaca is on another level. His style is champion!
Mole negro – 60 MXN ($3.20) per plate – Finally to end this Mexican street food tour of Oaxaca, we needed to have a plate of mole negro, one of the national dishes of Oaxaca.
It was an amazing day of food. Oaxaca has such a rich culture of food and friendly people.
MUSIC: https://goo.gl/HwVjdo
***CAMERA GEAR*** I used to make this video (these are affiliate links):
Main camera: http://amzn.to/2sV0XQO
Main lens: http://amzn.to/2szLZNf
2nd lens: http://amzn.to/2EjBeEg
Microphone: http://amzn.to/2rBKD3z
Drone: http://amzn.to/2CrtAHz
I would love to connect with you!
Instagram: https://instagram.com/migrationology
Facebook: https://www.facebook.com/migrationology
T-shirts available now: https://migrationology.com/store/

source