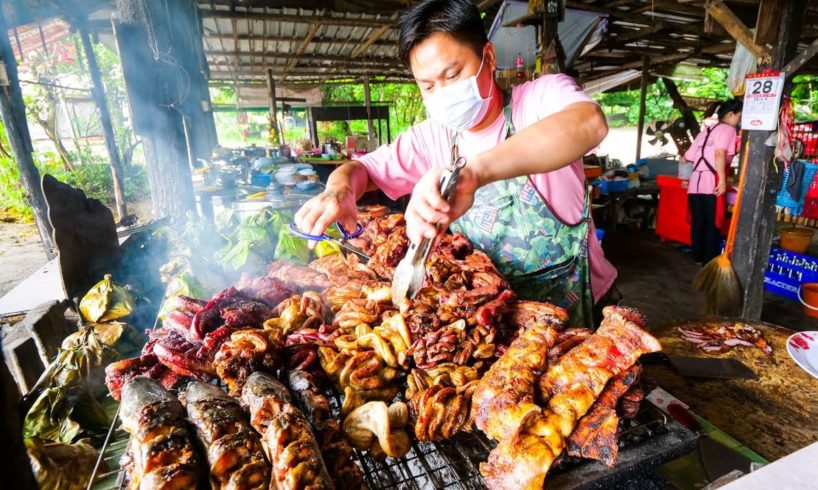 Watch more Chiang Mai food videos: https://youtu.be/cqzON6oWpOE
SUBSCRIBE http://bit.ly/MarkWiensSubscribe for 2 new videos every week
T-shirts and caps: https://goo.gl/6WdK1l
CHIANG MAI, THAILAND
I'll just tell you straight up, Northern Thailand is known for its meat, and meat is a huge part of the local authentic food diet. So today I'm going to take you on a Northern Thai food meat tour – eat mostly amazing bbq meat and a dish called laap (ลาบ) – and show you some of the best restaurants in Chiang Mai, that I personally love.
Talad Mae Hia (ตลาดแม่เหี้ยะ) Market – We started off the morning at what is one of the best places in Chiang Mai for sai oua (ไส้อั่ว), or Northern Thai herb sausage. At the market, the stall is called Sai Oua Kao Bakam (ร้านไส้อั่วเก๊าบ่าขาม) and we ate their sai oua (ไส้อั่ว) and a brains packet (แอบอ๋องอ๋อ). The sausage was the highlight, a perfect balance of herbal and meatiness.
Price – 390 THB ($11.91) per kg.
Kum Sang Dao (คุ้มแสงดาวหมูย่าง) – Just outside of Chiang Mai, but well worth the effort to get there, is one of the most impressive, filled to the brim Northern Thai bbq meat grills. For any grillmaster, this will be a sight to behold. The northern Thai food grill is typically quite low heat so meat can just kind of hang around and smoke all day long as it's eaten. We ordered the mixed grill (ย่างรวมมิตร), which included a mix of everything on the grill chopped up and served with sauce. Another highlight dish at Kum Sang Dao (คุ้มแสงดาวหมูย่าง) is theirsSoured pork, egg (จิ้นส้มหมกใส่ไข่). This is an amazing restaurant for Northern Thai meat dishes.
Total price – 390 THB ($11.91)
Laap Ton Koi Restaurant (ลาบต้นข่อย) – One of the best restaurants in Chiang Mai to eat at laap raw buffalo (ลาบควายดิบ), is Laap Ton Koi Restaurant (ลาบต้นข่อย), and I was very excited for this one. The minced buffalo was mixed with spices and bile, and herbs perfectly by the laap master. This is the best laap I have ever had in my life, it was absolutely incredible. We also ordered the Flash-cooked sliced meat (ส้าสะดุ้ง), and the pork herb curry (แกงอ่อมหมู).
Total price – 140 THB ($4.28)
Laap Ton Yang Restaurant (ร้านลาบต้นยาง) – Finally to end this Thai street food meat tour of Chiang Mai, we ate at one more of the best restaurants in Chiang Mai specializing in laap. Again the laap made with beef raw (ลาบเนื้อ ดิบ) was spectacular, but we also tried their laap pork cooked (ลาบหมู สุก), soured fried pork riblets (แหนมซี่โครงหมูทอด), steamed beef, chili dip (จิ้นนึ่ง นำ้พริกตาแดง), fish curry (แกงตูนป่า), and fried fish, herbs (ปลาทอดสมุนไพร). You don't need to eat raw meat here, all the other Northern Thai food dishes are also spectacular. This is just a great restaurant in Chiang Mai.
Total price – 420 THB ($12.83)
Thank you for watching this Thai street food tour of Chiang Mai and hope you have an amazing time eating when you're in Thailand!
MUSIC: https://goo.gl/HwVjdo
Logo: https://goo.gl/VhaLp5
CAMERA GEAR I used to make this video (these are affiliate links):
Main camera: http://amzn.to/2sV0XQO
Main lens: http://amzn.to/2szLZNf
2nd lens: http://amzn.to/2EjBeEg
Microphone: http://amzn.to/2rBKD3z
Drone: http://amzn.to/2CrtAHz
FOLLOW:
Instagram: https://instagram.com/migrationology
Facebook: https://www.facebook.com/migrationology
Thank you for watching!

source