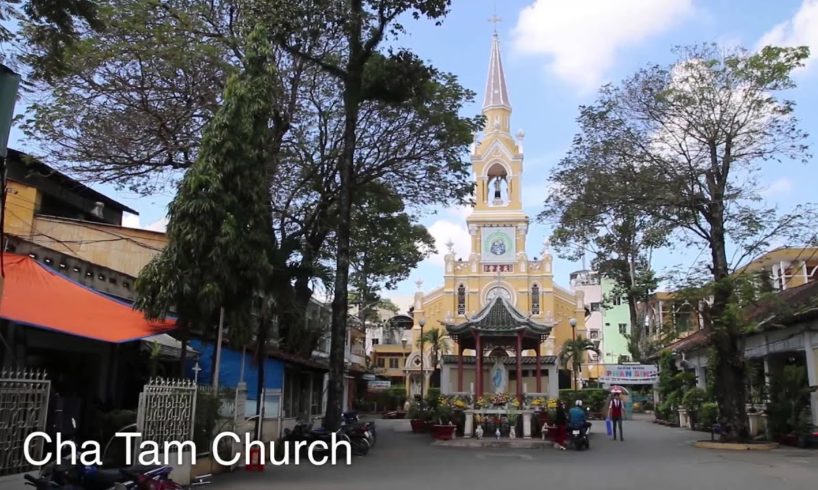 Binh Tay Market, located in Cholon, Saigon's Chinatown, is one of the largest markets in the city. Here's how to visit: http://migrationology.com/2015/01/binh-tay-market-saigon/
Other than eating full meals and snacks on street food, there are few things I enjoy doing more than visiting local fresh markets when I travel. One of the most famous markets in Saigon (Ho Chi Minh City) is the central Ben Thanh Market, but I liked Binh Tay Market even better. The market is located in District 5, about a 15 minutes taxi ride from central Saigon, and it cost us just 102,000 Vietnamese Dong to get there.
After reading about the Binh Tay market, I decided to go there in the morning in an attempt to see the outside market street, that was supposed to be a wet fresh market. Even though I got a little later start that I had hoped for, and arrived to the market at around 8 am, luckily the outdoor fresh market was still bustling and happening. There were all sorts of interesting fresh ingredients available, from fresh seafood and meat to vegetables and fruit – and I love the action and flow of all the markets in Vietnam. While walking around and taking photos in the market, I eventually talked to a lady who was selling desserts and her kindness talked me into buying a bag of her Vietnamese dessert, which she called bap. I bought it and then sampled it during breakfast.
Hot and tired after walking around the outdoor section of the fresh wet market, I headed into the market and went to the food court for some breakfast. There are a few different stalls to choose from, but I finally settled on one that looked very busy and that many people were eating at. At first I had no idea I was ordering fried instant noodles, but even though I didn't know what I was getting, it was actually extremely good. The fried beef was especially good. After breakfast, I walked around the indoor section of Binh Tay Market for a few more hours, enjoying the quantity and variety of things available. I noticed that the things for sale were similar to that of Ben Thanh Market, but I think everything at Binh Tay Market was cheaper.
After finishing up at the market, we then headed to do a little exploring around Cholon (Chợ Lớn). Our first stop was at Cha Tam church, a Catholic church located within Saigon's Chinatown. We were there for just a few minutes before making the long hot walk to Phuoc An Hoi Quan, a Taoist pagoda temple. From the outside street the temple looks like just a home, but inside it was incredibly ornately decorated. It was well worth a stop, and I don't think that it's visited very frequently by tourist in Saigon, so it was quiet and peaceful.
After a few minutes exploring Phuoc An Hoi Quan, we continued on to Thien Hau Temple (Chùa Bà Thiên Hậu), one of the more famous Taoist temples in Saigon, Vietnam, and in Chinatown. The temple was extremely old, and on the outside it looked dark and mysterious. The inside of the temple included a shrine in the front, and then the courtyard was filled with incense burning in coils from the ceiling. It was another interesting temple to visit.
Finally, we made the walk to a restaurant for a dish called bánh tằm bì that I was recommended to try. I had never tried it before. It was a dish of thick noodles with toppings all smothered in a thick coconut cream sauce. It was a little sweet, but quite good.
Binh Tay Market is an amazing market to visit and explore when you're in Saigon, Vietnam. If you want to see the morning wet market, make sure you go in the early morning. Also, if you have time, don't miss some of the temples in Cholon.
Thank you for watching, I hope you enjoyed this video.
The music in this video is from audionetwork.com
Produced by Mark Wiens and Ying Wiens: http://migrationology.com/blog & http://www.eatingthaifood.com/blog/
Check out our Eating Thai Food Guide: http://www.eatingthaifood.com/eating-thai-food-guide/
For more food and travel vlog and videos, don't forget to subscribe now: http://www.youtube.com/subscription_center?add_user=migrationology

source