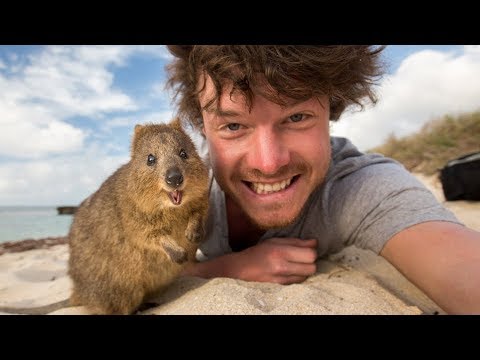 Follow more quokkas: http://www.instagram.com/quokkahub How to take quokka selfies. A lot of people want to meet the happiest animal in the world because of their beautiful smile.
In this video I show you how to use both a DSLR and smartphone. The smartphone is great because it's smaller, portable and doesn't scare the animal when your phone is beside them. The DSLR, for now, can take better quality photos, but it's heavier, less portable and can sometimes scare the animal. Some animals run away when I take out my DSLR. Maybe the animal is thinking "What is this crazy loud black box you're sticking in my face"
For learning to capture the best photos start with your phone so you can watch the screen in selfie mode. I believe most people are already professionals at selfies so including an animal will be a new challenge for them.
For advanced people, the phones back camera is better quality so a real challenge is taking selfies with the phone flipped around. Blind selfies, but better quality photos.
For great animal selfies, it actually comes down to the amount of time and energy you have to find and hang out with animals. I would usually travel very far to meet them and lie on the ground to build their trust.
Timing is also important. Sunrise and sunset are usually the best times as the animals are in a more relaxed state. This is also when most people would be busy sleeping or eating dinner. While everyone is busy eating and sleeping I'm out taking animal selfies.
The best camera is the one you already have, so give it a try and experiment. Start with your own pet or one of your friends. It helps to have a wide angle lens.
Once you're right beside the quokka it's all about slow steady movements so you don't scare them.
Location: Rottnest Island, Western Australia
GET A COPY OF MY HAPPY QUOKKA BOOK
—-Quokka photo book available on Amazon Japan—-
https://www.amazon.co.jp/HAPPY-QUOKKAS-ALLAN-DIXON%E2%80%95QUOKKA-SELFIES%E2%80%95%E3%80%90%E8%B3%BC%E5%85%A5%E7%89%B9%E5%85%B8%E4%BB%98%E3%81%8D%E3%80%91/dp/4865180761/ref=sr_1_1/355-7518274-1807051?s=books&ie=UTF8&qid=1528647203&sr=1-1
——–
Filming help by Corey Battersby
https://www.instagram.com/coreyjbatt
https://www.youtube.com/channel/UCFJW5OFoCpKdetMJXCqDq4w
He's an amazing videographer so definitely check out his work
——
Follow me on social media
The journey is only beginning, super excited. Follow along!
https://www.instagram.com/daxon
https://www.facebook.com/daxon
Tweets by daxon

source