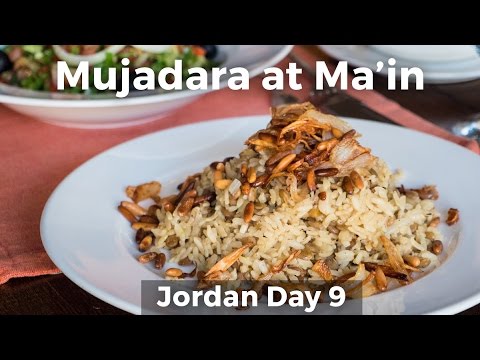 On Day 9 of our trip to Jordan we woke up at the Dead Sea. From the Dead Sea, we drove to the Ma'in Hot Springs, where we would spend the night. For lunch we learned how to cook a simple comfort Jordanian dish known as Mujadara, rice and lentils. In the afternoon we hung out and went to the ho waterfall springs, and then had dinner at the hotel. Overall, it was a pretty relaxing day in Jordan.
01:35 Touching the Dead Sea – Unfortunately the weather didn't cooperate, and the Dead Sea was very rough, and so the lifeguard told me it wasn't safe to go into the water. I had to settle for putting a little bit of the mud onto my hands, rubbing it around, and then going in for some of the mineral salts as well. The mud of the Dead Sea has so many minerals and is very healthy for the skin. The was able to go into the water just with my feet and wash my hands, but wasn't able to fully go into float. The water was warm and salty. I was disappointed, but that's alright.
04:50 Dead Sea Panoramic Complex – 2 JD ($2.81) – On the way driving we stopped off at the Dead Sea Panoramic viewpoint, a place on the side of the mountain that offers an incredible view of the Dead Sea and surrounding valley. They also had a rock museum there, which was pretty interesting.
05:33 Ma'In Hot Springs Resort – We checked into the resort, and got settled and hung out for a little while before it was time to eat lunch.
06:27 Mujadara for lunch – The Ma'in resort offers cooking classes, and so for lunch we learned to cook a very local and typical Jordanian dish. We had been eating so much lamb on this trip that we decided to keep it pretty simple for the cooking demonstration and make a dish called mujadara. The dish included rice cooked with lentils and spices, then topped with freshly fried pine nuts and onions. We also made an Arabic salad, a salad of cucumbers, peppers, and tomatoes, dressed with lemon juice and olive oil. Lunch was very good, and quite simple. I especially loved the freshly deep fried pine nuts and fried onions which gave the entire dish a lovely fragrance and taste.
09:38 Ma'in Public Hot Springs – After lunch Ying and I decided to go other to the Ma'in Public Hot Springs. It was a pretty nice place, and there was a hot waterfall. I stayed for a few minutes, relaxing in the hot waterfall, and then headed back to the hotel. For dinner we ate at the buffet at the hotel, which was pretty decent.
—
Check out my Amman, Jordan Travel Guide: http://migrationology.com/travel-guides/amman-jordan/ (Including where to stay, what to see, safety information, and extra tips)
MY WEBSITES:
Migrationology.com: http://migrationology.com/
EatingThaiFood.com: http://eatingthaifood.com/
TravelByYing.com: http://travelbyying.com/
T-shirts & Food Guides: https://migrationology.com/store/
Resources: http://migrationology.com/travel-resources/
SOCIAL MEDIA:
Snapchat: @migrationology
Instagram: https://instagram.com/migrationology
Facebook: https://www.facebook.com/migrationology
Thank you very much for watching this Jordan food and travel video!
—

source