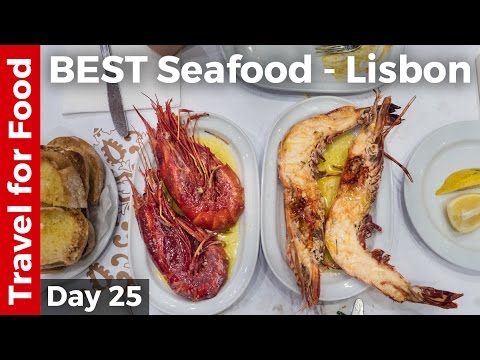 ►Check out my Lisbon Travel Guide [PDF eBook]: https://goo.gl/L7cF7X
►Subscribe to my videos: http://bit.ly/MarkWiensSubscribe
►Camera I use: http://amzn.to/2dEL3hv
On Day 25 of our Round The World Trip with Star Alliance we were in Lisbon, Portugal. Along with visiting some famous attractions in Lisbon, nothing compared to having one of the best seafood meals of my life at the legendary Cervejaria Ramiro.
1:48 Elevador de Santa Justa – Located just a short walk from Praça de D. Pedro IV (Rossio Square), the Elevador de Santa Justa or the Santa Justa lift is a historical elevator that you can ride to the top for a great view of Lisbon. Since I was in the area and it wasn't busy I decided to go for it. Price – 5 EUR
4:31 Castelo de São Jorge – From Praça da Figueira we took the bus up the hill to Castelo de São Jorge, which is one of the top things to do in Lisbon. After paying the entrance fee, we walked around the castle, which is situated on the top of one of Lisbon's hills as a citadel. The views of the surrounding area and the castle itself were spectacular. This is a must visit attraction in Lisbon. Price – 8.50 EUR per person
8:01 Epic seafood at Cervejaria Ramiro – If you ask anyone where to eat the best Portuguese seafood meal in Lisbon, undoubtedly the number one response you'll hear is Cervejaria Ramiro. It's a seafood palace of a restaurant that's popular with both locals and tourists alike, everyone comes for the abundance of incredibly fresh seafood. It actually almost feels like a Chinese restaurant when you're eating at Cervejaria Ramiro from the liveliness and the fresh seafood tanks. We started off with some prawns in garlic sauce and then ate clams in garlic and then had crab. The crab roe was intensely amazing, and I've never seen a crab with so much roe in my life. Next we had some of the greatest shrimp / prawns I've ever seen. I ordered 2 tiger prawns which were the size of lobsters, and then 2 scarlet prawns, a type I had never eaten before. Both were incredibly delicious, some of the best prawns and seafood I've ever tried. Finally, my last seafood dish at Cervejaria Ramiro was a plate of goose barnacles and some oysters. For steak at Cervejaria Ramiro one of the popular things you have to eat is called a prego, which is steak sandwich. After eating all that seafood, somehow the steak sandwich hits the spot. Our total price – 108 EUR for everything we ate and ordered.
26:23 Lisbon Cathedral – The Lisbon Cathedral is one of the first cathedrals and earliest buildings in Lisbon, and it's a fantastic sight to see.
27:31 Rua Augusta Arch – After walking around the Lisbon Cathedral we then headed to the main plaza of Lisbon and walked around the Rua Augusta Arch and got a nice view of the Tagus river.
29:10 Piri piri chicken at Frangasqueira Nacional – Finally to end this amazing day of Portuguese food and attractions in Lisbon, we headed to Frangasqueira Nacional to try their piri piri chicken. It's just a small takeaway restaurant, but the passion of the owners is evident. The piri piri chicken was awesome. Total price – 14 EUR
This was probably my favorite day of our trip to Lisbon, with a perfect mix of incredible Portuguese food, especially seafood at Cervejaria Ramiro and visiting attractions in Lisbon.
Disclaimer and Thank You:
Thank you to Star Alliance and their Round The World tickets (http://www.staralliance.com/en/round-the-world) for sponsoring my business class flights.
Thank you to The Fontecruz Lisboa Hotel for sponsoring my stay in Lisbon.
I personally paid for all food and attractions in this video, and I decided what to do and where to eat.
Music:
https://www.audionetwork.com/browse/m/track/in-love-with-the-city_89598
https://www.audionetwork.com/browse/m/track/dois-coracoes_122692
—
GEAR I USE:
Main camera I use: http://amzn.to/2dEL3hv
Main lens: http://amzn.to/2e5Lum6
Microphone: http://amzn.to/2dEr9Z9
Gorillapod: http://amzn.to/2epFsQx
*These are Amazon affiliate links
MY WEBSITES:
Migrationology.com: http://migrationology.com/
Get e-mail updates: https://migrationology.com/free-updates
SOCIAL MEDIA:
Snapchat: @migrationology
Instagram: https://instagram.com/migrationology
Facebook: https://www.facebook.com/migrationology
SUPPORT MY WIFE AND I:
Donate: http://migrationology.com/donate/
T-shirts: https://migrationology.com/store/
—

source