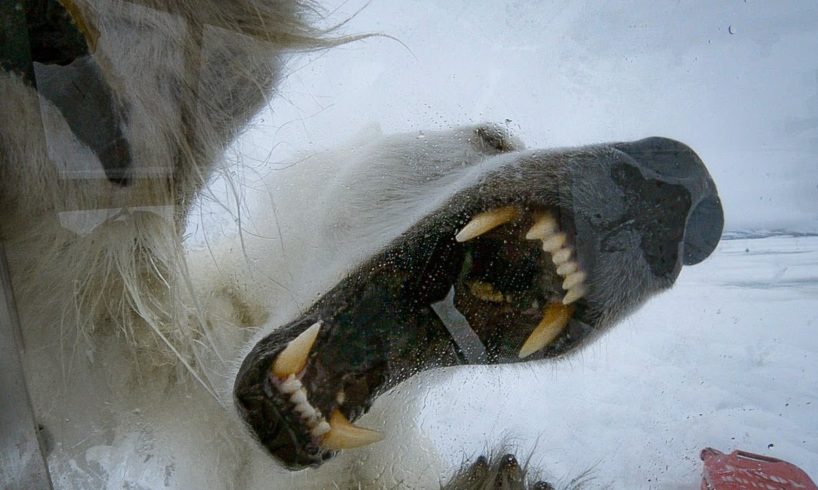 Gordon Buchanan comes face to face with a huge wild polar bear who is keen to get to what smells like a tasty meal.
Subscribe to BBC Earth for more amazing animal videos – http://bit.ly/BBCEarthSub
Watch more videos from BBC Earth:
Planet Earth http://bit.ly/PlanetEarthPlaylist
Blue Planet http://bit.ly/BluePlanetPlaylist
Planet Earth II http://bit.ly/PlanetEarthIIPlaylist
Planet Dinosaur http://bit.ly/PlanetDinoPlaylist
Check out the other two channels in our BBC Earth network:
BBC Earth Unplugged: http://bit.ly/BBCEarthUnplugged
BBC Earth Lab: http://bit.ly/BBCEarthLabYouTubeChannel
Polar Bear Family and Me
Polar bears are one of the most iconic animals on earth, and yet we know so little about them. Apart from fleeting glimpses, scientists and filmmakers have never been able to follow individuals to tell their story and record details of their family life. Now, taking what he has learnt while making the absorbing series The Bear Family and Me, wildlife cameraman Gordon Buchanan embarks on a new, ambitious and dangerous mission – to gain the trust of a family of polar bears and, using this unique opportunity, observe the life of these enigmatic animals as never before, over the course of a year.
About BBC Earth:
The world is an amazing place full of stories, beauty and natural wonder. Explore the official BBC Earth YouTube channel and meet the animals and wildlife of your planet. Here you'll find 50 years worth of astounding, entertaining, thought-provoking and educational natural history documentaries. Dramatic, rare and wild nature doesn't get more exciting than this. Subscribe to be the first to view new animal documentary videos. You can also become part of the BBC Earth community on Facebook, Twitter and Instagram. Here you'll find the best natural history content from the web, exclusive videos and images and a thriving, vibrant community.
Want to share your views with the team behind BBC Earth and win prizes? Join our fan panel here: http://tinyurl.com/YouTube-BBCEarth-FanPanel
This is a channel from BBC Studios who help fund new BBC programmes.

source