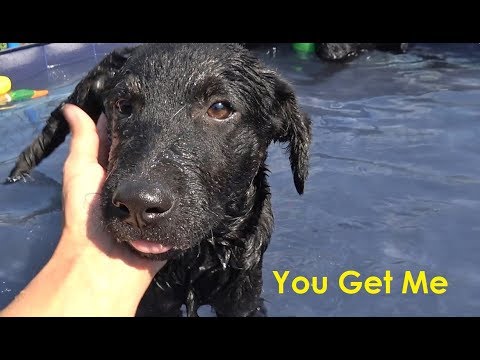 Rescued animals never cease to amaze us. Homeless dogs saved from the streets or overcrowded shelters are loyal companions, they know how lucky they are to be rescued and the thing they want most is to be with you. This video made by Howl Of A Dog in collaboration with American singer Cassandra Kubinski and Canadian voice actor Tony Daniels is trying to highlight the importance of adoption and raise awareness of the millions of shelter dogs, all over the world, who are waiting to find adoptive families. We got the chance to meet Cassandra last year, during a visit she had in Romania and we are very happy to be part of this beautiful project whose goal is to help animals worldwide. The song in this video is called "You Get Me" and it's a very special one because it was written in order to encourage pet adoption and to support animal rescue organizations and shelters.
You can download this song "You Get Me" by Cassandra Kubinski feat. Tony Daniels here: https://bit.ly/2HOEIoc
Every download supports pet rescue and a portion of proceeds are donated to Howl Of A Dog and other animal rescue organizations. Please download and share the song!
Follow Cassandra Kubinski on Spotify, Youtube, and at http://www.cassandrakubinski.com
Visit Tony Daniels at http://www.tonydaniels.com
All the dogs in this video were rescued by Howl Of A Dog organization, Romania, and you can watch their rescue videos here: https://www.youtube.com/HowlOfADog/videos
Please consider adopting a dog.
You will not only save a life, but also get a forever best friend.
Video by Howl Of A Dog
Song "You Get Me" by Cassandra Kubinski feat. Tony Daniels
To help us save more animals in need please visit: https://www.howlofadog.org
Donate: https://www.howlofadog.org/make-a-don…
Email: contact@howlofadog.org
Facebook: https://www.facebook.com/HowlOfADog
Twitter: https://twitter.com/HowlOfADog
Instagram: https://www.instagram.com/howlofadog
#HowlOfADog #DogRescue
—————-
Howl Of A Dog is a small nonprofit animal rescue organization located in Romania. Our commitment is to rescue abandoned, neglected and abused dogs from the streets or from overcrowded public shelters and to find them suitable loving forever homes.
HOWL OF A DOG organization
Registration Number 33570458

source