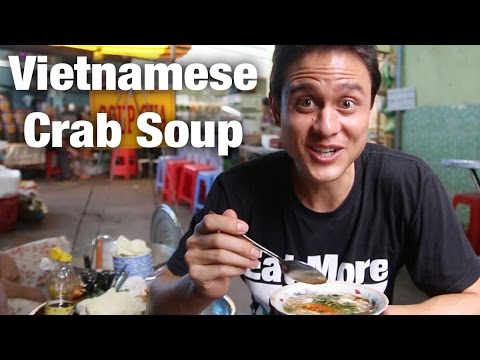 ►Read more about this Vietnamese street food adventure: http://migrationology.com/2015/04/vietnamese-crab-soup-saigon/
►Support our videos! https://www.patreon.com/markwiens
When I was in Saigon, one of the many dishes I tried was crab soup, which is known as súp cua. In the neighborhood market near where I was staying, I noticed a lady was selling a big pot of soup everyday. She'd park her double basket bamboo carrier in the middle of the alley in the market, and then she would serve her soup until she sold out everyday. I passed her a number of times, and eventually I couldn't resist my imagination anymore, and I had to pull up a stool to eat there.
Here Vietnamese crab soup street food stall was very popular, everyday I saw many people would walk up, especially those from around the market area, and they would often order their crab soup (súp cua) for take-away. She would fill it into a flimsy plastic cup, then add in a few toppings, and hand it to the customer. Others would pull up to the drive-though, just pull up on their motorbikes, and order a bowl of soup. I decided to eat there, and Ying and I pulled up little stools and each ordered a bowl of Vietnamese crab soup.
She added a few spoons of the sticky crab soup to a bowl, then sprinkled on some pepper, a handful of green onions, and a little bit of chili sauce to top it off. She then handed me the bowl of soup with a smile. The soup was very sticky and thick, almost like a gravy sauce. Inside the gravy were bits of crab, little pieces of mushroom, and also egg, which was added to the soup like egg drop soup. Additionally there were a couple of quail eggs in the soup as well.
The soup was a little on the plain side, but it was very soothing, and I enjoyed all the ingredients within it. For just 15,000 VND per bowl, it made an affordable and a pretty tasty and soothing afternoon Vietnamese street food snack in Saigon.
Music in this video courtesy of Audio Network
This travel video was created by Mark Wiens and Ying Wiens: http://migrationology.com/blog & http://www.eatingthaifood.com/ & http://www.travelbyying.com/
I'd love to connect with you:
Facebook: https://www.facebook.com/migrationology
Instagram: https://instagram.com/migrationology
Twitter: https://twitter.com/migrationology
Thank you for watching!
►Support our channel: https://www.patreon.com/markwiens

source