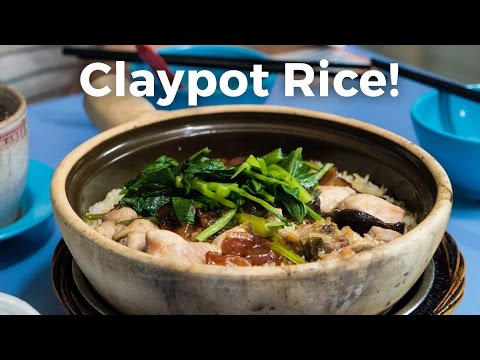 Chinatown Complex Food Centre is one of the biggest and I think one of the best hawker centers in Singapore. Get more details here: http://migrationology.com/2016/02/chinatown-complex-food-centre-singapore/
If you're looking for a hawker centre in Singapore that has everything (mostly on the Chinese side) of Singaporean food you can think of, you've got to check out Chinatown Complex Food Centre. It's one of the biggest and busiest hawker food courts in all of Singapore, and when you arrive there you'll be in a food paradise. The main reason I went there when I was in Singapore was to eat at Lian He Ben Ji Claypot Rice, a legendary hawker stall that specializes in rice and chicken cooked in a claypot. It took me about 15 minutes to find the stall, and when I found it, I tried to order, only to find out there was a 1 hour long wait to get the food. So I decided to wait it out. I happen to come on a very busy evening, so it was extremely busy, probably much busier than if you were to come on an off peak time.
While I was waiting for my claypot rice to cook, my wife and I samples a few other things in the hawker centre, including some Singapore style fresh poh pia. The poh pia included a thin crepe that was filled with an assortment of vegetables and seasonings, then wrapped up into an egg roll shape, but it wasn't deep fried. Poh pia is one of those snacks that falls somewhere in between a savory snack and a dessert – it's both sweet and salty all at the same time. I enjoyed it, but it was a little on the sweet side for me to eat often. Next, we decided to get a plate of chicken wings, which in Singapore are often available at food courts, and they make a delicious pre-meal snack. These chicken wings were excellent. Finally, we also got a bowl of ice kacang, the Singapore version of a shaved ice. The ice kacang was also very sweet, but very refreshing.
Finally, after an hour and a half, our claypot chicken rice from Lian He Ben Ji Claypot Rice was ready. The claypot arrived to our table, steaming hot, and right off the fire. I really enjoyed watching them make the claypot rice. One of the reasons it took so long to make was because they cook it from start to finish, including the rice, as you order it. A mixture of raw rice and water are added to the claypot, then after cooking for sometime, a mixture of chicken, vegetables, Chinese sausage, and some seasonings gets added to the rice, then cooked for a precise amount of time until everything melts together in a harmony of flavors and a crust of rice on the bottom that has a smoky charred flavor. It was excellent, pure comfort food for me.
Chinatown Complex Food Centre was one of my favorite Chinese food courts in Singapore for the variety of food available and for the crazy hectic atmosphere. When you go, definitely try out Lian He Ben Ji Claypot Rice, but also, there are a few hundred other things to choose from.
Lian He Ben Ji Claypot Rice
Address: 335 Smith St, Chinatown Complex Food Centre
Open hours: 4 pm – 11 pm (closed on Thursday)
Prices: Depending on the size of claypot you get, I had the $12 pot
How get there: Just a short walk from Chinatown MRT
============================================
My websites:
Migrationology.com: http://migrationology.com/
EatingThaiFood.com: http://eatingthaifood.com/
TravelByYing.com: http://travelbyying.com/
Instagram: https://instagram.com/migrationology
Facebook: https://www.facebook.com/migrationology
Make a donation: https://migrationology.com/donate/
Resources I use: http://migrationology.com/travel-reso…
T-shirts available now: https://migrationology.com/store/
Singapore food guide: http://migrationology.com/2016/01/sin…

source