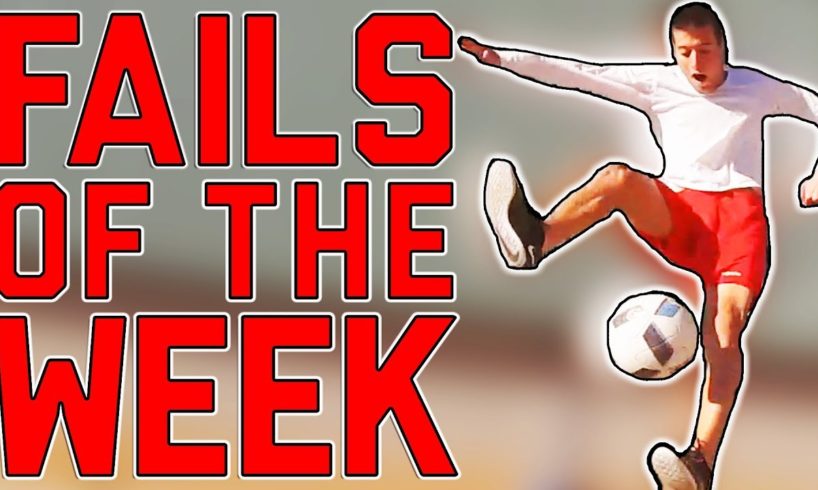 Submit your video, and you could win $1,000! Submit here: https://goo.gl/TZTdPJ
It's time for our weekly round up of the best fails of the week! We have a lot of good ones this week, featuring a dog who has an interesting way of handling business, a flaming supercar, and a dancer who puts the "break" in "breakdancing". This one is a must watch, so check it out!
►►► SUBMIT YOUR VIDEOS! http://bit.ly/fasubmit
SUBSCRIBE! http://bit.ly/fasubscribe
FACEBOOK • http://bit.ly/fafbpage
INSTAGRAM • http://bit.ly/fainsta
TWITTER • http://bit.ly/fatweet
TWITCH • http://bit.ly/2j9rKEX
Check out FailArmy U!!! • http://bit.ly/failu
Download the FailArmy App!!
on iOS • http://bit.ly/faiOS
on Android • http://bit.ly/fadroid
FailArmy gear • http://bit.ly/failmerch
FailArmy is the world's number one source for epic fail videos and hilarious compilations. We're powered by fan submissions and feedback from all around the world, with over 30 million fans across digital platforms!
To license any of the videos shown on FailArmy, please visit Jukin Media at http://bit.ly/jukinlicense.
Videos:
Luxury Car Catches on Fire https://goo.gl/Wyu6e4
Phone Explodes in Fast Food Restaurant https://goo.gl/BjwXcx
Rescuers Save Fishermen on Sinking Boat https://goo.gl/koBZPZ
Guy Spills Cocktail https://goo.gl/byT5mY
Girl Loses Balance on Rocks and Falls into Water
Girl Tries to Grab Giant Flying Saucer https://goo.gl/UQmcTJ
Guy Falls into Water while Parasailing https://goo.gl/kGGSEG
Kid Hits Camera out of Aunt's Hands https://goo.gl/5L1JHd
Kid Crashes Into Car
Kid Learns How to Ride Scooter https://goo.gl/fVDo4r
Hedgehog Sits in Croissant Pillow https://goo.gl/4TNuUC
Girl Tries to To Tricks with a Wheelchair https://goo.gl/9rw1sG
Gymnast Misses Falls Attempting Flip https://goo.gl/rMLh1y
Guy Tries to Balance Upside Down in Room https://goo.gl/XoaeR9
Dog Steals Baby's Cracker https://goo.gl/dRsRv1
Woman Nearly Faceplants While Performing Calisthenics https://goo.gl/jKyYCC
Mom Breaks Bed in Attempt to Jump https://goo.gl/Hg8D43
Partner Yoga Takes an Unexpected Twist
Guy Falls While Juggling Soccer Ball https://goo.gl/Y8t5r1
Dog Stands on Front Legs while Peeing https://goo.gl/GVUyST
Guy on Jet Ski Gets Hit By Fish https://goo.gl/hZTVuL
Kid Trips Over Bucket During Football Drills https://goo.gl/VtQTGz
Kid Fails to Jump Over Trash Can
Guy Slips on Mud while Kicking Soccer Ball https://goo.gl/tjCbC8
Kid Runs Into Tree With Electric Scooter
Woman Falls During Pole Fitness Class https://goo.gl/DDbGnt
Guy Rides on Back of Motorcycle While Holding Couch https://goo.gl/Vnsm98
Strong Lightning Strikes Tree https://goo.gl/HMy3gx
Girl Freaks Out by Unexpected Dog Visitor
Girl Slips While Casting Fishing Rod
Golden Retriever Interrupts Handstand https://goo.gl/oH5Rqb
Guy Breaks High Jump https://goo.gl/ibGRuV
Hiker Slides Down Hill https://goo.gl/WuaYDc
Woman Falls in Lake While Attempting Kayak Hill Slide https://goo.gl/BCrwmh
Boy Paints Entire Room
Car Crashes Into Turning Vehicle https://goo.gl/QWTA8e
Guy Falls While Trying to Balance on Bin
Guy Trips While Racing Dogs on the Beach
Guy Falls Off While Trying to Start Motorcycle
Guy on Bike Crashes into Wooden Stake https://goo.gl/E25Yix
#FailArmy #FailsoftheWeek

source