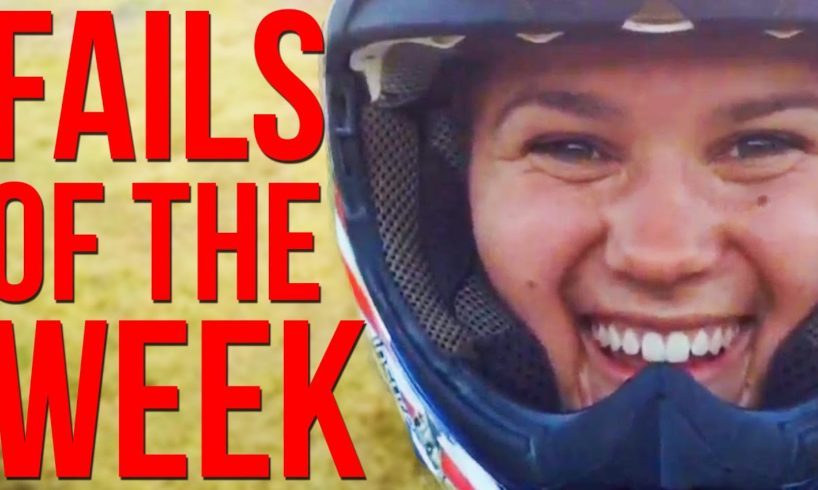 March is here and we've packed 6.5 minutes of the best fails so far in one convenient Fail Compilation. Check out the funniest fails the internet has to offer and shout out to all the loyal FailArmy subscribers. Enjoy the video and Salute!
Click to SUBSCRIBE for more awesome Fails! ► http://bit.ly/failarmy
Submit a Video ► http://bit.ly/SubmitToFailArmy
Click to get Fail Army Gear! ► http://bit.ly/FailArmyStore
Like us on Facebook! ► http://bit.ly/FailArmyFacebook
Follow us on Twitter! ► http://bit.ly/FailArmyTwitter
Instagram►http://bit.ly/FailArmyInstagram
Tumblr► http://bit.ly/FailArmyTumblr
Pinterest► http://bit.ly/FailArmyPinterest
FailArmy is the worldwide leader in funny fail videos and compilations. FailArmy releases "fails of the week," funny pranks, girls fails and compilations featuring all of the web's best fails. Join the global FailArmy Nation. Leave a comment on any fail video and start meeting your fellow FailArmy soldiers. Subscribe to the FailArmy YouTube channel for the ultimate fail videos!
Original Links:
Paintball Fail https://www.youtube.com/watch?v=Av9tim8lHl0
Playpark Fail https://www.youtube.com/watch?v=WdgGgrRw5uA
River Crossing https://www.youtube.com/watch?v=gHDlwJ6st4I
Watermobile https://www.youtube.com/watch?v=8nazS7oyhnE
MTB mess https://www.youtube.com/watch?v=R_Dqv5ZDbRk
Horse Fail https://www.youtube.com/watch?v=skqy2KwPqOo
Dirt Biker https://instagram.com/p/zRq8OGTb1B/
ATV Fail https://www.youtube.com/watch?v=_xBpRDPzwl8
Cat Fail https://instagram.com/p/xz42oSyDMh/
Bikini Fail https://www.youtube.com/watch?v=NvxqAKgPfT0
Kid Launch https://www.youtube.com/watch?v=nM_WiiGqT74
Impreza Fail https://www.youtube.com/watch?v=M_0avfiAaZg
Skate mess https://www.youtube.com/watch?v=2N3zllI8USQ
Slipping https://www.youtube.com/watch?v=1FWWhmSSZYA
Girl Fail https://www.youtube.com/watch?v=0bn8DVEaxXo
Ski Fail https://www.youtube.com/watch?v=_6l4w6vm8gk&feature=youtu.be
Wood Board Fail https://www.youtube.com/watch?v=iq1XBIpB10A
MTB Fail https://www.youtube.com/watch?v=5z3WwIaG3-k
Fireworks Fail https://www.youtube.com/watch?v=PEsRVg-27o4
Water FP https://www.youtube.com/watch?v=oX9CHkQAAog
Salmon Ladder https://www.youtube.com/watch?v=lpeGNkf8cUU
MTB Fail https://www.youtube.com/watch?v=Ld9edL4GROs
Skate Fail https://www.youtube.com/watch?v=aBetD1hGtFE
Ski Lift Fail https://www.youtube.com/watch?v=t99nsAU3Xfc
Water Slide Dog https://www.youtube.com/watch?v=RtOUBXDcrB0
Parent Fail https://www.youtube.com/watch?v=sju8tufQlzQ
Ski POV mess http://www.newschoolers.com/watch/755234.0/I-almost-caught-him?c=13&o=8&t=6
You're Not Serious https://www.youtube.com/watch?v=R8g731iIBno
Skate Fail Win https://www.youtube.com/watch?v=SyPR_VBd0Ck&feature=youtu.be
Bench Press Fail https://www.youtube.com/watch?v=q3s7InkKDDo
Ski Faceplant http://www.newschoolers.com/watch/753880.1/Get-Rek
Ferrt Falls https://www.youtube.com/watch?v=rkeazz3aMQs
Piggybacks https://www.youtube.com/watch?v=v8o4TH2jL0k
Pocket Bike Fail https://www.youtube.com/watch?v=CPwq3s1j3oc
Snow Flip Fail https://www.youtube.com/watch?v=MGGDG9HFnT4
Hurdle Fails https://www.youtube.com/watch?v=RKQ-cikjyxc
Guitar Spin https://www.youtube.com/watch?v=AvUSeu2QlQg
Horse Fail https://www.facebook.com/video.php?v=395004114012826
Great White Buffalo https://www.youtube.com/watch?v=srLjIZK2y_8
Ski Fail https://www.youtube.com/watch?v=YhUtuj4SC50
#FailArmy #FailsoftheWeek

source