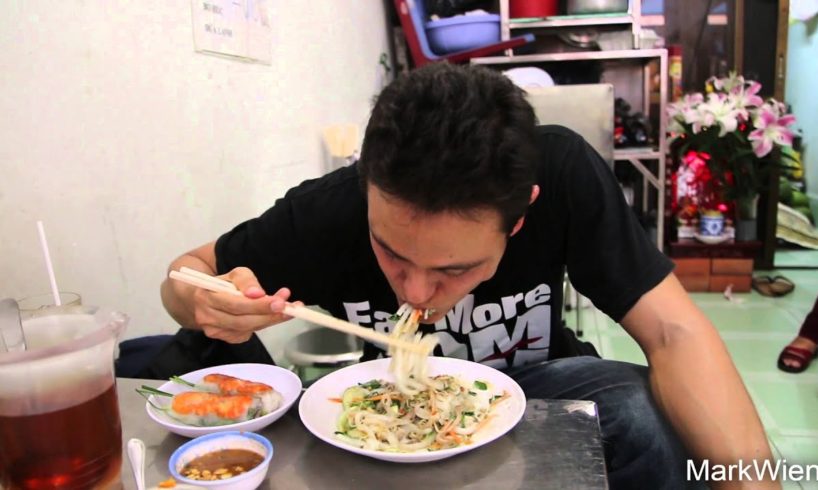 Bánh Tằm Bì is a Vietnamese noodles dish with coconut cream. Read all the details here: http://migrationology.com/2014/12/banh-tam-bi/
When I asked where to eat in Saigon, one of the suggestions I got was a restaurant called Bánh Tằm Bì Đồng Tháp (Thank you Yuyu Yuyu). So after taking a day trip to walk around and explore Cho Lon, Saigon's Chinatown, we weren't too far away from the restaurant and decided to stop by for a mid afternoon meal.
Chinatown vlog: https://www.youtube.com/watch?v=vglgFtQzBtw&list=UUyEd6QBSgat5kkC6svyjudA
When I first entered the restaurant, I literally had no clue was bánh tằm bì, all I really knew was that it was a Vietnamese noodles dish – that's all. But to me that's part of the joy of traveling and eating, what I love to do so much – discovering and trying foods that you're never tried before. As it turns out, banh tam bi is a dish of thick tapioca noodles, which almost look like Japanese udon noodles to me, dressed with herbs and thin strands of pork, then doused in a thick sweet coconut cream sauce.
So anyway, we entered Bánh Tằm Bì Đồng Tháp, and I ordered just a normal bowl of their bánh tằm bì. She first added a handful of herbs to the bottom of the plate, a combination of mostly Vietnamese coriander, and also some thinly sliced cucumbers. Then came a handful of the thick tapioca noodles, followed by a couple of different types of pork, both pork meat, and pork skin. Finally for the seasonings and dressing, she added a ladle of thick coconut cream gravy to the top, and then added a scoop of Vietnamese pickled and finally a topping of green onions.
I was pretty excited to dig into my plate of bánh tằm bì, which looked beautiful. There was a type of sweet fish sauce which came on the side, and also there was a bowl of crushed red chili, which I can't live without. But before garnishing it, I decided to try it on its own. The first flavor that stood out to me was the strong coconut flavor – if you love coconut, you're going to love bánh tằm bì. It was rich and creamy, and the noodles were extremely soft and slippery. Along with the fresh coconut, what I liked most about the dish was the fresh Vietnamese coriander and crisp cucumbers. However, the sauce was a little on the sweet side for me, so it wasn't my favorite dish, but I still enjoyed it, and it was great to try for the first time.
You'll find bánh tằm bì all over Saigon, at small restaurant and at street food stalls, but here are the details for the restaurant we ate at. Thank you again for the recommendation!
Bánh Tằm Bì Đồng Tháp
Address: 352 Nguyễn Trãi, Quarter 5, Ho Chi Minh City, Vietnam
Phone number: 0917 151 369
Open hours: 9 am – 11 pm daily
Music in this video from audionetwork.com
Video produced by Mark Wiens and Ying Wiens: http://migrationology.com/blog & http://www.eatingthaifood.com/blog/
Eating Thai Food Guide: http://www.eatingthaifood.com/eating-thai-food-guide/
Subscribe now for more street food videos: http://www.youtube.com/subscription_center?add_user=migrationology

source