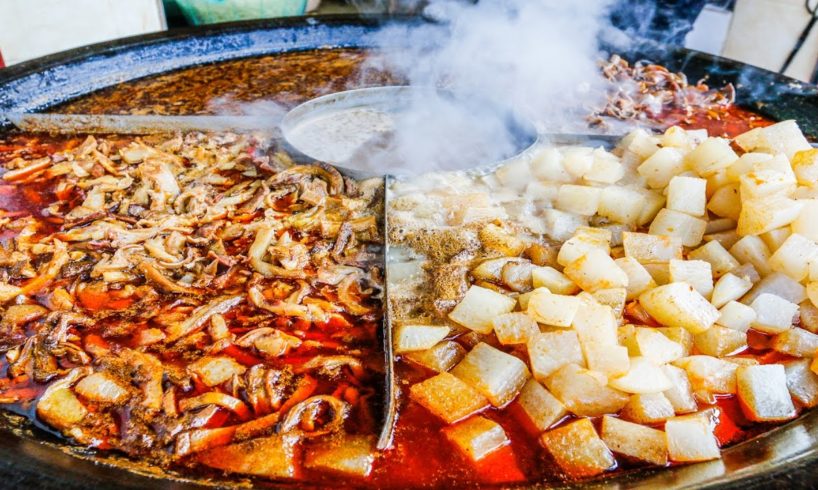 Check out https://ExpressVPN.com/thefoodranger for 3 months free w/ 1 year pack and 49% OFF! FOOD RANGER MERCH NOW AVAILABLE! http://bit.ly/FOODRANGER
Follow me on Insta: http://bit.ly/2c5ojch
And subscribe to my channel here: http://bit.ly/2cCy2ub
Chinese Street Food Wuhan – Chinese Street Food – Street Food China
Chinese street food and Chinese Food is something I'm always eating and traveling for. So I took the high speed train to Wuhan, China and have been eating street food and noodles non stop. Best Street Food and noodles! The Chinese food is so good in Wuhan! I've eaten street food in Bejing, street food in Shanghai, and street food in Chengdu, Street Food in Xi'an, all of which has been amazing, and the street food in Wuhan is my new addition to the street food around the world and street food in China series.
The street food in Wuhan was so delicious. The Chinese restaurant food was also very nice! I had some amazing noodles and dumplings/wontons, which were the reason I came. I specifically came here to try the famous Chinese street noodle known as "reganmian", AKA hot dry noodles.
Here are the locations for the Chinese street food and Chinese restaurants in Wuhan that I tried:
1) Hot dry noodles AKA Reganmian 武汉市武昌粮道街149号《天天红油赵师傅热干面》
2) SPECIAL Shaomai stuffed into crispy pocket 武汉市武昌粮道街149号《天天红油赵师傅热干面》
3) MAGIC mushroom cinnamon bao 武汉市山海关路13号《毛氏气泡包》
4) Rooster comb Fried Stick 武汉市山海关路口
5) Shaobing 武汉市一元路4号《怪味一元路烧饼》
6) Niuza mixed beef organs 武汉市二曜路5号《四平牛杂》
7) Huge Wuhan Feast 武汉市胜利街335号《百姓饭馆》
MY GEAR AND RESOURCES + MERCH
► New Camera (AWESOME 4K) : https://amzn.to/2MnyBsg
► Main Lens: https://amzn.to/2MjnuAr
► Great Second Lens (FOR CLOSEUPS): https://amzn.to/2ntJvhG
► Favourite Telephoto: https://amzn.to/2vy3lwU
► Take everywhere cam: https://amzn.to/2P0b2Eb
► Action Cam (WATERPROOF) https://amzn.to/2Macjec
► Audio Setup (GREAT for clear voice): https://amzn.to/2MgzYJc
► Memory Card (for 4K footage): https://amzn.to/2OZrOTO
► Editing Computer (SUPER FAST): https://amzn.to/2M9nIuD
► Main External Hard Drive: https://amzn.to/2OXr4P3
► Main SSD Hard Drive: https://amzn.to/2OZOyTS
► How I Access The Internet ANYWHERE: https://amzn.to/2vv0TY3
► MUSIC I USE (Great For YouTubers): http://share.epidemicsound.com/pf97L
►BEST VPN FOR CHINA (ACCESS YOUTUBE):
http://bit.ly/AccessYouTubeinChina
► MERCH AVAILABLE HERE: https://shop.bonfire.com/thefoodranger/
ABOUT THE FOOD RANGER
—————————————————————————————–
My name is Trevor James and I'm a hungry traveler and Mandarin learner that's currently living in Chengdu, Sichuan, China, eating up as much delicious .
I enjoy eating, tasting and documenting as many dishes as I can and I'm going to make videos for YOU along the way! Over the next few years, I'm going to travel around the world and document as much food as I can for you! I love delicious food! This channel will show you real Chinese food and real local food, not that stuff they serve in the Buzzfeed challenge.
Thanks for watching, and please feel free to leave a comment, suggestion, or critique in the comments below!
Please make sure to subscribe, it's the best way to keep my videos in your feed, and give me a thumbs up too if you liked this food video, thanks, I appreciate it! You could also share the video too if you liked it, that would be awesome.
—————————————————————————————–
Facebook: https://www.facebook.com/foodrangin
Twitter: https://twitter.com/FoodRanger
Insta: https://instagram.com/thefoodranger
/ chinese food chinese street food taste test gordon ramsay anthony bourdain best top cooking cuisine kitchen 2016 recipes
Love the music I use? Get a FREE month from me to you! I'm using this library for a few months now (since July 2017) and LOVE it. http://share.epidemicsound.com/pf97L
► My Food Blog: https://www.thefoodranger.com/

source