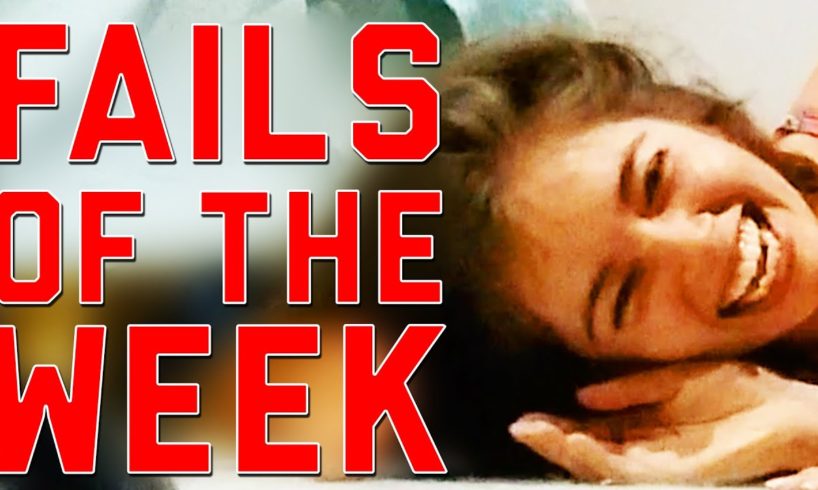 This week we have some classic fails from near-misses and device fails, to flaming cakes and angry customers. All in all one of the strongest weeks in a while. Let us know what you think in the comments below, check out TFB on Wednesday on FailArmy U and SALUTE!
Check out our second channel FailArmy U! http://bit.ly/SubscribeFU
Click to SUBSCRIBE for more awesome Fails! ► http://bit.ly/failarmy
Submit a Video ► http://bit.ly/SubmitToFailArmy
Click to get Fail Army Gear! ► http://bit.ly/FailArmyStore
Like us on Facebook! ► http://bit.ly/FailArmyFacebook
Follow us on Twitter! ► http://bit.ly/FailArmyTwitter
Instagram►http://bit.ly/FailArmyInstagram
Tumblr► http://bit.ly/FailArmyTumblr
Pinterest► http://bit.ly/FailArmyPinterest
FailArmy is the worldwide leader in funny fail videos and compilations. FailArmy releases "fails of the week," funny pranks, girls fails and compilations featuring all of the web's best fails. Join the global FailArmy Nation. Leave a comment on any fail video and start meeting your fellow FailArmy soldiers. Subscribe to the FailArmy YouTube channel for the ultimate fail videos!
Original Links:
Acro Fail https://www.youtube.com/watch?v=10gskaRp5I0
$1 Tacos https://www.youtube.com/watch?v=r0XegA8eDvQ
Snaps https://www.youtube.com/watch?v=kJy1fPb4o80
Bad Friends https://www.youtube.com/watch?v=YW13S6n4K9Q
Football Fail https://www.youtube.com/watch?v=BABUGIDNLd8
Gymnast Fail https://www.youtube.com/watch?v=o82HJqZteBU
Front Flip Bike Fail https://www.youtube.com/watch?v=-94dVjinDk8
Dog Wallet https://www.youtube.com/watch?v=-KdCrQECd7U
Scooter Fail https://www.youtube.com/watch?v=ONcRsrk-Rz4
Dash mishap https://www.youtube.com/watch?v=S54Pc2dUPo8
Roof Jump https://www.youtube.com/watch?v=ZOscyGG6qr0
BDay Fil https://www.youtube.com/watch?v=KCMKPKgoqFY
Orangutan https://www.youtube.com/watch?v=G6n-BTuUYn0
Spiked https://www.youtube.com/watch?v=h-Uyl3aPsGQ
device Fail https://www.youtube.com/watch?v=kv4ZsFTwbwM
Dog Fail https://www.youtube.com/watch?v=vqDPB6S0eHM
Atlanta Exploding https://www.youtube.com/watch?v=dciER8Cv3VI
Rollerblading Fail https://www.youtube.com/watch?v=Qr9n_nXv4dg
Moto Surfing https://www.youtube.com/watch?v=7uDC6rxPCMo
DB Fail https://www.youtube.com/watch?v=7VJg0PEZ33s
Bust My Eggs https://www.youtube.com/watch?v=MA3XKWSgDl8
Back Handspring https://www.youtube.com/watch?v=BqJ0KqFj_H8
Scooter Fail https://www.youtube.com/watch?v=9-m-buvUZmU
Freak Out https://www.youtube.com/watch?v=H1N6o-LHAng
Bike Fail https://www.youtube.com/watch?v=0OcSM9JQAf4
High Bar Fail https://www.youtube.com/watch?v=p3rlhzufV7E
Ramming the Dam https://www.youtube.com/watch?v=2GgNOB63CTM
Thievery https://www.youtube.com/watch?v=-fAGrqBEzpY
Horse Fail https://www.youtube.com/watch?v=YVBwRQ9–cA
Near Miss https://www.youtube.com/watch?v=BTP4P_gvcXM
Firework Fail https://www.youtube.com/watch?v=pk8a6zkOmZk
Birdies https://www.youtube.com/watch?v=PaRrHpkIBUw
Kartin Fail https://www.youtube.com/watch?v=UwenIT60ils
Escalator fail https://www.youtube.com/watch?v=70fMwiUoLnI
Pigs https://www.youtube.com/watch?v=X4do3Kus2nQ
Cyclist Fail https://www.youtube.com/watch?v=FtuXyWfBjUU
Chimp https://www.youtube.com/watch?v=Z_zw8h4epQM
Rollerblading https://www.youtube.com/watch?v=ArWBo71y57w
Hockey Fail https://www.youtube.com/watch?v=1krdXl0lcEA
Yoga Fail https://www.youtube.com/watch?v=nxNKS4foKOQ
Redneck head fail https://www.youtube.com/watch?v=7MgXxsS2CCU
Bday Fail https://www.youtube.com/watch?v=ps2TLqe02Ls
#FailArmy #FailsoftheWeek

source