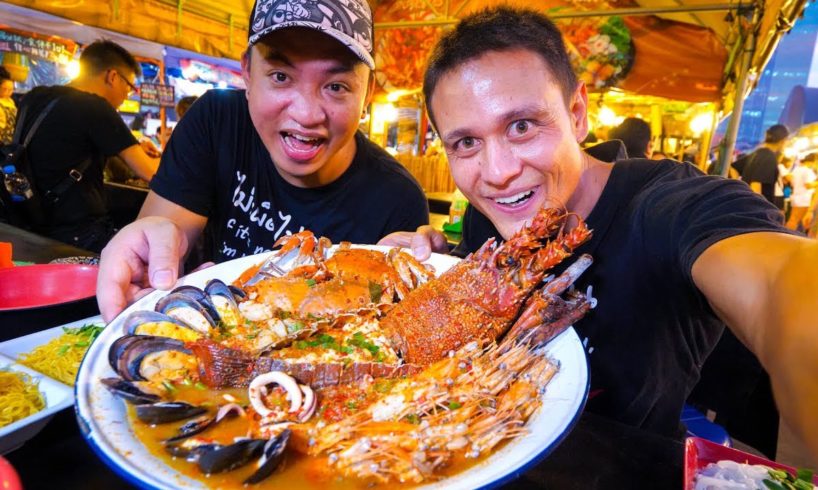 Can Ramon and I finish the GIANT Lobster Tom Yum food challenge!?
►Check out Ramon's Channel: https://bit.ly/2K5SBvi
►SUBSCRIBE for 2 new videos per week: http://bit.ly/MarkWiensSubscribe
►T-shirts and caps available now: https://migrationology.com/store/
Talad Rot Fai Ratchada (ตลาดรถไฟรัชดา) – Also known as the train market, is one of the most popular night markets in Bangkok. It's especially popular on the weekend when a younger crowd flocks to the market to eat the latest Thai street food trends, and hang out with friends.
The train market has in recent months become famous for its giant food – you'll find a number of giant Thai dishes to try like egg noodles, pork bone soup, and now the massive lobster tom yum – possibly the world's biggest bowl of tom yum?
Diaw Goong Rot Fai Restaurant (เตี๋ยวกุ้งรถไฟ) – This is the name of the restaurant, and when we ordered they started preparing the lobster.
Giant Lobster Tom Yum (ก๋วยเตี๋ยวต้มยำโครตกุ้งมังกรยักษ์) – They serve it in a basin, like a mini bathtub, not even a bowl. And it's HUGE. They layer in the fish, squid, mussels, shrimp, and finally a giant lobster goes on top, followed by all the tom yum soup broth. Honestly, the seafood isn't the freshest or best quality, but you don't really go to eat a bathtub of seafood for the quality – you go for the insaneness of it.
Price – 2,800 THB ($89.27)
Here are the other Thai street foods we tried on this tour:
Seafood griddle cakes (ขนมครกทะเล)
Price – 60 THB ($1.91)
Green mango crab egg salad (ยำมะม่วงไข่ปูทะเล)
Price – 150 THB ($4.78)
Watermelon shake (แตงโมปั่น)
Price – 60 THB ($1.91)
Thanks again to Ramon for joining me on this Thai street food lobster tom yum food challenge! Again, check out Ramon: https://bit.ly/2K5SBvi
MUSIC: https://goo.gl/HwVjdo
***CAMERA GEAR*** I used to make this video (these are affiliate links):
Main camera: http://amzn.to/2sV0XQO
Main lens: http://amzn.to/2szLZNf
2nd lens: http://amzn.to/2EjBeEg
Microphone: http://amzn.to/2rBKD3z
Drone: http://amzn.to/2CrtAHz
I would love to connect with you!
Instagram: https://instagram.com/migrationology
Facebook: https://www.facebook.com/migrationology
T-shirts available now: https://migrationology.com/store/

source