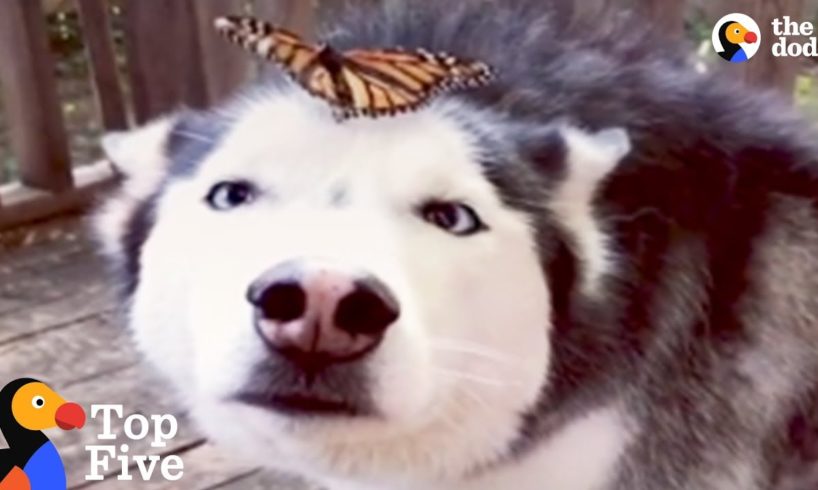 This Husky had no idea how to react when this butterfly landed on her head! So Pure!! Love Animals? Subscribe: http://thedo.do/2tv6Ocd
Butterfly Hangs Out On Dog's Nose
Woman Sings To Her Foster Kitten
You can keep up with Nikki and all of her work with her adorable foster kittens on Instagram, @myfosterkittens: http://thedo.do/myfosterkittens.
Dog Just Wants His Favorite Person To Get Up
For more of this adorable pup, Amélie Golden, visit: https://thedo.do/amelieretriever.
These Dogs Understand What The Weekend Is For
You can keep up with Hugo and Luisa's adorable adventures together on Instagram, hugo_e_luisa_goldenretriever :https://thedo.do/hugoeluisa.
Family Of Ducks Break Into Guy's House
Special thanks to James Prettyman for this delightful video.
Love Animals? Subscribe: http://thedo.do/2tv6Ocd
Follow The Dodo:
Tweet with us on Twitter: https://thedo.do/2Jast1M
Howl with us on Musical.ly: https://thedo.do/2qFkbGT
Take a peek at our Snapchat: http://thedo.do/2gkVhsz
¿Hablas español?: https://thedo.do/2Hcg24s
Love our Instagram: http://thedo.do/2agAEce
Like us on Facebook: http://thedo.do/1dJ9lmn
Read more on our site: http://thedo.do/KWDoNt
For the love of animals. Pass it on.
#thedodo #animals #dog #cat #kitten #puppy

source