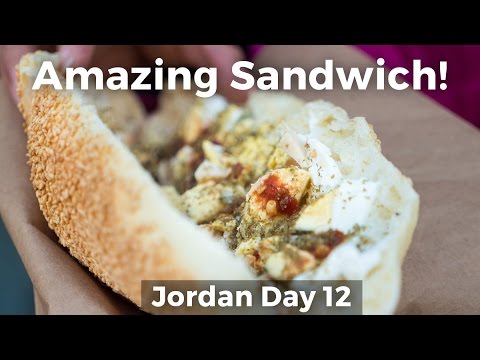 More details about this incredible Amman bakery: http://migrationology.com/best-bakery-amman-jordan/
Watch all the Jordan food and travel videos here: https://www.youtube.com/watch?v=ipE3LSJvJao&list=PLeoy0zUu6bqmvjnL2KcRfEcg9mrno-dLT&index=1
On Day 12 in Amman, Jordan, I had one of the best fresh loaves of bread I've ever had, then we had a delicious final Jordanian meal before heading to the airport at night. This is the end of the Jordan travel food video series.
00:49 Salaheddin Bakery (مخبز صلاح الدين) – Salaheddin Bakery is known as being one of the oldest and best bakeries in all of Amman, and it's especially known throughout the city for selling kaek sandwiches, a sandwich made with small loaves of bread that are covered in a layer of sesame seeds before being freshly baked. When you go to Salaheddin Bakery, everything is self service, you grab your own bread, slice it in half, and then you can proceed to add in cheese, hard baked eggs, and then season it with za'atar, a mix of thyme and spices blend for seasoning. I added in a little extra chili sauce and a sprinkle of salt, and I was good to go. The sandwich was so simple, and included just a few ingredients, but as soon as I took my first bite, I knew exactly why it was so famous and so popular: the bread. The bread was stunning. It was fluffy on the inside, crunchy on the outside, with an abundance of fragrant crispy sesame seeds on top. If you love bread, when you visit Amman, Salaheddin Bakery, is a restaurant you have to check out.
When the owners of Salaheddin Bakery saw me taking photos and videos, they were extremely kind. They invited me into the kitchen to see them making the bread and firing the bread, and they started giving me snacks to try as well. Salaheddin Bakery is also a full restaurant where they serve ful medames and falafel, and they also have a desserts shop as well. The owners of the restaurant were very friendly and generous. Ying and I ended up spending about an hour just hanging out and enjoying our last day in Amman.
11:16 Rakwet Arab Cafe – For lunch, we walked over to Rakwet Arab Cafe, a restaurant that was located just a short distance from our hotel in Amman, and I had seen it from the outside and thought it looked pretty good. Inside the cafe and restaurant, it was nicely decorated with an Arabic theme. I ordered Arabic salad, tabbouleh (one of my favorite Middle Eastern dishes), the mixed grill (because I couldn't resist one more plate of kebabs before leaving Jordan), and finally some dish made in a claypot with chicken. The claypot chicken was brought to our table, and they opened in by cracking a seal of clay. The cover came off with a puff of steam, and it smelled delicious. The chicken was moist and juicy while very fragrant. The grilled meat was also delicious. But what I really loved at Rakwet Arab Cafe was he tabbouleh which was some of the best I had during my trip to Jordan. It had a fantastic lemon juice dressing and it was stronger with garlic than other versions that I had eaten previously – something I love. Our total price for everything came to 33 JD ($46.40).
16:09 Spices – On our way back to the hotel, I stopped at a spice shop to pick up a few souvenirs to bring back to Bangkok with me – mostly that means a few bags of za'atar, the thyme herb mixture. The total price for everything I bought came to 11.50 JD ($16.17)
16:50 Dinner at La Locanda – We had a quick dinner at our hotel before heading to the airport.
This wraps up this Jordan food and travel guide video series. I want to say a big thank you to the Jordan Tourism Board (http://www.visitjordan.com/) for inviting Ying and I to Jordan to experience the food, culture, and attractions. Jordan is an amazing country, I experience kindness and generosity, and lots of delicious food. Also a big thank you to Fadi (https://www.facebook.com/Jordanality/) who was our excellent guide during our trip.
You can watch the entire Jordan video series here: https://www.youtube.com/watch?v=ipE3LSJvJao&list=PLeoy0zUu6bqmvjnL2KcRfEcg9mrno-dLT&index=1
Salaheddin Bakery (مخبز صلاح الدين): http://migrationology.com/best-bakery-amman-jordan/
—
Amman Travel Guide: http://migrationology.com/travel-guides/amman-jordan/
MY WEBSITES:
Migrationology.com: http://migrationology.com/
EatingThaiFood.com: http://eatingthaifood.com/
TravelByYing.com: http://travelbyying.com/
T-shirts & Food Guides: https://migrationology.com/store/
Resources: http://migrationology.com/travel-resources/
SOCIAL MEDIA:
Snapchat: @migrationology
Instagram: https://instagram.com/migrationology
Facebook: https://www.facebook.com/migrationology
Thank you for watching this Jordan travel food video!
—

source