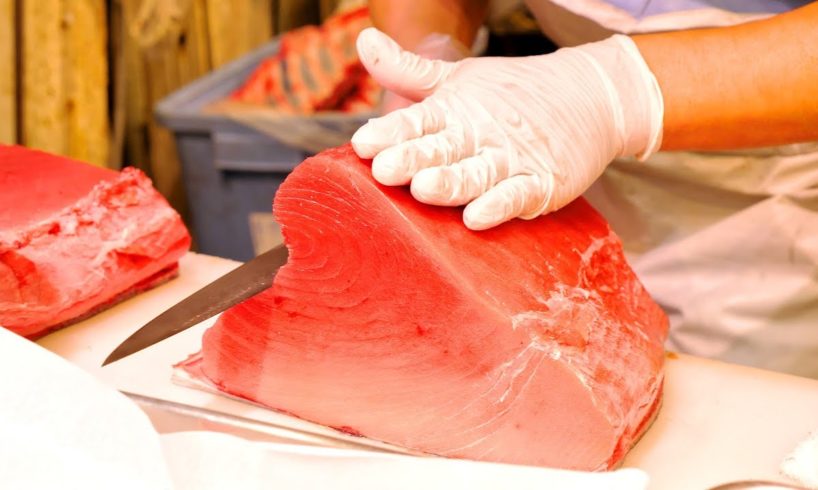 Japanese Street Food in Tokyo, Japan, is some of the BEST Street Food in the world. Check out https://ExpressVPN.com/thefoodranger for 3 months free w/ 1 year pack and 49% OFF! Today, we're going for a FULL-ON street food tour to try the best street food in Tokyo, Japan!
Today, I'm (The Food Ranger, Trevor James) bringing you in DEEP to some amazing street foods in Tokyo, Japan, starting out in the morning at the Tsukiji fish market to try some delicious street food and INSANE Sashimi! You can find everything in this market, from fresh Japanese seafood like sliced raw tuna, scallops, king crab, and more. This is the best place to stop if you want to try delicious Tokyo Street Food!
► MUSIC I USE (Great For YouTubers): http://bit.ly/FoodRangerMusic
►BEST VPN FOR CHINA (ACCESS YOUTUBE):
http://bit.ly/AccessYouTubeinChina
► MERCH AVAILABLE HERE: https://shop.bonfire.com/thefoodranger/
We're starting out with our first Japanese street food by trying a nice Uni Ikura Don also known as sea urchin and salmon roe bowl. This is the perfect street food to try in Japan in the morning for breakfast! You can also eat amazing fresh sashimi in this sushi restaurant, but I preferred the bowl of salmon roe and sea urchin.
After this, we found the most INSANE Sashimi stall, serving up fresh tuna sashimi by the cube, sliced right in front of you! It doesn't get any better than this! It is served to you with a little soy and wasabi, absolutely perfect!
After the amazing tuna sashimi, we went deeper into the Tsukiji market to find some other Japanese street food, and found a stall selling more raw Japanese seafood, and decided to try the raw scallops. They were super tasty!
After this we found a stall selling a dish known as Kuromon don, a rich beef offal stew over top of rice and topped with green onions. It was very delicious and super fun to enjoy right on the street! You just pull up a chair and sit down on the counter and watch them scoop up this delicious Japanese street food right before your eyes!
After this, we went for a famous bowl of ramen noodles in Japan, at Ichiran ramen. It is a Tonkatsu style broth, so quite creamy and rich, and the best part is how you can customize it exactly how you want it, with different levels of spiciness and richness, all from a machine!
After this amazing ramen, we went for a once in a lifetime Sushi experience at Nishi-azabu Kamikura. It wasn't cheap, but it was an amazing experience that you will always remember. The master chef cuts each piece of raw fish for you and creates Sushi for you individually and serves it to you by hand. It's unforgettable and you can taste new flavours and textures with each piece.
Here are the addresses for the restaurants we ate at in this Japanese street food video:
1) Sea Urchin and Salmon Roe Bowl:
Restaurant name: Tsukiji Itadori Uogashi Senryo
Address: 4-10-14 Tsukiji, Chuo 104-0045, Tokyo
2) Amazing Sashimi Stall at the Tsukiji fish market:
Stall name: Tsukiji Itadori Uogashi Senryo
3) Delicious Raw Scallops:
Found inside the Tsujiji Fish market in Tokyo, Japan
4) Delicious Beef Offal Stew:
Restaurant name: Kitsuneya
Address: 4-9-12 Chuo-ku, Tokyo
5) Tasty bowl of Tonkatsu Ramen:
Restaurant name: Ichiran Shibuya
Address: 1 Chome-22-7 Jinnan, Shibuya, Tokyo
6) Once in a lifetime Sushi and Sashimi experience:
Restaurant name: Nishi-azabu Kamikura
Address: 4-2-9 Nishi Azabu | Seasons Nishiazabu, Minato 106-0031, Tokyo
Even after eating all of these amazing street foods in Tokyo, there is so many more things to eat! You will definitely have to travel here to try them all!
ABOUT THE FOOD RANGER
——————————————————————–
My name is Trevor James and I'm a hungry traveler and Mandarin learner that's currently living in Chengdu, Szechuan, China, eating up as much delicious .
Facebook: https://www.facebook.com/thefoodranger
Twitter: https://twitter.com/FoodRanger
Insta: https://instagram.com/thefoodranger
Love the music I use? Get a FREE month from me to you! http://bit.ly/FoodRangerMusic
Get your Food Ranger Merch Here, TAI HAO LE Merch here:
https://shop.bonfire.com/THEFOODRANGER/
My Gear for shooting these street food videos: https://www.amazon.com/shop/thefoodranger
I booked the amazing Sushi experience with Pocket Concierge:
https://pocket-concierge.jp/
Thanks so much for watching my food and travel videos!

source