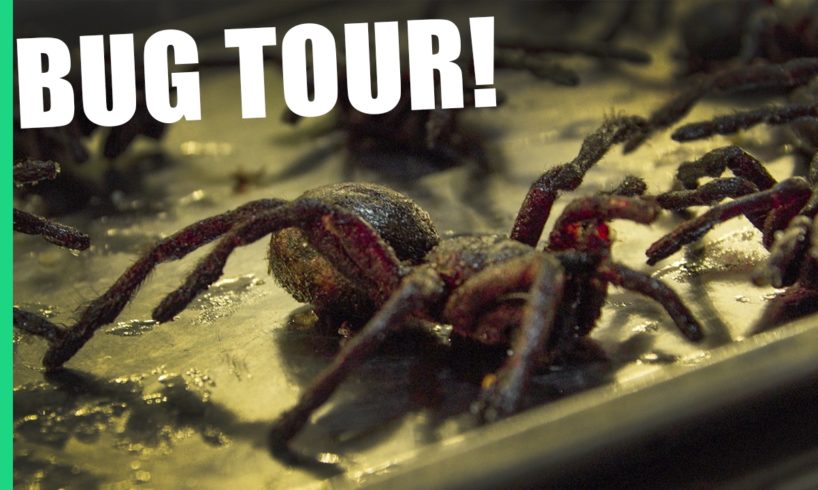 How to eat Coconut Worms! → https://www.youtube.com/watch?v=XBIZn1zUUwU
Join the notification squad! Click the BELL icon to get updated as soon as a video is uploaded. New video every Wednesday!
About This Episode:
Today we're in Cambodia looking for some giant spiders AKA tarantulas. I'm doing an all out bug tour on the streets and at the nearby Bugs Cafe. I try out some scorpion, water bugs and the most terrifying of all, the tarantula. Holy crap, I am so done with bugs now. Please lemme know if I've missed any, but I think I've got em all.
About Sonny Side:
I'm not sponsored. I'm not rich. I'm just some guy who wanted to make the type of travel videos that I would want to see. This show is completely self-funded so thanks for patiently watching that five second advertisement (and read below how you can support this channel).
I am a video director by trade. Each time I travel to a new country I bring a cameraman with me, usually a friend, to shoot as many episodes as possible in a short amount of time (usually a week). The rest of the time I'm working as a video director/videographer in Vietnam and editing the crap out of these videos.
Much love and remember, Don't Think, Just Chew.
Come say hi on:
INSTAGRAM → https://www.instagram.com/instasonnyside/
FACEBOOK → https://www.facebook.com/SonnySideFilmsFan/
– – – – – – – – – – – – – – – – – – – –
Support My Channel:
Patreon is a platform that allows people to support creators on a recurring basis. Your contribution is an investment in creative freedom. Your generous donation will allow me the time and resources to create more videos for you. → https://www.patreon.com/BestEverFoodReviewShow
Disclaimer:
If you see any factual food errors in my video, please feel free to politely let me know in the comments.
I'm a huge fan of trying different, interesting and strange foods in each country. My show is from a Western point of view, but more importantly MY point of view, but is not meant to offend any person or culture.

source