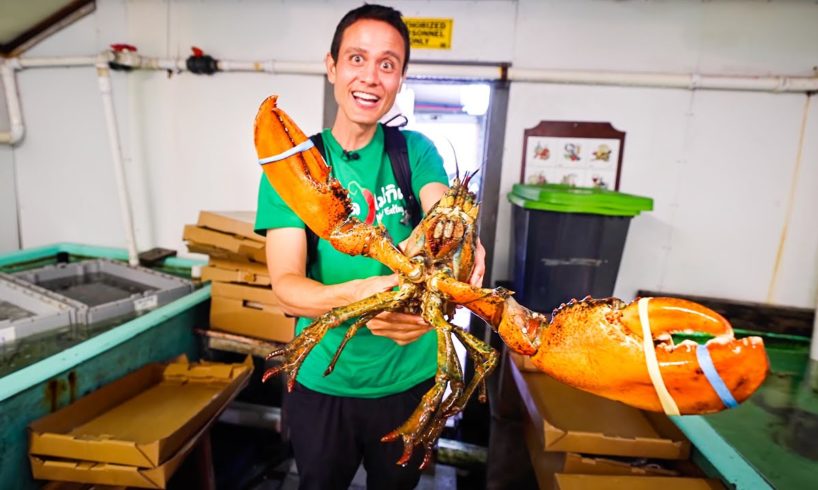 🦞 Maine Lobster Roll Tour: https://youtu.be/xhiuxMPJ-8U
🔔 SUBSCRIBE: http://bit.ly/MarkWiensSubscribe Don't miss new food videos!
CONNECTICUT, USA – Welcome to Connecticut, a state that's famous for fresh Atlantic lobsters and lobster rolls during the summer. Today, we're going to two main places, each famous for lobster rolls and some of the best lobster rolls in the USA!
Friends in the video:
🔹 Follow Jessica: https://www.instagram.com/cheatdayeats/
🔹 Follow Jeffrey: https://www.instagram.com/jeffrey_merrihue/ – Stop by at Heroic Italian (https://g.page/heroicitalian?share) in Santa Monica and say Hi to Jeffrey!
So quickly to begin, there are two main states in the USA famous for lobster rolls, Maine and Connecticut. Maine is the more well known and often uses mayonnaise on their lobster rolls. Connecticut is more known for less mayonnaise and instead using warm butter in their rolls.
Here are the two main places we went during this lobster rolls tour:
Abbott's Lobster In the Rough (https://goo.gl/maps/nePD7AtMKGH8mRjd6)
Price – $28.95 medium sized roll – Abbott's Lobster In the Rough is one of the most well known places to eat lobsters in all of Connecticut. When we saw the giant lobster roll on the menu, it's something we had to try. It was huge, stuffed full of lobster like a boat. I liked how the roll was served with pure lobster and warm butter was served on the side. The location and setting was spectacular. A highlight was also their steamed lobsters and potato chips.
Lobster Landing (https://goo.gl/maps/vCZAwFB6GLpgmjay8)
Price – $19.75 per roll – Next up we drove over to Lobster Landing, what has to be one of the ultimate lobster shacks in the United States, a lobster dock literally on the side of the ocean – straight boat to lobster roll. After seeing some of the fresh lobsters we met up with Bacci, the owner who is originally from Italy. What makes them special is their integrity and how they buy lobsters from the local fishing community in the area in a sustainable way. They don't cut corners, but focus on extremely fresh seafood sustainable sourced. For their lobster rolls they boil the lobster, then directly into a grilled bun, a squeeze of fresh lemon, and a ladle of melted warm butter. This was without a doubt one of the best lobster rolls I've ever had in my life – so pure, fresh, and absolutely delicious. Lobster Landing only has a few things on their menu, but they truly do it right. Highly recommended.
Another delicious day of eating lobsters on the East Coast of the USA in Connecticut!
🎵MUSIC:
https://goo.gl/HwVjdo
——————————————————
👕Get t-shirts and caps:
https://migrationology.com/store/
——————————————————
📱FOLLOW:
Instagram: https://instagram.com/migrationology
Facebook: https://www.facebook.com/migrationology

source