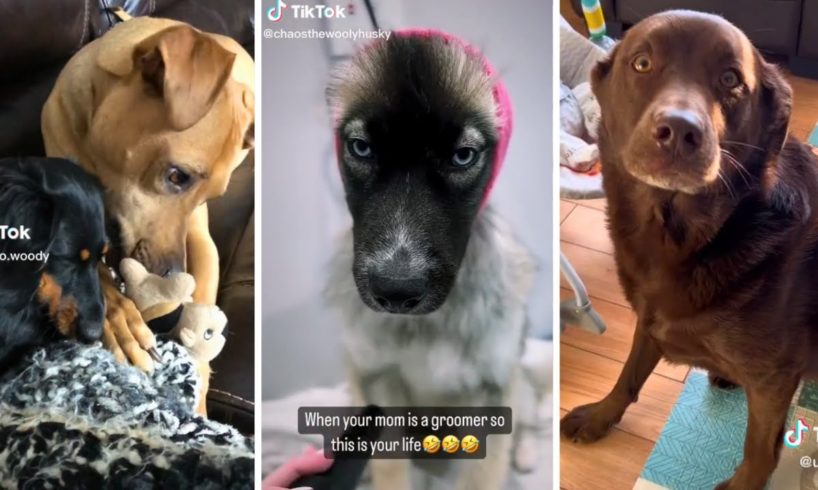 Ultimate Funniest Dogs and Cutest Puppies Compilation ❤️🐶
Get ready to be captivated by the incredible world of dogs with our heartwarming and funny dogs compilation! From loyal companions to hilarious four-legged comedians, this video is a celebration of the canine spirit that will warm your heart and put a smile on your face.
Watch as these furry friends showcase their unwavering love, playful antics, and irresistible charm. Whether they're performing impressive tricks, engaging in funny hijinks, or simply showering their humans with affection, these dogs will leave you feeling uplifted and full of joy.
We've handpicked the most heartwarming and laugh-out-loud moments, and added joyful paw prints and smiling emojis throughout the video to enhance the overall experience. So sit back, relax, and let the tail-wagging extravaganza begin as you immerse yourself in the world of these incredible dogs.
Don't forget to hit the like button, leave a comment, and subscribe to our channel for more delightful content featuring our furry friends. Get ready to unleash the joy with our heartwarming and funny dogs compilation! 🐶❤️
#Dogs #Funny #Puppies
❗ IF YOU'D LIKE YOUR CLIP REMOVED, PLEASE MESSAGE ME AND I WILL REMOVE IT AS SOON AS POSSIBLE ❗
Watch More Funny Dogs of TikTok Videos:
▶️ TikToks That Make You Go AAWWW:

▶️ TIK TOK Doggos That Will Make You Laugh:

▶️ Funny Dogs of TIK TOK:

▶️ Cute Puppers & Doggos:

▶️ Best Doggos of TIK TOK :

🔥 Funny Dogs of TikTok PLAYLIST:

🔔 Make sure you LIKE 👍🏼 and SUBSCRIBE ❤️ if you enjoyed this video!:
https://www.youtube.com/channel/UCwr2OlE2WWwLBmu31zfQgIQ?sub_confirmation=1
👉 COMMENT YOUR TIKTOK BELOW FOR A CHANCE TO BE FEATURED IN OUR NEXT VIDEO 👈
We'd love to share one of your TikTok clips on one of our YouTube compilation channels. Simply insert the hashtag #YesDogSquad on your next TikTok video. Credit will be given in the video description with a link to your account.
By giving us permission you simply agree not to file a copyright strike takedown. You will still own the rights to your videos. 🐕🥰
Feel free to contact us for more details (info in bio).
▶️ Check out our other YouTube Channels:
Animal Squad:
https://www.youtube.com/channel/UCVTIQDAGWGX72kp4v3vrCnw
Fluppy:
https://www.youtube.com/channel/UCIDvgzmxcpil52HZifHHGZQ
Cats being CATS:
https://www.youtube.com/channel/UCMZ8QQGqsyONmIqFWniZKyA
🎬 Featuring the following TikTok creators:
thor.stubbornbulldog https://vm.tiktok.com/ZMFEUyREq/
lizziemeliodas https://vm.tiktok.com/ZMFoh4ak6/
sydneytpaige https://vm.tiktok.com/ZMFohqsfV/
frenchiesthat https://vm.tiktok.com/ZMFohXBWg/
maverick.andgoose https://vm.tiktok.com/ZMY1YXJfG/
kierancrudeli https://vm.tiktok.com/ZMY12eHJW/
chloesx9 https://vm.tiktok.com/ZMYJT2QFk/
chocolatethedachshund https://vm.tiktok.com/ZMYJ3E95A/
rachelmoncada7 https://vm.tiktok.com/ZMYekGpCA/
franklin_thebulldog https://vm.tiktok.com/ZMYeBkUXq/
koepkaandseve https://vm.tiktok.com/ZMYekELuD/
gaia_the_chihuahua https://vm.tiktok.com/ZMYdjT2SR/
joeytadeu https://vm.tiktok.com/ZMYdjcEsr/
chaosthewoolyhusky https://vm.tiktok.com/ZMYdVNmhF/
the3retrievers_ https://vm.tiktok.com/ZMY85L91X/
kodiakanddiego https://vm.tiktok.com/ZMYLMAKMA/
welldamnjackie199 https://vm.tiktok.com/ZMYNpeVrD/
welldamnjackie199 https://vm.tiktok.com/ZMYFjd4fV/
giwten https://vm.tiktok.com/ZMYYLQ4Qf/
uhohtwins https://vm.tiktok.com/ZMYYXHk1J/
junem1119 https://vm.tiktok.com/ZMYYXsRwD/
mia_thespringerspaniel https://vm.tiktok.com/ZMY2QqbB3/
indi.pack https://vm.tiktok.com/ZMY2Qp2fL/
biancadelorean https://vm.tiktok.com/ZMYjqtGhp/
jeanthonetteinato https://vm.tiktok.com/ZMY66Cav2/
unclekoooolaid https://vm.tiktok.com/ZMY66uKfq/
dani_elle181 https://vm.tiktok.com/ZMYMjn1ps/
shelbylynne0615 https://vm.tiktok.com/ZMYMj5deW/
murph.n.coope https://vm.tiktok.com/ZMYrV5a55/
tor.pit.odinson https://vm.tiktok.com/ZMYhCU6vY/
teddyruxbinthechow https://vm.tiktok.com/ZMYkXbaC9/
mrs_sn0wflak3 https://vm.tiktok.com/ZMYkXpYXG/
bayleemckae https://vm.tiktok.com/ZMYkXGw7K/
goryashko_78 https://vm.tiktok.com/ZMYkw8PJ4/
colorado.woody https://vm.tiktok.com/ZMYAF8cPG/
willis.the.wiener.dog https://vm.tiktok.com/ZMYACnpcm/
jadielou98 https://vm.tiktok.com/ZMYyLMrPu/
Thanks for your collaboration! 🐕🥰
+++
** DISCLAIMER:
ALL VIDEOS BELONG TO ORIGINAL CONTENT CREATORS ON TIKTOK. WE DO NOT CLAIM OWNERSHIP OVER THESE VIDEOS.
Please Contact Us For Any Copyright/Credit Issues and We Will Remove Your Video**
**Credit goes to its respective owners. If you want to find any of the creators featured in the video, their TikTok username is either in the top left or bottom right of the Tik Tok in the video.**

source