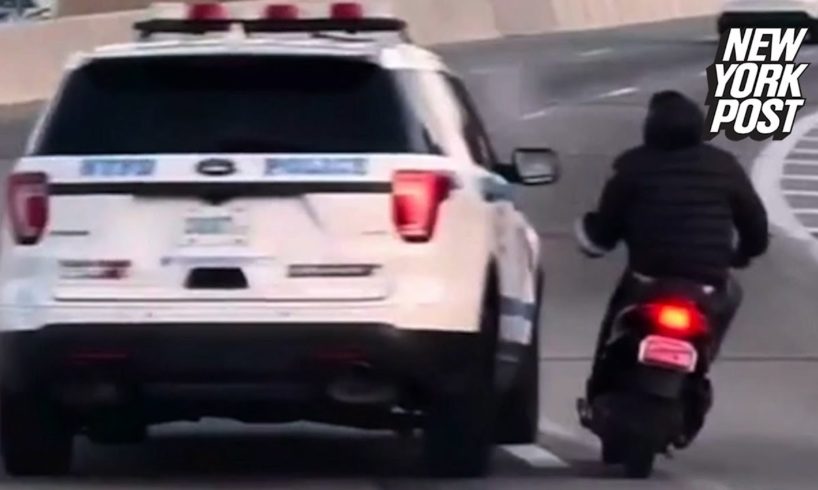 A shocking Reddit video shows an NYPD SUV swerving around a Queens highway, apparently trying to ram a moped rider and knock them off their vehicle in the middle of traffic.
The 39-second clip, taken by the occupants of a car just behind the officer and posted Wednesday by a Redditor named MelBloccs, captured the SUV attempting to box in the moped by pushing it toward a cement divider on what appears to be the Van Wyck Expressway.
When the moped slowed down and cut back across the lanes, the SUV banked hard and nearly hit the rider again.
The car's occupants expressed their shock at the cop's behavior, saying, "Look at this guy – look at him! Oh my god, he's trying to hit him!"
They also called 311 to report the officer's behavior and list out his license plate.
Read more at https://nypost.com/2023/05/25/nypd-suv-tries-to-knock-rider-off-moped-on-video/
#nypd #caughtoncamera #motorcycle
The New York Post is your source for breaking news, news about New York, sports, business, entertainment, opinion, real estate, culture, fashion, and more.
Subscribe to New York Post Sports: https://www.youtube.com/c/nypostsports
Catch the latest news here: https://nypost.com/
Follow The New York Post on:
Twitter – https://twitter.com/nypost
Facebook – https://www.facebook.com/NYPost

source