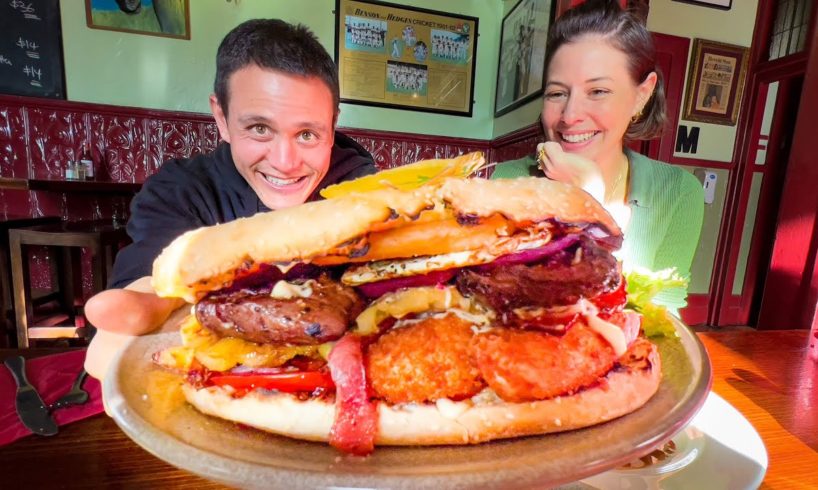 🇦🇺 Ultimate Australian Food Tour in Melbourne!
👕 T-shirts: https://store.migrationology.com/
🌶 Ghost Chili: https://amzn.to/3PNTvNQ
MELBOURNE, AUSTRALIA – Welcome to Melbourne, Victoria, Australia! Today we're going to answer the question – what is Australian Food? This is my first trip to Australia, so I'm excited to explore and to eat my way through Melbourne.
Thank you to all my friends in the video:
Huge thank you to Chef Nick and Tess from HER Melbourne (https://her.melbourne/) for hosting me in Melbourne and for taking me around.
Chef Nick: https://www.instagram.com/nick_bennett_sourdough/
Tess: https://www.instagram.com/_tessstewart/
Also a huge thank you to Sofia Levin (https://www.instagram.com/sofiaklevin/) for showing us some of the best food in Melbourne!
Here's the full Australian food tour:
1: South Melbourne Market – https://goo.gl/maps/6Vefo5Ez1gNeDP5E6
We're starting out at South Melbourne Market to try some of the local foods available. Starting with jam donuts, meat pies, seafood, a quick oyster shot, and finally the legendary dim sim!
2. Industry Beans – https://goo.gl/maps/ZEnA2so2xScVQ4CM9
Next up on this Australian food tour we're having coffee – and in Melbourne they take coffee culture seriously.
3. Terror Twilight – https://goo.gl/maps/CcBrVwo1qrdZGECM6
Just like coffee culture, Australian brunch culture is very strong, and they have influenced the world with brunch, and of course – avocado toast.
4: Big Esso (Mabu Mabu) – https://goo.gl/maps/5WrjENeqZS8VojrU7
I wouldn't want to make a video about what Australian food is without original indigenous Australian food. Big Esso is one of the few true Australian restaurants where Chef Nornie Bero from the Torres Straits serves modern Australian dishes using only local ingredients. Emu, saltbush, and green ants!
5: The Napier Hotel: https://goo.gl/maps/8VguVAZWeVJFMBoM7
Another part of Australian food culture is the Australian pub. Along with a classic Aussie meat pie, chicken parma (or kangaroo parma), don't miss the giant Bogan Burger.
6: Gerald's Bar – https://goo.gl/maps/eJGXgUfKB3fvqXxo7
Next up on this food tour we're going to a local neighborhood wine bar, a favorite in Melbourne.
7: Supper Inn – https://goo.gl/maps/rKnZMu8uNzRCrX9y5
Lastly, one of the biggest parts of Australia is the diversity and people from around the world who have migrated to Australia, including many Chinese. Melbourne is home to a substantial Chinatown and we're eating at one of the absolutely classics.
Although there's so much more to learn, this was an introduction to learning what Australian food is!
Social Media:
Facebook: https://www.facebook.com/markwiensfoodvideos
Instagram: https://www.instagram.com/migrationology/
Tiktok: https://www.tiktok.com/@markwiens
👕 T-shirts: https://store.migrationology.com/
🌶 Ghost Chili: https://amzn.to/3PNTvNQ
🎥 Camera gear I use: https://amzn.to/3FVdBUd
(some of these are Amazon affiliate links)

source