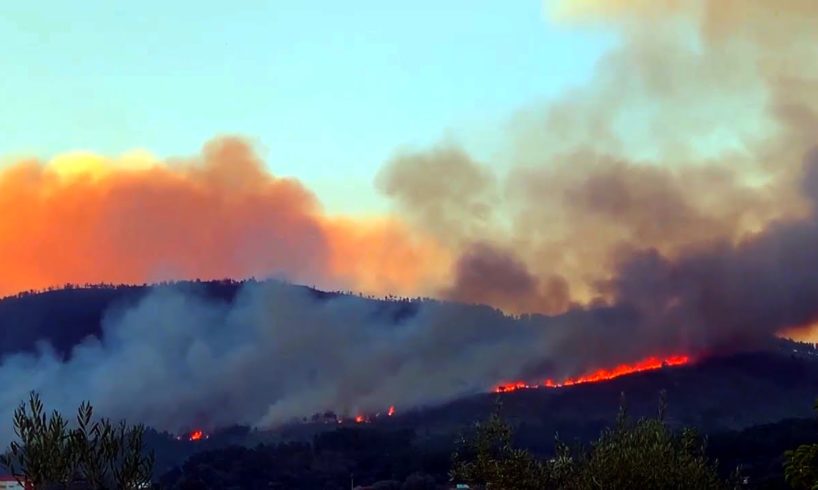 (Translated from Portuguese): The fire that broke out in Garrocho on Saturday reached Verdelhos. 26 people were evacuated from the locality and municipal road 501 was cut. Three firefighters and a forest firefighter with minor injuries. Helicopter had an accident, with no reported injuries.
More than 1,000 operatives, supported by 310 vehicles, continued to fight, at 11:30 pm this Tuesday, the fire that broke out on Saturday in the town of Garrocho, in the municipality of Covilhã (Castelo Branco), Civil Protection said in a statement.
The flames continue to burn with "great intensity", having already caused nine minor injuries. According to the regional operational commander of the Centre, António Ribeiro, three firefighters and a forest firefighter suffered minor injuries.
"Fortunately, there are no fatalities, no serious injuries so far, nor [problems in] property assets to be registered. No housing was affected. This is cause for rejoicing. We had four minor injuries, three firefighters and a forest firefighter", said the commander at a press conference about the fire that has been burning since Saturday.
A helicopter had an accident this Tuesday during the firefight. According to the National Emergency and Civil Protection Authority (ANEPC), the accident happened this afternoon "during the approach phase to the landing site" of a team from the Emergency Protection and Relief Unit (UEPS/GNR). The helicopter suffered "significant material damage", with the aircraft's tail being broken, but the six crew members – the pilot-in-command and five soldiers from the UEPS – are all "well physically", according to the note.
Read more (article in Portuguese): https://www.publico.pt/2022/08/09/sociedade/noticia/580-operacionais-combatiam-incendio-covilha-inicio-dia-2016589

source