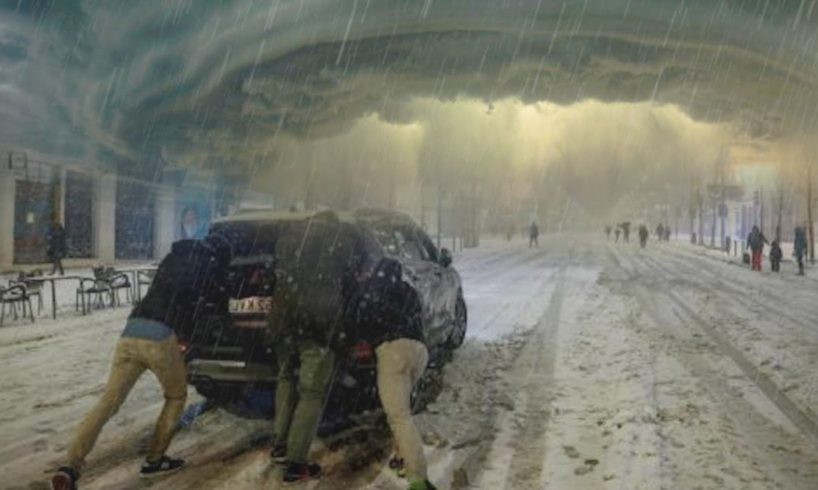 #andorra #teruel #hailstorm
In the early afternoon of Wednesday, June 6, a severe storm accompanied by hailstones occurred in Andorra, Teruel province, Spain. The storm causing streets and the ground floors of many buildings flooding.
The large hail has left a thick layer on the streets, which has reached 40 centimeters thick in some areas. The hail caused damage to roofs, windows and various infrastructure. The ice has also collapsed the drains, which has caused the rain damage to be even greater.
As a result of the storm, almost 2,000 residents of Andorra have been left without electricity. Emergency center received numerous calls from residents that trapped in the streets and unable to enter their homes because the hail accumulated on their doorsteps.
Subsequently, the Andorra City Council has activated the emergency protocol to deal with the most urgent incidents, including the cleaning of all the streets that have been affected.
Other towns in the province of Teruel included Calanda, also have been affected by the storm, and although it is still early to assess damage, they believe that there will be significant damage to crops.
The channel lists such natural disasters as:
1) Geological emergencies: Earthquake, Volcanic eruption, Mud, Landslide, Avalanche;
2) Hydrological emergencies: Flood, Tsunami, Limnological disaster,
3) Fires: Forest fire, Peat fire;
4) Meteorological emergencies: Tornado, Cyclone, Blizzard, Hail, Drought, Tornado, Hail, Hurricane, Tsunami, Storm, Thunderstorm, Tempest.
#weather #flooding #storm

source