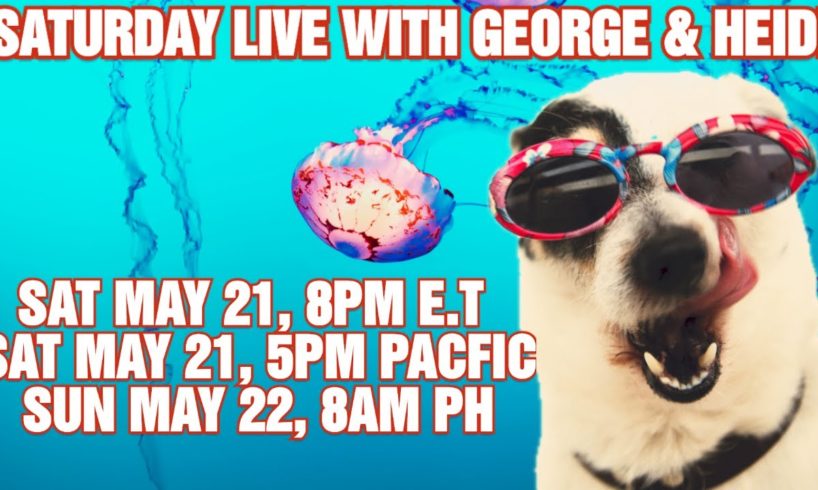 Thank you to our friends and family, for watching and for your welcomed friendships. Please consider subscribing or supporting our efforts.
Hello, Join our Membership, Look for Join Button below 👇or
Join this channel to get access to perks:
https://www.youtube.com/channel/UCUgMIWxeNsPG3ije4YwQwXA/join
🙋🙋‍♀️  ABOUT US
WE ARE HERE TO HELP EX-PATS ALL OVER THE 🌎
We strongly believe in our viewers, and that they are looking for the truth in an ocean of inaccurate information and Candyland game out there on Social media. We're just keeping it real and not sugar-coating it. No shortcuts here.
We try to provide accurate information that we get from others and pull from our own experience from being in the Philippines. We are open and you can email us at any time.
Our names are George & Heidi (over 50 retired)
Content creator couple with over 340 videos: Our channel,  Philippine Antics Expat Has traveled 13,000 miles from Florida To live in Dau Mabalacat. George is a native of Angeles City. 
🔴 URGENT
YOUTUBE WON'T SHOW YOU OUR VIDEOS UNLESS YOU
SUBSCRIBE  ➡️
🔔TURN ON NOTIFICATIONS 📆
NEW HERE 🌝👫
📩EMAIL US FOR EX-PAT QUESTIONS
PHILIPPINEANTICS@GMAIL.COM
💜😁 Your support is greatly appreciated, every little bit helps support future projects on our youtube channel, and every day we feed and help animal rescues in the Philippines. as a side gig of love ❤️
We hope we can meet our goals. Please consider a gift for our efforts. Thank you.
✅ 🎀 HOW TO SUPPORT OUR CHANNEL🙋
🎯 ***NOTE****
IF YOU WOULD LIKE US TO REVIEW YOUR BUSINESS OR RESORT/AIRBNB,
CONTACT US. WE WOULD LOVE TO.
A LITTLE GOES A LONG WAY HERE. WE HAVE SUCH GENEROUS VIEWERS.& SHARE OUR BLESSINGS.
🌐   Support:https://linktr.ee/Philippineantics
😁Support:https://www.paypal.com/donate/?hosted_button_id=D83ASY2GCHQUU
🔴 🗣 WANT TO WORK WITH US :
Business inquiries for collaboration 💫👍
Philippineantics@gmail.com
Music by
https://www.epidemicsound.com/track/KNZQkDjNri/
🎸🎤🎶 Music by
https://www.epidemicsound.com
__________________________________________
Check us out
👉Https://www.Tiktok.com/@philippineantics
👉Https://www.Instagram.com/philippine_antics
👉https://www.facebook.com/phillipine.antics
📸TECH EQUIPMENT USED
Drone shots and Osmo video & Dji
Https://www.dji.com
OUR VIDEOS ARE UNDER FAIR USE
All rights and credits go to the rightfull owners
No copyright infringement has been intended
Philippines is Under fair use, the use of a copyrighted work for purposes of criticizing, commenting, news reporting, teaching, creating researches, and other similar purposes is not an infringement of copyright.
Copyright Disclaimer under Section 107 of the copyright act 1976, allowance is made for fair use for purposes such as criticism, comment, news reporting, scholarship, and research. Fair use is a use permitted by copyright statute that might otherwise be infringing. Non-profit, educational or personal use tips the balance in favour of fair use.
!!DISCLAIMER!! FOR PHILIPPINE ANTICS
Any reliance on the information in our videos or comments within is strictly at your own risk
You should contact legal, medical, financial, or appropriate professionals familiar with your situation before taking any actions. ALL INFORMATION IS GIVEN AS-IS, WITH NO GUARANTEE OF ACCURACY, TIMELINESS, AND WITHOUT WARRANTY WITHIN OUR CONTENT GIVEN OR EXPRESSED. THIS IS CONTENT GIVEN WITHOUT GUARANTEE. WE HAVE DONE OUR BEST TO SHARE AND RESEARCH ALL INFORMATION IN OUR CONTENT. WE ARE NOT LIABLE. BEFORE MOVING TO ANOTHER COUNTRY RESEARCH MORE ABOUT IT. WE ARE NOT RESPONSIBLE FOR YOUR SAFETY WHEN YOU ARRIVE THERE OR PROVIDE PROTECTION. CONSULT WITH YOUR GOVERNMENTS EMBASSY. NEVER GIVE MONEY ONLINE.
We don't own the rights to some of these videos, Images, or music. We are content creators, we try to give credit to others. we give subscribers the information on our content. These videos are for entertainment,  promotions, and information and to be advised as so.
If you want your video removed please contact www.philippineantics.com Or reach us@philippineantics@gmail.com 
And we will remove it immediately
All materials contained on this site are protected by the Republic of the Philippines copyright law and may not be reproduced, distributed, transmitted, displayed, published, or broadcast without the prior written permission of Philippine Antics.

source