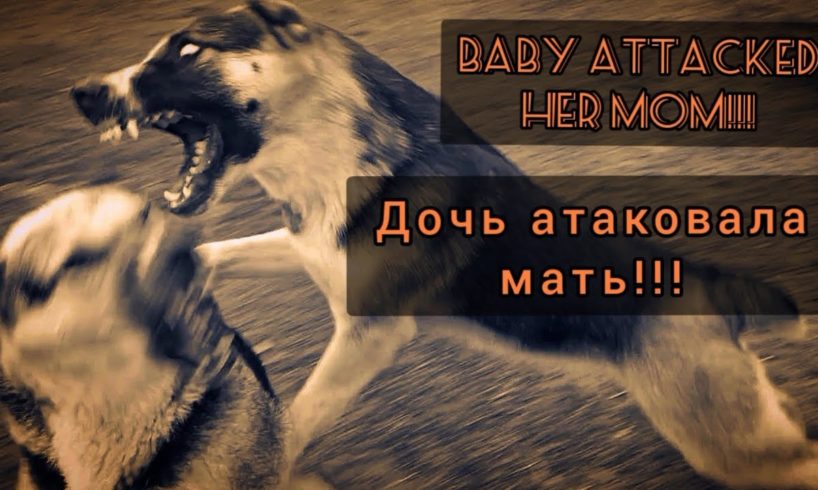 🔶In this video we had a dog fight between a grown puppy and her mom. We had a dog attack of sheepdogs – Juja rebuffed her mom Chokar.
🔶Animal fights are regular for a pack. And so we had a dog fight puppy against mom – dog attack females.
The puppy is an adult – Juman or we call her Juja, she is now 10 months old and she gave a serious rebuff to her mother Chokar.
The dog attack females – is always very spectacular and this time we managed to take it off! The battle of puppy itself took less than a minute, but it was preceded by several hours of preparatory games. Dog attack puppy against mom – finally it happened(.
⏰Timing⏰Тайминг:
00:00 Animal fights🔶Схватка овчарок
01:00 Start of games🔶Начало игр
03:33 Animal fights close🔶Натиск азиата усиливается
11:10 Last seconds before dog attack🔶Последние секунды перед атакой дочки
11:48 Dog attack puppy against mom🔶Атака дочери против матери
12:15 Holding a won position🔶Удержание выигранной позиции
🔶Showdown of native cas usually take place without extra blood, otherwise they would not have survived in their homeland, though dog fight females are always scary thing. When puppy attacked mom, grown puppy, but still, we were not very surprised, though we thought it would happen a little later.
Disassembly of dogs this always happens in a pack of dogs.
🔶The fight of the puppy, although an adult, but still the puppy happened unexpectedly, the mother of the puppy Chokar tried to dominate all day and consolidate her position in the pack.
🔶The pack disassembly of the cao is the main component of the cohabitation of the Chuponi Saga in a closed area. But sometimes the onslaught of an Asian is unexpected and then a fight of shepherds happens. Often the struggle of dogs for the best place in the pack does not end with anything. The attack of the Alabai, or rather the attack of the Central Asian Shepherd dog, happens only out of necessity. In our case, the mother and daughter have been figuring things out for a long time, but with the help of games, but in the end, a battle of sheepdogs broke out, which quickly ended without injury.
🔶Once a year, we breeds alabai dog, and have mega puppies for sale, and you can always contact us by phone (WhatsApp, Telegram, Viber) – +7963-992-4000 and book or buy a puppy from our native alabai – all of them, are exported from the flocks of Tajikistan, you can also consult with us by calling the above phone number or writing to us by e-mail: office@dahmarda.com
🔶More details on our website English version: http://dahmarda.com/en/
🔷 🔷 🔷 🔷 🔷 🔷 🔷 🔷 🔷 🔷 🔷 🔷 🔷
🔶В данном видео – схватка щенка с матерью. У нас произошла схватка овчарок – Жужа дала отпор Чокар. Мы надеялись, что последствия того, что наши собаки не сошлись характерами мы увидим чуть позже, но нет! Натиск азиата серьезная затея – ибо азиата очень упертые животные. Как такового нападение суки матери в целом не было, но произошло нападение щенка! Щенок взрослый – Жуман или Жужа ей сейчас 10 месяцев и она дала серьезный отпор своей матери Чокар.
🔶Атака азиата всегда очень зрелищно и в этот раз нам удалось ее снять! Сама битва щенка заняла меньше минуты, но этому предшествовало несколько часов подготовительных игр. Атака суки Чокар так и не состоялась – ее опередила её дочка. Может из-за этого побоище овчарок удалось избежать – все прошло быстро и относительно тихо. Жужа осуществила таран собаки – уверенно и быстро. Не всегда нападение саги дахмарда заканчиваются так быстро. Наши разборки собак между суками на этом закончились – их пришлось разделить. Но драка суки с щенком в нашем случае была неизбежно – все это было лишь вопрос времени.
🔶С другой стороны разборки Саги Дахмарда и должны происходить без лишней крови, иначе они бы не выжили у себя на родине. Драка щенка, хоть и взрослого, но все равно щенка произошла неожиданно, мать щенка Чокар пыталась весь день доминировать и закрепить свое положение в стае.
🔶Стайные разборки сао это основная составляющего совместного проживания Саги Чупони на закрытой территории. Но иногда натиск азиата бывает неожиданным и тогда случается схватка овчарок. Нападение алабая, а правильнее нападение среднеазиатской овчарки, бывает исключительно по необходимости. В нашем случае мать с дочкой давно выясняли отношения, но с помощью игр, но в итоге все таки разразилась битва овчарок, которая быстро закончилась и без травм.
🔶Раз в год у нас щенки среднеазиатской овчарки (щенки алабая как принято их называть) на продажу, и вы всегда можете связаться с нами по телефону – +7963-992-4000 или написав нам на эл.почту: office@dahmarda.com
🔶Подробнее на нашем сайте про Саги Дахмарда, они же Саги Тожики, они же Саги Чупони: https://dahmarda.com
#dog_fight#showdown_of_native_dogs#драка_собак#serious_fight_of_cas#showdown_of_puppy#battle_of_native_dog#нападение_сао#атака_щенка#таран_саги_дахмарда#атака_овчарок#нападение_саги_точики#alabai

source