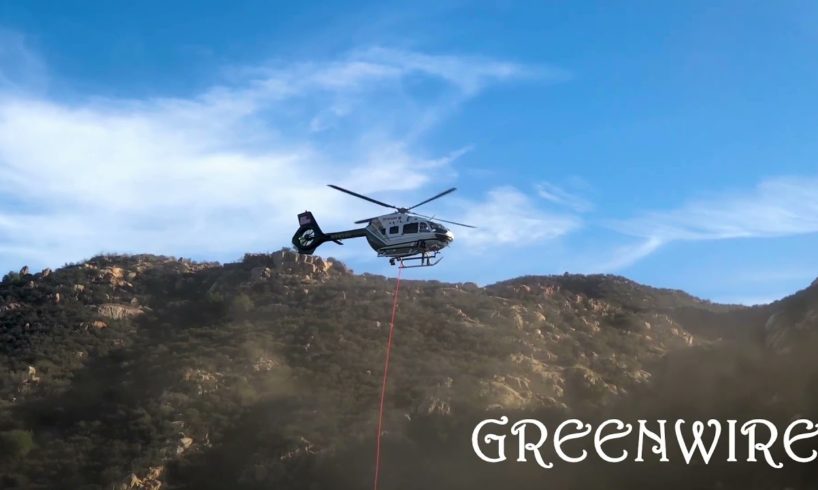 This is the moment an injured horse is airlifted to safety by a rescue chopper in California.
The incident took place near Lake Skinner, which is a reservoir in Riverside County, in the state of California on the western coast of the United States, when the horse ended up in a ravine on Wednesday 24th November after its rider fell off.
The horse was stuck between two boulders and a rescue helicopter was dispatched to assist in the efforts to save the horse. The rescue took place on Friday 26th November after being delayed due to high winds, according to the Riverside County Department of Animal Services.
The footage was shared online by the department, which released a statement saying: "It was uncertain what caused the accident, but the horse bolted at some point, causing the woman to fall off the animal as it continued charging away."
It added that "the rider and the horse suffered injuries which were believed to be minor. The horse, a 4-year-old gelding named Sunny, was treated on scene by an equine veterinarian prior to today's rescue. It was believed the owner of the horse camped overnight with her pet to offer it company and comfort."
Lt. Lesley Huennekens led the Animal Services team, according to the Riverside County Department of Animal Services, with assistance provided by the Riverside County Fire Department, members of the Horse Animal Rescue Team (HART), which is a specialised unit from the Riverside Fire Department, and NART, the Norco Animal Rescue Team.
Huennekens said: "These airlift rescues require optimum conditions. We're so thankful to the HART crew from the Riverside city fire department, and our county partners in the fire and sheriff's departments to make this operation a major success. Saving Sunny from this predicament will be a highlight of the year for all of us."
The Riverside County Department of Animal Services said in its statement that "Sunny, weighing approximately 1,000 pounds with a height of almost 16 hands, was sedated before his flight to allow his rescuers safe conditions to strap on the specialized harness. The harness – called an Anderson Sling – is placed atop the horse and straps are wrapped around the animal to offer stability."
It added that "the rescue happened at about 2:40 p.m. All told, Sunny's flight lasted about 10 minutes. A resident in the area provided the sheriff's helicopter pilot with a field to land Sunny for his recovery period."
The health status of the horse is currently unclear, although its injuries are thought to be minor.

source