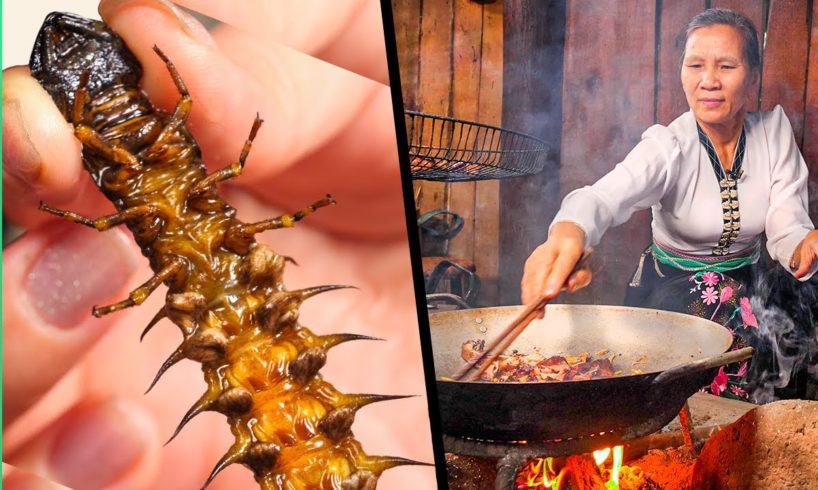 ? SECOND CHANNEL!!! MORE BEFRS » http://bit.ly/2pQYjvM​
? MICRO INFLUENCER MERCH » https://bit.ly/ShopBEFRS
? SUPPORT OUR MISSION » http://bit.ly/BestEverPatreon
? ANDREW'S YOUTUBE » https://bit.ly/Power-Up-YT
?? LOCAL GUIDE » NGUYEN
Like our music? Enjoy a free 30-day of Epidemic Sound for the best royalty free music: http://share.epidemicsound.com/BEFRS
– – – – – – – – – – – – – – – – –
WHITE THAI – SMOKED BUFFALO
1. MS THAM'S COMMERCIAL SMOKEHOUSE
ADDRESS: Xeo Sin Chai Village, San Thang District, Lai Chau city
?SMOKED BUFFALO MEAT: Mix together minced ginger, chili powder, MSG, Thai pepper, salt and ground pepper. Rub the seasonings on 2 parts of the meat. Squeeze the meat and then let it marinate for one hour. Lay it flat on the racks and smoke for 10 hours. Hang the meat for 10 hours.
?PRICE: $950.000 VND / 41.00 USD per kg
– – – – – – – – – – – – – – – – –
2. MS HAI'S FAMILY HOME
ADDRESS: Huổi Én Village, Phong Thổ District, Lai Châu Province
?SAUTEED SMOKED CHICKEN: Cut the one-week smoked chicken into bite-sized pieces. Heat up the oil in a pot then stir-fry ginger and chicken. Add water. Season with salt & MSG, then continue stirring for two minutes.
?ASH-GRILLED SMOKED BUFFALO JERKY: Ash-grill the smoked buffalo jerky for 15 minutes. Use a stone to smash the meat to get rid of the ash, and tenderize the meat. Tear the meat into bite-sized pieces. Serve with dipping sauce made of Thai pepper, salt, lime leaves, MSG & water.
– – – – – – – – – – – – – – – – –
3. VANG PHEO RESTAURANT
ADDRESS: Vang Pheo Village, Mường So Ward, Phong Thổ District, Lai Châu Province
?FRIED WATER CENTIPEDE: Clean water centipede with salt. Season with seasoning powder, msg, pepper & Thai pepper. Shallow fry for 15 minutes until crispy.
?STIR-FRIED HEARTBREAK GRASS: Wash the leaves thoroughly and cut it into small pieces. Stir-fry the leaves with MSG and salt for three minutes. Crack three eggs and quickly mix it with the leaves.
?PRICE: WATER CENTIPEDE – $200.000 VND / 8.90 USD per kg | HEARTBREAK GRASS – $50.000 VND / 2.20 USD per kg
#BestEverVietnamTour #BestEverFoodReviewShow #BEFRS
– – – – – – – – – – – – – – – – –
?COME SAY HI:
INSTAGRAM » http://bit.ly/BestEverInstagram (@besteverfoodreviewshow)
FACEBOOK » http://bit.ly/BEFRSFacebook
?SUPPORT OUR MISSION:
Patreon is a platform that allows people to support creators on a recurring basis. Your contribution is an investment in the creative freedom of my channel and enables me to keep my content authentic and uninterrupted. Your generous donation allows me the time and resources to create more videos for you. We also have some pretty sweet rewards, exclusive to Patreon Bestys. » http://bit.ly/BestEverPatreon
Our VIP Patrons: Venetia Edmunds, Jack Murray, Eimile Nakoma, Jack Li, Stephen Balasta, Louis Chisari, Ryan Rhodes, Paul Citulski, Matthew Holden, David Baliles, Jackson Li, John Logan and Summer & Grayson Stumpf.
? ABOUT BEFRS:
Hey, I'm Sonny! I'm from the US but currently call Vietnam home. I've been living in Asia for 10 years and started making food and travel videos to document my experiences. I travel to different parts of the world, hunting down and documenting the most unique food each country has to offer.
If you see any factual food errors in my videos, please feel free to politely let me know in the comments. I'm a huge fan of trying different, interesting foods in each country. My show is from a Western point of view, but more importantly, MY point of view. It is not meant to offend any person or culture.
– – – – – – – – – – – – – – – – –
?CREDITS:
DIRECTOR OF PHOTOGRAPHY » Nguyễn Tân Khải
CAMERA OPERATOR » Nguyễn Minh Đức
VIDEO EDITOR » Tiep Tran
PRODUCER » Khoi Chung
COLOR & MASTER » Quí Nguyễn
Selected tracks via Audio Network
For business inquiries: marketing@befrs.com

source