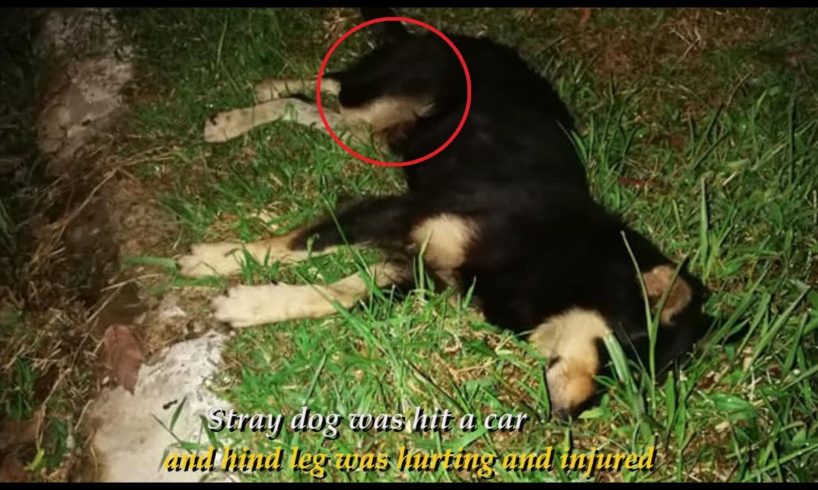 Rescue Stray Dog Who Was Suffered A Gruesome Hind Leg Injury In A Car Accident
Subscribe and Sharing if Love Dogs: https://youtu.be/IkTAvFWzMnI
A woman driver travelling along the Penampang bypass Road hit a male stray dog and didn't drive off. The driver felt terrible because she was unable to avoid a dog which ran into the road and was seriously hurt by her car. The driver stopped to check on the poor dog, she called HEART for help. The woman said the dog kept trying to walk but immediately fell down over and over. The dog's hind leg was hurting and injured. We named the dog Aaron.
We wanted to get the dog to the vet as soon as possible, but there were no late-night veterinary clinics in Kota Kinabalu. We placed the injured dog gently in the back of the car and covered him with a blanket. Then drove slowly to animal rescue shelter for the night before sending him to the Shakalaka veterinary clinic the next day.
X-rays revealed there were fractures in the pelvis and the femur head with chronic hip dislocations. The vet said a femoral head osteotomy (FHO) had to be surgically done. The ball of the joint would be removed, resulting in a false joint supported by soft tissue to relieve painful bone-on-bone contact. Fractures of the femur (thigh bone) are some of the most common fractures seen in dogs. These fractures are usually the result of major trauma from motor accident. Surgery would be necessary after the dog completely stabilizing his condition.
Not only the dog Aaron bravely endured the accident, unfortunately he had also tested positive for heartworm disease, E-canis, Anaplasma and he was a canine distemper survivor. He was then started on antibiotic for blood parasites. And treatment for the heartworm disease will start after his condition has stabilized.
If you would like to help with the medical expenses, please send your money to our below account:
Credit: If you would like to help/donate:
CIMB BANK BERHAD
Account no. Roslee Abbas
1002-0069629-52-9
PayPal: HEARTKK
Email address: rosleeabbas@yahoo.com
See More:
– Rescue Poor Dog Chained For 5 Years In The Wooden Hut 24/7: https://youtu.be/QQVibGMWc5A
– Rescue Poor Dog Who Was Fallen Into A Drain For Three Days: https://youtu.be/UYWyKaXh_8A
– Rescue Poor Blind Dog Who Was Survives In Road After Hit by Car: https://youtu.be/dyXuCShLfxA
– Rescue Abandoned Dog Trapped In The Thorny Bush And Removed Thousands Of BigTicks and Fleas: https://youtu.be/F9cXX85HZqs
– Rescue Young Street Dog With Massive Abscess Cause Swollen Face: https://youtu.be/u6lDLNNXay4
If there are any copyright issues with any videos posted here we will remove them. please contact us at: santiagobarquilladossantos@gmail.com
Thank you for watching!
All images belong to its respectful owners
No copyright infringement is intended.
#TRRescueTeam #rescuedogs #poordog #dogs

source