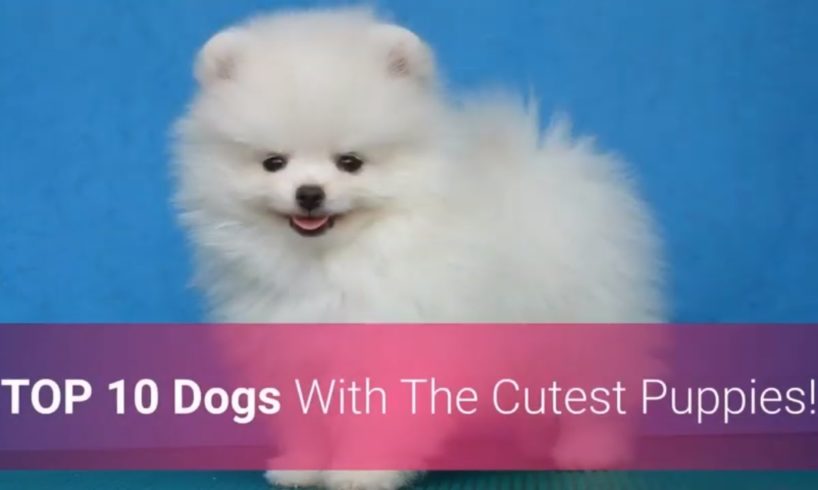 👉 If you are looking for irresistible cute pets, then dogs with the cutest puppies are the best choice for you. Why? Take a look at the list of TOP 10 dog breeds with the sweetest puppies and find out right now…
⬇️ More ⬇️
🐕 Subscribe And Support The Channel:🐕
https://www.youtube.com/channel/UCzfsvU6dLTWzIhYnfhJ9k9Q?sub_confirmation=1
—
▶️ WATCH SOME MORE VIDEOS: ◀️
—
1. List Of Top 10 Most Loyal Dog Breeds In The World:

2. CUTEST DOGS – Top 10 Most Cutest Dog Breeds In The World:

3. Playlist Of TOP 10 Videos:

—
💵 Tip Jar: 💵
—
Bitcoin: [14yyb87SSpzXpLnoXCa9ff6kLY5oEJjUwP]
—-
🏆 Follow Me: 🏆
—-
Website: [http://www.healthypetsystems.com/]
Instagram: [https://www.instagram.com/healthypetsystems/]
Pinterest: [https://www.pinterest.com/healthypetsyste/]
Twitter: [https://twitter.com/healthypetsyste]
—
✌️ Transcription ✌️
—
Is there anything more beautiful than cute little puppies?
I'll tell you a secret, there is – and it's dogs with the cutest puppies in the world.
Although this selection of the cutest puppies is subjective, the breeds I singled out will definitely delight you and brighten your day (especially the second breed on the list).
And now follows the list of top 10 dog breeds with the cutest puppies in the world:
10. The Pug.
The Pug is a special dog breed with a slightly unconventional appearance, but you just can't help but smile when you see a Pug puppy.
They melt your heart with:
• their big eyes,
• wrinkled face
• curly tail.
9. The Basset Hound.
The Basset Hound has: short and wrinkled legs, a large amount of loose skin and those charmingly sad eyes.
It also goes without saying that their giant soft ears are simply irresistible.
As far as the owners of these dogs, people love the Basset Hounds and they make for very popular family companions.
8. The Saint Bernard.
Those big paws, covered by especially soft fur, make the Saint Bernard puppies some of the most lovable little giants.
Their sweet sad eyes also simply melt our hearts.
St. Bernard puppies are extremely likable and they strongly attract future dog owners all around the world.
7. The Cavalier King Charles Spaniel.
Nobody can resist the super sweet faces of the Cavalier King Charles Spaniel dogs.
Their smooth tail, silky soft fur, big round dark eyes and cute facial expression attract people right away.
6. The Pomeranian.
The puppies of Pomeranian dog breed look like small bear cubs, although people sometimes believe they're much bigger than they really are.
When you see their swaying fur, tiny ears and round eyes, it becomes simply impossible to not want to pick them up and cuddle, doesn't it?
Due to their small size and incredible cuteness, they are becoming increasingly popular pets.
5. The French Bulldog.
Just like with Pugs and English Bulldogs, the flat face of the French Bulldog has something very lovable about it.
Add to that those big ears, and you have a very cute little puppy.
4. The Welsh Corgi.
With short little legs and ears almost bigger than their bodies, Corgi puppies are exceptionally lovable and cute.
Nobody is left indifferent to their cuteness.
Now you will see the top 3 dog breeds with the cutest puppies in the world.
3. The Labrador Retriever.
The Labrador Retriever is another very popular dog breed in the United States and the United Kingdom.
They are well known for their good behavior, intelligence and beauty.
These puppies come in three cute colors – black, yellow, and chocolate-colored.
2. The Golden Retriever.
There is something about Golden Retriever puppies that makes everyone smile. What is it?
They are used in many advertisements, and it's no secret why – they are irresistible.
And now for the dogs with the cutest puppies in the world. Are you ready?
1. The English Bulldog.
There is something in those wrinkled, fluffy Bulldog puppies that makes people literally melt.
That's why they are extremely popular advertising dogs all across the world, and you can see them on many postcards and print ads.
The incredibly cute Bulldog puppies will make many people simply stop in their tracks on the street in order to get a good look at them.
Dogs with the cutest puppies are just gorgeous and irresistible.
Would you like to see more?
Take care!
Top 10 Dog Breeds With The Cutest Puppies!!
—
📝 Acknowledgements 📝
—
This presentation contains images that were used under a Creative Commons License. Click here to see the full list of images and attributions:
https://link.attribute.to/cc/705576

source