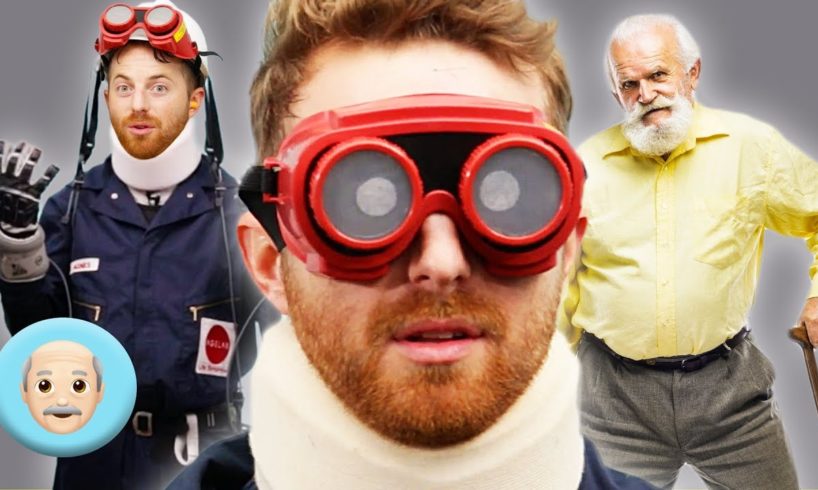 In the first of a series, the Try Guys will walk a mile in old people's proverbial orthopedic shoes to see what it's like to be elderly and learn about the physical changes that await them.
Get your official Try Guys color hoodies and phone cases at https://tryguys.com/collections/color-line ?❤️??
Check out Joe's book here: https://www.amazon.com/Longevity-Economy-Inside-Fastest-Growing-Misunderstood/dp/1610396634/
Support us! http://www.patreon.com/tryguys. Join our Patreon to get videos a day early, plus, livestreams, chatrooms, BTS footage, exclusive merchandise, and more!
SUBSCRIBE TO AND FOLLOW THE TRY GUYS
http://www.youtube.com/c/tryguys
http://www.facebook.com/tryguys
Tweets by tryguys
https://www.instagram.com/tryguys
FOLLOW THE GUYS
http://www.Instagram.com/keithhabs
http://www.Instagram.com/nedfulmer
http://www.Instagram.com/korndiddy
http://www.instagram.com/eugeneleeyang
Tweets by KeithHabs
Tweets by nedfulmer
Tweets by korndiddy
Tweets by EugeneLeeYang
FEATURING
Joe Coughlin, Director, MIT AgeLab
Tweets by josephcoughlin
https://www.longevityeconomy.com
Luke Yoquinto, Research Associate, MIT AgeLab
Tweets by lukeyoquinto
Tweets by MIT_AgeLab
EDITED BY
Devlin McCluskey
THE TRY GUYS
The #TryGuys is the flagship channel of 2ND TRY, LLC. Tune in twice a week for shows from Keith, Ned, Zach and Eugene, the creators and stars of The Try Guys.
MUSIC
Licensed from AudioNetwork
SFX
Licensed from Audioblocks
VIDEO
Licensed from Videoblocks
Official Try Guys Photos
By Mandee Johnson Photography | @mandeephoto
2nd Try, LLC STAFF
Executive Producer – Keith Habersberger
Executive Producer – Ned Fulmer
Executive Producer – Zach Kornfeld
Executive Producer – Eugene Lee Yang
Producer – Rachel Ann Cole
Producer – Nick Rufca
Production Manager – Alexandria Herring
Editor – Devlin McCluskey
Editor – YB Chang
Editor – Elliot Dickerhoof
Assistant Editor – Will Witwer
Social Media Manager – Allison Bagg
Camera Operator – Miles Bonsignore
Sound Operator – Kasiemobi Udo-okoye
Production Assistant: Sam Johnson

source