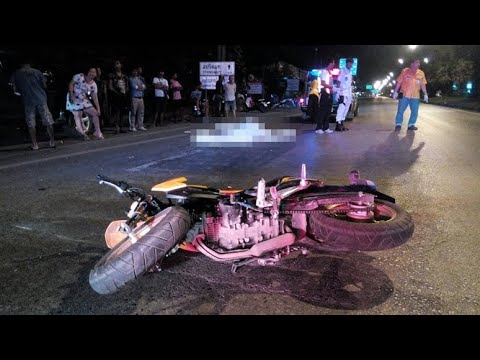 Near death experience on a moped taxi but easiest way to get around and cheap. Hit the subscribe button ????????.
Thailand is a dangerous place to drive.
Every year, thousands of tourists visit the land of smiles and rent motorbikes, without realizing how dangerous the roads are. Thailand has the second-highest amount road accident deaths per 100,000 people in the world. This ranking includes all third world countries, not just Western nations.
If you talk to someone who has lived in Thailand long enough, they will know someone involved in a tragic accident. Everyone knows somebody who has been killed or seriously injured on a motorbike.
Before visiting Thailand, I had never seen a motorcycle accident in person. Sure, I saw the occasional fender bender between cars, or the aftermath of an accident on a highway, but never a motorbike accident.
In the past five years, I have seen the aftermath of dozens of motorbike accidents. No matter how many times I see it, I still get chills when I see someone lying motionless on the ground. Some of the accidents have been extremely gory, but I'll spare you the details.
Living in Phuket has exposed me to far more accidents than most people will ever see in their entire lives.
Phuket's special combination of impatient taxi vans, bad foreign drivers, Thai drivers who don't believe in speed limits, and motorbikes zigzagging through traffic, has resulted in the deadliest roads in all of Thailand.
Fortunately, if you are careful and know how to drive a motorbike in Thailand, you can minimize your risk.
I've driven in Thailand for over six years and have only been in one minor accident. That accident happened because someone sprayed me in the face with a water gun during Songkran (on the Thai water festival).
The goal of this article is not to scare you from driving a motorbike in Thailand (although it might), but to make you aware of the dangers you face when you do drive a motorbike on your holiday.
Before I discuss tips for driving a motorbike, it is important to look at why motorbike accidents happen in the first place.

source