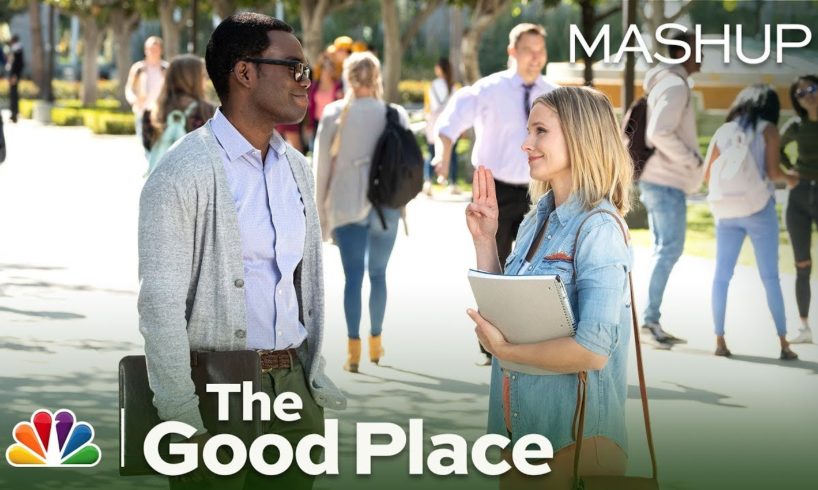 I'm not forkin' crying! You're forkin' crying!
» Subscribe for More: http://bit.ly/NBCTheGoodPlace
» The Good Place Returns Thursday, January 9th 8:30/7:30c on NBC!
» Stream Anytime: http://www.nbc.com/the-good-place/episodes
THE GOOD PLACE ON SOCIAL:
Like The Good Place on Facebook: https://www.facebook.com/NBCTheGoodPlace/
Follow The Good Place on Twitter: https://twitter.com/nbcthegoodplace
Find The Good Place on Tumblr: http://nbcthegoodplace.tumblr.com/
Follow The Good Place on Instagram: https://www.instagram.com/nbcthegoodplace/
NBC's The Good Place follows Eleanor Shellstrop, Chidi Anagonye, Tahani Al-Jamil, and Jason Mendoza as they seek redemption in the afterlife, aided by Good Place Architect, Michael, and a human-esque repository for all of the knowledge in the universe, Janet.
Find The Good Place trailers, full episode highlights, previews, promos, clips, and digital exclusives here.
NBC ON SOCIAL:
NBC YouTube: http://www.youtube.com/nbc
Like NBC: http://Facebook.com/NBC
Follow NBC: http://Twitter.com/NBC
NBC Tumblr: http://NBCtv.tumblr.com/
NBC Pinterest: http://Pinterest.com/NBCtv/
NBC Google+: https://plus.google.com/+NBC
NBC Instagram: http://instagram.com/nbc
ABOUT THE GOOD PLACE
From creator Michael Schur ("Brooklyn Nine-Nine," "Parks and Recreation" and "Master of None") comes a unique comedy about what makes a good person. The show follows Eleanor Shellstrop (Kristen Bell, "House of Lies," "Veronica Mars"), an ordinary woman who enters the afterlife, and thanks to some kind of error, is sent to the Good Place instead of the Bad Place (which is definitely where she belongs). While hiding in plain sight from Good Place Architect Michael (Ted Danson – "Cheers," "CSI" – in an Emmy Award-nominated performance), she's determined to shed her old way of living and earn her spot.
Eleanor and Chidi: A Love Story – The Good Place (Mashup)

The Good Place
https://www.youtube.com/NBCTheGoodPlace

source