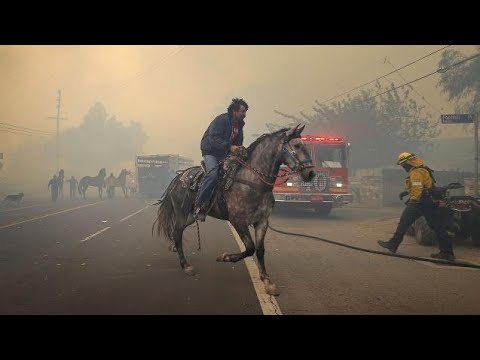 Four active wildfires in southern California have caused people and pets alike to seek shelter.
The Thomas Fire chewed through nearly everything in its path on its way to becoming a 55,000-acre blaze and sending hundreds of people to shelters in Fillmore, Ojai, Oxnard, Santa Paula and Ventura.
On Tuesday, between 500 and 600 people were sheltering at the Ventura County Fairgrounds, within sight of the flames that would roll over the Ventura foothills.
At the Red Cross shelter at Nordhoff High School in Ojai, about 250 people either stayed inside the building or outside in their vehicles with their pets.
Check out more Animalkind stories:
Subscribe to our YouTube channel: http://bit.ly/2wzxfTv
Like us on Facebook: http://bit.ly/2wzmKzM
Follow us on Twitter: http://bit.ly/2wzjO63
Follow us on Instagram: http://bit.ly/2wznqVQ
****************
Humankind: Amazing moments that give us hope ➤ http://bit.ly/2MrPxvd
Humankind: Stories worth sharing ➤ http://bit.ly/2FWYXNP
Just the FAQs ➤ http://bit.ly/2Dw3Wnh
Animalkind ➤ http://bit.ly/2GdNf2j
The Wall ➤ http://bit.ly/2sksl8F
#animalkind

source